When Small Cap Biotechs Lose Momentum: Are You An Investor Or A Trader?
Small cap Biotechs Lose Momentum?
Among the top holdings of ARKG are Teladoc (TDOC), Exact Sciences (EXAS), Pacific Biosciences (PACB), and Vertex Pharma (VRTX).
The IBB is up 4.04% YTD but off 2023 peak of $138.26.
A few small cap biotechs lost momentum last week so now might be the time to take profits. I did not sell but added to Crispr (CRSP) which has been a laggard. I also bought another gene therapy stock Intellia Therapeutics (NTLA) at a price of about $43. Many pundits and analysts say this is just the "January effect" whereby loser small cap stocks snapback after losses are taken in 2022. But many of these stocks are favored because of their core technology and favored by funds like ARK Genomics (ARKG) and also are included in biotech ETFs like the XBI.
Hologic (HOLX) reported last week and beat estimates despite declines in COVID-19 diagnostics revenue. Surgical revenues were strong as was cash flow of $254M with buybacks, the Price to FCF is a 10 and the PE is a reasonable 16.5. We are holding the stock.
Some of our biggest losers bounced back: CYRX up 9.4%, and QDEL up 3.93%. Only loser last week was PACB but it is up 59.6% since we bought it at near the bottom in 2022.
Moving forward I'll use the XBI as the indicator of when to sell if I need cash. Technicals and news may determine what to do. Many of these stocks are speculative so check the balance sheet.
LONG all these stocks.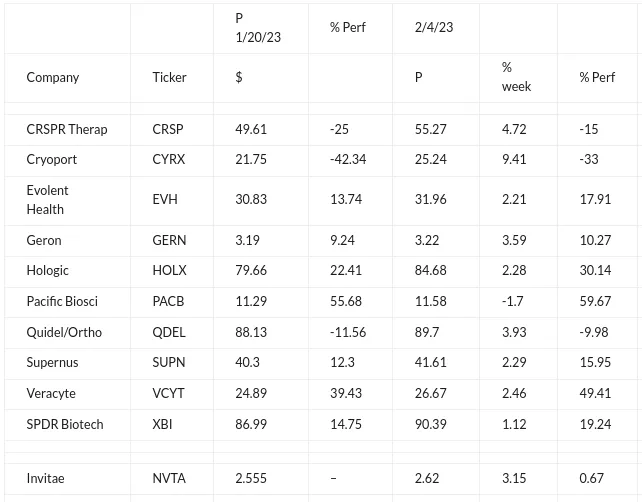 ---
More By This Author:
Sector Shift Stalls Healthcare Stocks But Biotech Shows Gains In January
Healthcare Sector Is Lagging As We Enter 2022 Earnings Season
J.P.Morgan Healthcare Conference JPM23: Biotech Rally Favors Smaller Caps