Wall Street Considers "The Flippening"
Still A Couple Of Crypto Names In Our Top Ten
Despite the crypto crash, we still had a couple of crypto-related stocks in the top ten of our daily ranking on Friday, Riot Blockchain (RIOT), and Silvergate Capital (SI).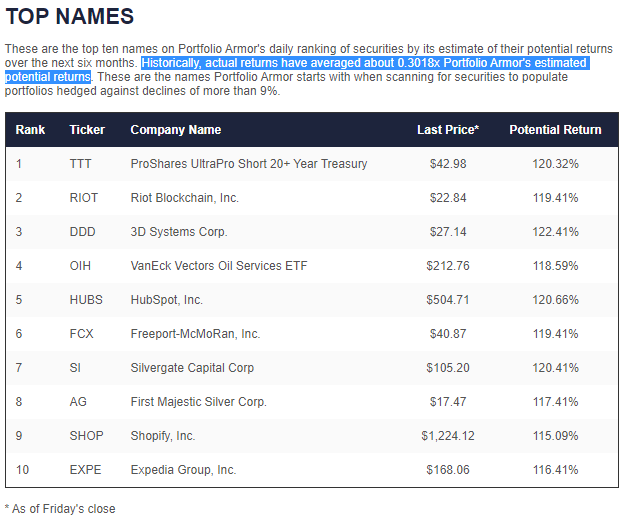 Screen capture via Portfolio Armor as of 5/21/2021.
Shopify (SHOP) was one of the first companies to put Bitcoin (BITCOMP) on its balance sheet, but the fortunes of RIOT and SI are much more closely tied to crypto: RIOT is a Bitcoin miner (RIOT), and SI runs the Silvergate Exchange which facilitates dollar settlement between cryptocurrency exchanges.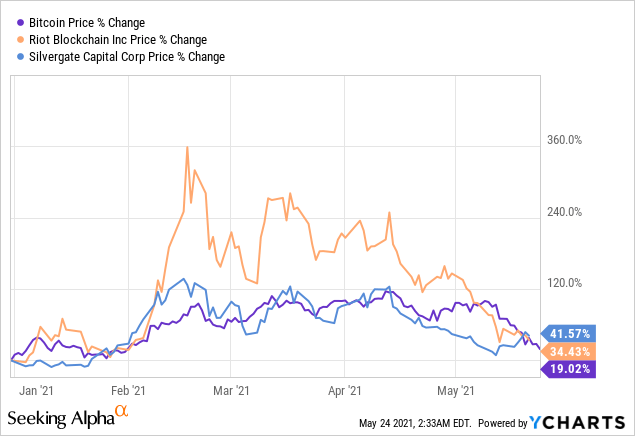 Of the two, RIOT is likely the riskier one, but both of these will fall further if crypto continues to slide.
More Non-Crypto Inflation Bets
Interestingly, we had more non-crypto names in our top ten on Friday that would seem likely to benefit from continued inflation: the levered short bet on the long bond (TTT), the oil services ETF (OIH), the copper miner Freeport-McMoRan (FCX), and the silver miner First Majestic (AG). Given that the current crypto correction has happened while inflation is heating up, if inflation is your main concern, those names may be worth a closer look.
Disclaimer: The Portfolio Armor system is a potentially useful tool but like all tools, it is not designed to replace the services of a licensed financial advisor or your own independent ...
more