US Bonds Rose Last Week As Risk-Off Sentiment Strengthened
Most of the major asset classes suffered last week as markets reassessed the risk of ongoing hikes in interest rates and elevated recession risk, based on a set of ETFs for the trading week through Friday, Dec. 16. The main exception: US bonds rallied amid firmer demand for safe havens.
Vanguard Total US Bond Market (BND) rose 0.7%, marking the fifth weekly gain in the past six for this broadly defined measure of US fixed-income securities. Despite another interest-rate hike announced by the Federal Reserve last week, and the possibility of more to come, investors bought bonds as concerns over slowing growth topped worries about rising rates.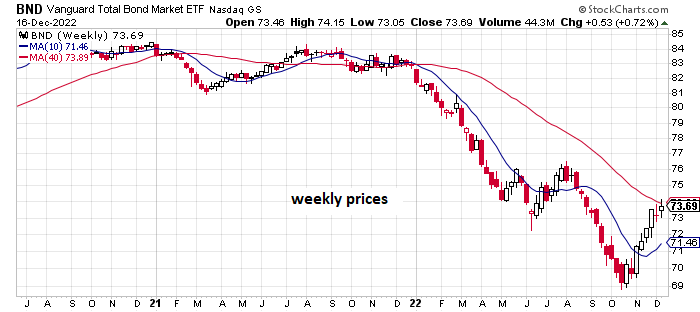 "With Jay Powell and the Federal Reserve on one side and the market on the other, a decisive showdown is starting to look inevitable," writes Michael Kramer of Mott Capital Management. "The Fed wants rates to rise to bring inflation down; the bond market thinks the Fed has already raised rates too far, and a recession is coming."
Most markets fell last week, including US stocks, which posted the biggest setback. Vanguard Total US Stock Market (VTI) fell 2.0%. The latest weekly decline suggests the market's latest rally – this year's third attempt at breaking free of the bear market – is giving way again.
The Global Market Index (GMI.F), an unmanaged benchmark, maintained by CapitalSpectator.com, continued to slide, losing 1.5% last week. This index holds all the major asset classes (except cash) in market-value weights via ETFs and represents a competitive measure for multi-asset-class portfolio strategies.
For the one-year trend, commodities (GCC) are still the only upside outlier, posting a shrinking but still-positive one-year gain of 7.5% for the trailing 12-month window through Friday's close.
Otherwise, all the major asset classes remain underwater for the past year.
GMI.F's one-year performance is also negative via a 16.1% decline.
Comparing the major asset classes through a drawdown lens reflects sharp declines from previous peaks for markets around the world. The softest drawdown at the end of last week: junk bonds (JNK), which closed more than 11% below its previous peak.
GMI.F's drawdown: -1% (green line in the chart below).
---
More By This Author:
Will The Tight Labor Market Keep The US Out Of Recession?
10-Year Treasury Yield 'Fair Value' Estimate - Thursday, Dec. 15
Dividend Yield Is 2022's Upside Outlier For Equity Factor Returns