EC

Survival Of The Biggest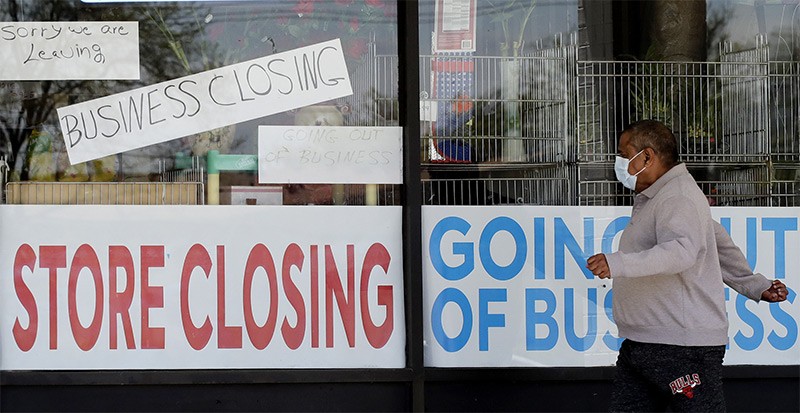 The essential point to grasp is that in dealing with capitalism we are dealing with an evolutionary process… At the heart of capitalism is creative destruction.

…Situations emerge in the process of creative destruction in which many firms may have to perish that nevertheless would be able to live on vigorously and usefully if they could weather a particular storm. —Joseph A. Schumpeter
The most important feature of an information economy, in which information is defined as surprise, is the overthrow, not the attainment, of equilibrium. The science that we have come to know as information theory establishes the supremacy of the entrepreneur because it appreciates the powerful connection between destruction and what Schumpeter described as "creative destruction," between chaos and creativity.—George Gilder
In its purest form, capitalism is an evolutionary process. Businesses that best adapt to changing conditions survive and grow. Typically, that means offering a product or service superior to current ones, or giving consumers more choices. Weaker or poorly managed businesses that don't adapt to the new situation wither and eventually die. That's not always pleasant but it's how nature works. Joseph Schumpeter coined the term "creative destruction" to describe the process. It is not pleasant when you are on the destruction end, but the creative side can bring innumerable joys and sometimes even wealth.
The difference, however, is we don't have capitalism in its purest form, or anywhere close. It has been tweaked, modified, corrupted and/or regulated into something else, the particulars of which vary. The common thread is that survival depends not only on impersonal nature, but on other non-random forces that can be manipulated. Governments can and often do create barriers to entry, protecting favored constituencies and groups from competition.
Now we are in an odd situation where something from nature is generating an unnaturally negative economic outcome. The virus—or specifically the political response to it—is causing a mass extinction event for small businesses in certain sectors. At the same time, some large businesses are reaping a bonanza of revenue from the same pandemic. This isn't happening randomly, nor is talent (or lack thereof) determining who wins.
One of the main factors is something else: size. In the most-affected sectors, the largest players are winning and the smallest ones dying. Instead of survival of the fittest, we see survival of the biggest.
The problem: Biggest isn't always best.
Small Business Slaughter
You already know the bad news: This pandemic is slaughtering small businesses. Not all small businesses, mind you. Some are fine. This pandemic seems laser-focused on those involving personal contact, the ones whose owners and employees actually see us in person, smile at us, and sometimes even touch us: restaurants, bars, hotels, hair salons, gyms, spas, shops. Many types of healthcare. The list goes on and on. Those are the prime victims, economically speaking. And often medically, too, since that same personal contact puts the owners and workers at higher infection risk.
I want to partially repeat one of the quotes from Schumpeter above (emphasis mine):
…Situations emerge in the process of creative destruction in which many firms may have to perish that nevertheless would be able to live on vigorously and usefully if they could weather a particular storm.
The COVID-19 storm has been particularly brutal to many. Initially, the US made at least some attempt at a reasonable policy response. The Paycheck Protection Program was supposed to help small businesses continue paying people for eight weeks and also cover some fixed expenses. In practice, doing that proved a lot more complicated than expected. Hundreds of thousands, maybe millions of small businesses got nothing. Some who did get benefits found the rules prevented them from using the money in the ways they needed. And then even that money ran out.
And not surprisingly, larger companies benefited more in terms of dollars received than truly small businesses. The chart below looks like a confirmation of Pareto's principle, the famous 80-20 rule: Almost all the money went to a small fraction of the companies.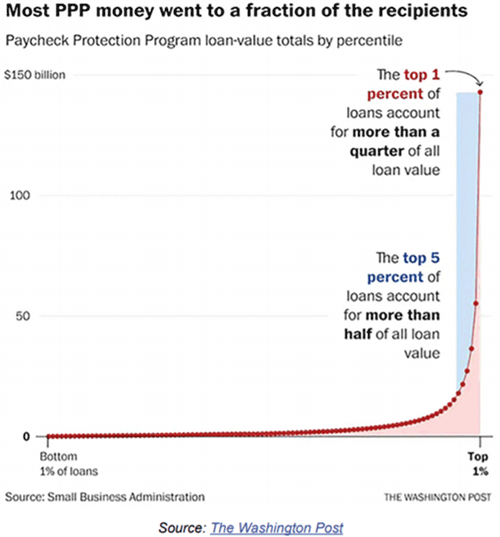 There's more, too. Small businesses have been disproportionately harmed by haphazard, inconsistent local orders restricting how they operate or sometimes closing them completely. I get the health concerns. The initial closures last spring made sense, given how great the threat looked and how little we knew at the time. We have since learned a lot. Governors and mayors can be more precise and, very important, help small businesses operate safely. Instead, they have often produced the worst of both worlds, harming businesses and workers and still not slowing the virus.
Disclaimer: The Mauldin Economics website, Yield Shark, Thoughts from the Frontline, Patrick Cox's Tech Digest, Outside the Box, Over My Shoulder, World Money Analyst, Street Freak, Just One ...
more