Small Cap Biotech Stocks Soar: How Long Will Rotation Last?
Biotech stocks are rallying ahead of the expected strong seasonality in the November-January time frame. A rotation into smaller caps is leading the way. We have been reporting on the ramp-up for biotech stocks in 2017 and ETFs over the past year and we are now up 25-45% in ETFs and specialty funds with three months to go. We have developed a biopharmaceutical portfolio that has anticipated a bull market while balancing the risk with large cap dividend stocks, ETFs and a few smaller caps that are leaders in emerging immuno-oncology therapies. However lately we see a dramatic surge in smaller cap stocks with considerable "pump and dump" characteristics.
Here are some underlying characteristics and underpinnings that may account for the small cap and overall life science sector strength:
NASDAQ and Small cap stocks in particular are strong since August as can be seen with the iShares Russell 2000 (IWM) up 8% over one month.
Our top ETF pick in Life Science ETFs (XBI) is up 5% MTD and 48% YTD with overweighting in mid and small cap stocks.
Generalist and retail investors are buying into biotech ETFs and more speculative stocks. ETFs are driving individual stocks. Healthcare IPOs account for 50% of Q3 offerings.
Clinical news, deals and financings are picking up with a big Q4 calendar ahead.
Options trading is strong creating volatility.
Valuations in small and mid-caps are hard to calibrate in a momentum driven market, what matters is clinical news and stock sponsorship.
Volatility with individual micro-cap and small cap stocks can be ridiculous and hard to trade.
Financial media has more focus and news on the life science sector.
An overall bull market mentality has curbed traders' caution.
For example look at two relatively new ETFs with major holdings in small and microcap stocks. The iShares Russell Russell Microcap Index (IWC) is up 10.5% over one month despite being flat through August. Another unique play the Loncar Cancer Immunotherapy (CNCR) ETF focuses on companies that are developing cancer treatments that deploy the bodies own immune system to fight disease. Among the current holdings are large companies such as BMY, GILD and MRK but a lot of clinical stage small cap companies in the news such as Five Prime Therapeutics (FPRX), Xencor (XNCR) and Ziopharma Oncology (ZIOP). CNCR is up 9.6% MTD and 33% YTD although trading volume is still low about 30k per day.
Here is an overview of MicroCap ETFs with the iShares IWC chart for six months year below. There are over 40 microcap ETFs.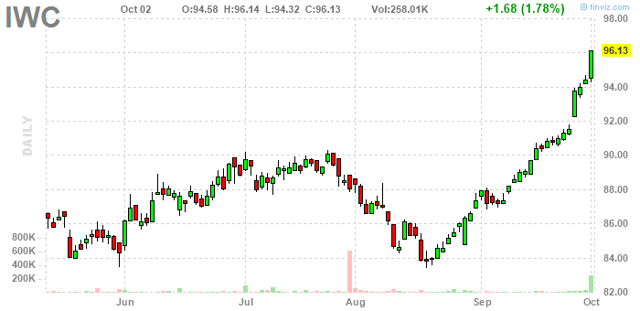 For example three stocks I have recently traded show this volatility: Aveo Pharmaceuticals (AVEO), Editas Medicine (EDIT) and Ignyta (RXDX). All three have huge gains YTD but were hard to call in May 2017.
Another ETF to track is the iShares S&P 600 Small Cap Value Index (IJS) also up 10% over 30 days.
Unless you trade daily, maybe with help from specialized software to assess technicals and financial metrics, the volatility with microcaps can be frustrating. It is always difficult to decide when to sell even after big gains.
The wave of interest in small caps is a healthy signal for the biotech bull market until some event curbs speculation as it did in 1999-2000. For now these three ETFs - CNCR, IWC, XBI - are good indicators for risk appetite.