Seasonal Headwind Today As Black Friday & Cyber Monday Get Weighed
Last week I wrote about the strong seasonal tailwind on Wednesday and Friday. The latter disappointed. Today, we have a strong seasonal headwind and the bears look ready to fight as pre-market action looked weak with more trouble in crypto land as well as unrest in China.
On the "interesting" front, the Chinese large caps (FXI) have traded well of late and they seem to be getting some love from pundits in the media.
(Click on image to enlarge)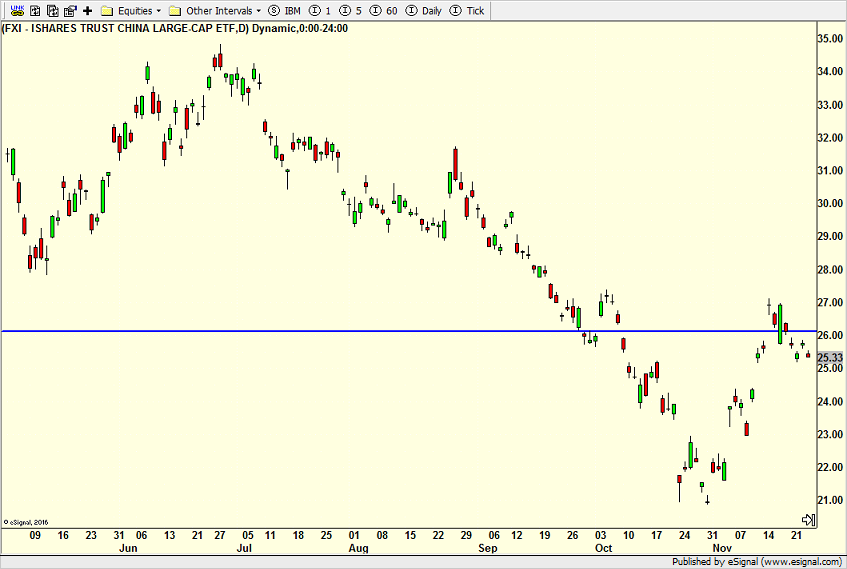 The Monday after Thanksgiving is usually littered with comments about the retailers. How did Black Friday go? Did Doorbusters work? I will observe more than really care, but Amazon (AMZN) and Best Buy (BBY) pique my curiosity.
Below is a chart of the retailer ETF XRT which did bottom before the stock market did.
(Click on image to enlarge)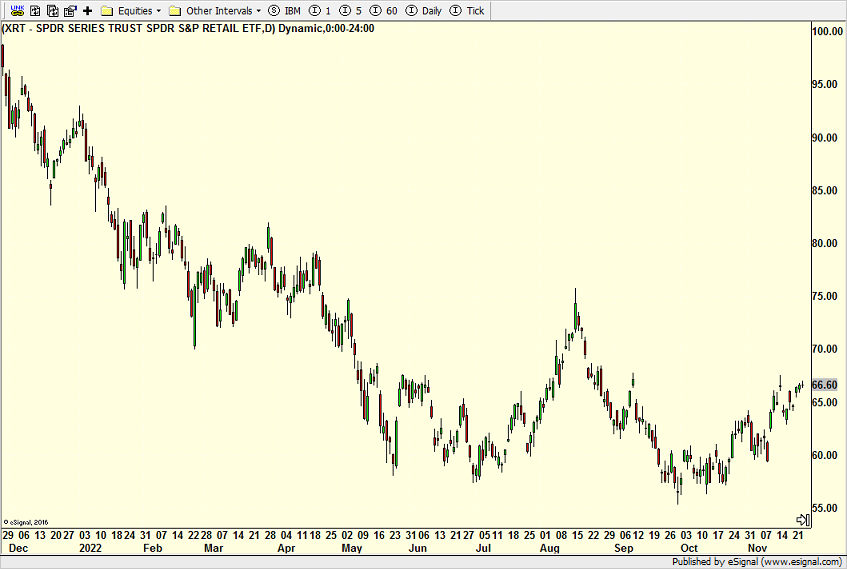 Pivoting to the stock market, while I have been super bullish since the bottom, I also recognize that the S&P 500 is up roughly 13% since October 12th and it is stretching the envelope to mix my metaphors. Some retrenchment is likely and needed for the final push into year-end. The rally should not be over if my preferred scenario remains correct.
Technology remains challenged and needs some investor love. Into year-end, it will likely see some additional tax loss selling, but also, if that's completed sooner than later, we could see a decent pop as sellers are exhausted.
On Wednesday we bought CPRI, SBSW, and more NFLX.
---
More By This Author:
The Pieces Are Falling Into Place
Europe & Dow Showing Emerging Index Leadership As Dollar Plummets
The Fall Of SBF Continues As Markets Yawn
Please see HC's full disclosure here.