Precious Metals: Time To Move On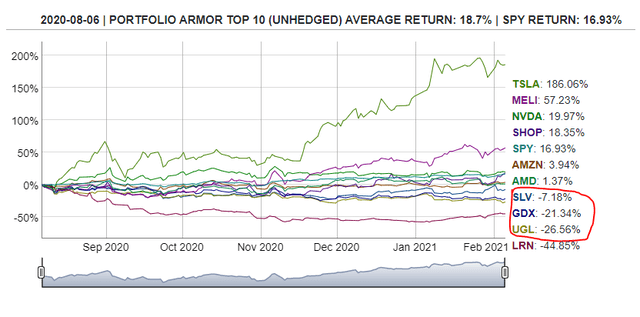 The final, six-month performance of our top ten names from August 6th, with three precious metals ETFs circled (Screen capture via Portfolio Armor).
Moving On From Precious Metals
In a post last week (Silver Isn't The Next GameStop), we wrote that we were still bullish on the silver ETF SLV. We're not bullish on it anymore. We're no longer bullish on precious metals in general. Maybe you shouldn't be either. Here we explain why. First, let's consider why you might be bullish on them in the first place.
Do You Want To Make Money Or Be Right?
Bloomberg's Joe Wiesenthal touched a nerve with this tweet last week, showing that gold prices had dropped since the Georgia Senate runoffs.
Seems like we're not talking enough about the fact that gold has been tanking ever since the Georgia runoff election.

Dems in complete control of government = higher deficits = bad for gold. Charts don't lie. pic.twitter.com/39F9Bz7Tqx

— Joe Weisenthal (@TheStalwart) February 5, 2021
The reason that tweet touched a nerve is because many investors own precious metals for ideological reasons. They're into Austrian economics, they believe profligate government spending will lead to hyperinflation, etc. Maybe they'll even be right someday. But why not make some money in the meantime?
What Makes A Good Forecaster
Several years ago, we interviewed a leading Super Forecaster from Phil Tetlock's Good Judgment Project. We were reminded of that over the weekend by this tweet.
Tetlock's study into forecasting accuracy found that the most important skill was a willingness to update ones beliefs when new information arrived

In Think Again pic.twitter.com/ZaPjUzNGmO

— richard shotton (@rshotton) February 7, 2021
When's the last time you updated your beliefs on precious metals?
Our system doesn't have beliefs, but it does update its analysis every trading day.