It's Decision Time Next Week
Summary
I have used the kerfuffle of the last two weeks to upgrade my portfolio.
Since everything was taken down regardless of quality, integrity, or future earnings power, it has been a good time to do so.
But next week will give us the opportunity to make an even more important decision.
How much do we invest when stocks have given us a much better entry price?
But within the context of an election year, with a very old bull market, and COVID-19 ready to possibly to slow the economy.
Re the last bullet above: There's an old newspaper editor's maxim our hot media of TV and the Internet have taken too much to heart: "If it bleeds, it leads."
Yes, we have problems to solve, but I believe the 24-hour news cycle is more dangerous than most of the problems they regularly breathlessly report on.
For instance:
The markets are always in flux. The chart below looks like a run-of-the-mill correction, which we get at least once and usually more than once a year. In this chart, the Dow went from about 28,300 to a little more than 25,800. That's a decline of less than 9%. Standard stuff.

Chart source: BigCharts.com
However, the difference is the time frame in which it occurred: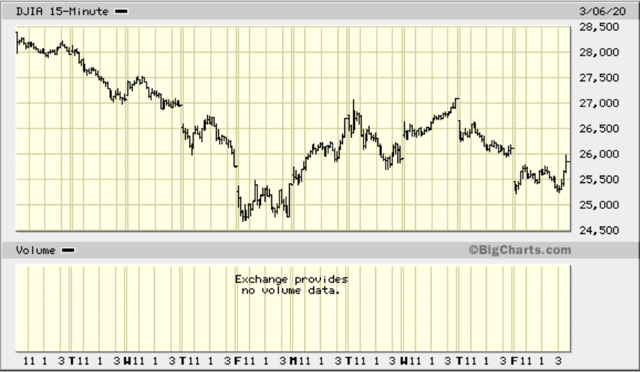 Chart source:
All of this happened in just 10 trading days. The low point was last Friday, the 28th, when the Dow closed at 24,681, more than 1100 points below where it ended this Friday.
If you are unfamiliar with BigCharts, this chart begins with last Monday, the 24th of February and covers the 10 days until Friday, March 6, 2020. The "11", "1" and "3" across the bottom show where the DJI was at that time of the day. The "T" is Tuesday, "W" is Wednesday and so on.
Until this Friday's closing moments, which enjoyed a nice bump up in the final hour of trading, the Dow saw a low just 550 points above that Feb. 28 scare. Is this enough to declare a double bottom and imagine we can begin seeing some upward momentum?
Disclosure: I am/we are long PFE, ABBV, BMY, TOT, XOM, CVX, TPL, OXY.
Disclaimer: I do not know your personal financial situation, so this is not "personalized" investment advice. I ...
more