Is There A Long/Short Fund Worth Buying?
Technically, it is correct that funds which sell secured puts can have a stock put to them at a lower price than it is today. That is a choice they make, but the name of the game for such funds is to collect the income, first and foremost.
Technically, it is also correct that a fund that owns some shares long and some shares short qualifies as a long-short fund. But if they do no fundamental analysis and are merely momentum players, it is absurd to think of them as providing protection in difficult times.
If a fund (by which I mean traditional open-end funds, closed-end funds and exchange-traded funds) simply buys whatever has the highest relative momentum (i.e., is most popular) and shorts whatever has the lowest (i.e., is already out of favor), then that fund is really no different than a long-only fund that ignores the weaker stocks.

What's in a name? You will notice that, unlike a lot of funds that *call* themselves long-short funds but aren't, GNNDX does not have those words in its name at all. Mssrs. Goldstein and Greenblatt have achieved their results by remaining 100% "net" long - achieving this, however, by being 190% long the cheapest large-cap US stocks based on their valuation research and 90% short the most expensive large-cap US stocks based on their valuation research. This is both an index fund and a long/short fund or, as they prefer to call it, an "Index Investment + Active Long/Short Overlay."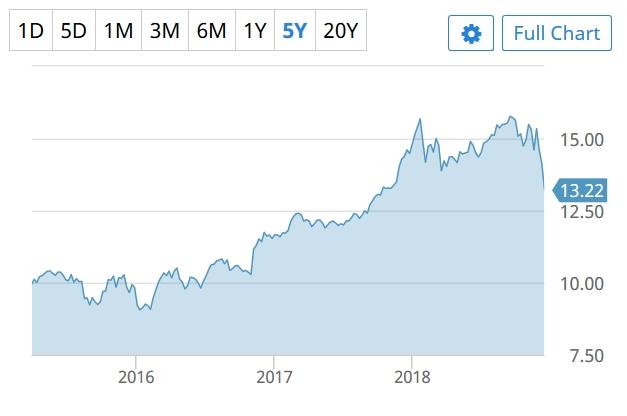 (Source: Barchart.com)
GNNDX has not escaped the fourth quarter decline, of course. It is down 12.5% since the September high for the year. Still, it may be worth considering for many investors. The reason fund managers believe this approach will be better for most investors, unlike traditional long/short funds, is that many investors don't take the time to educate themselves about value investing. So, if a long/short fund underperforms for a short period, they too often bail out, especially if their favorite benchmark is doing well when their fund isn't. Someone called it "short term-itis," and that's what it is. With GNNDX, the portfolio managers know they will stay close to their benchmark in good times (and have beaten it so far since inception) but will be able to protect assets better in bad times (since by the beginning of bad times, it is easy pickings to find expensive overpriced stocks to short).
You can't judge a book by its cover and you can't judge a long-short fund by its name.
For your further due diligence, you might want to consider one of the other Gotham funds, many of which have a variation on this same theme. If you'd rather do your due diligence at a one-stop shop, the Gotham Total Return Fund N (GTRNX) is a roll-up of many of these other funds. This fund invests the majority of its assets among mutual funds advised by Gotham (each an "underlying fund," and collectively, the "underlying funds"). Each of the underlying funds utilize a long/short equity strategy with varying levels of net exposure (long positions less short positions). All these funds have quite high expense ratios, but remember, all returns shown are net returns - after the payment of all fees and expenses.
Disclosure: I have no positions in any stocks mentioned, but may initiate a long position in GNNDX over the next 72 hours.
Do your due diligence. If I can help, you are welcome to contact me ...
more