Is Powell Sending A Message: The Fed Bought No Bond ETFs In The Entire Month Of August
For much of the past six months, the biggest story was the Fed's Blackrock-mediated purchases of corporate bonds, either in the primary or secondary market or via ETFs. As a reminder, while the Fed pre-announced its intention to purchase up to $750BN in corporate bond (including certain fallen-angel junk bonds) in March, it started purchasing bonds in May, and bond ETFs in June (among which such mainstays as LQD and HYG). By directly entering the corporate bond market - something none of his predecessors dared to do even at the depths of the financial crisis- Powell created what many believe, as GLJ's Gordon Johnson writes, "the biggest corporate bond bubble, and junk bond bubble, in history (and that all happened before the Fed even started buying)." And, as expected, bond prices, stocks, and ETFs all surged - completely disconnected from fundamentals - while yields plunged, as everyone was trying to front-run the Fed's pending massive purchases. In other words, by jawboning alone, the Fed accomplished its handiwork.
Yet something odd happened in the month of August when during the peak summer doldrums it was SoftBank's turn to steal the spotlight with its now-infamous gamma meltup - the Fed did not buy a single ETF.
According to the Fed's breakdown of holdings under its Secondary Market Corporate Credit Facility, as of July 31, the Fed owned a total of 112,840,734 shares of various ETFs.
(Click on image to enlarge)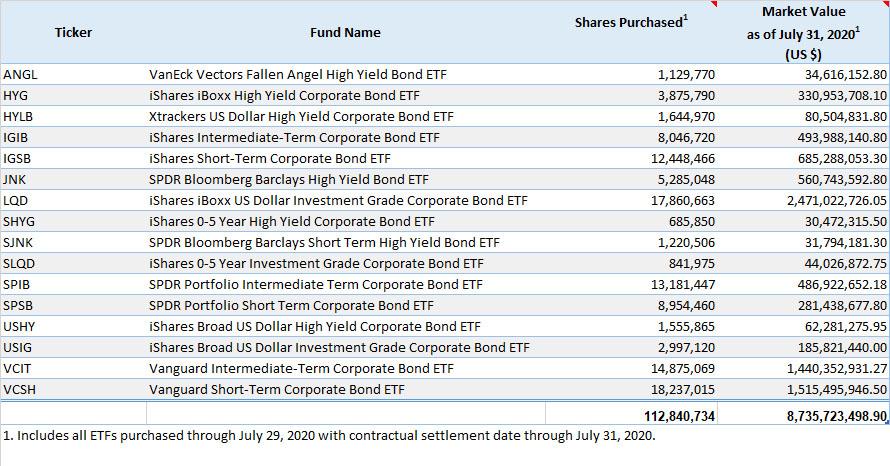 Fast forward one month, to the Fed's update of its corporate bond and ETF holdings as of Aug 31 and which was published on Tuesday, where we find that the number of ETF shares held is unchanged for the entire month, while the market value of its ETF holdings has actually dipped by $64 million to $8.671 billion from $8.736 billion.
(Click on image to enlarge)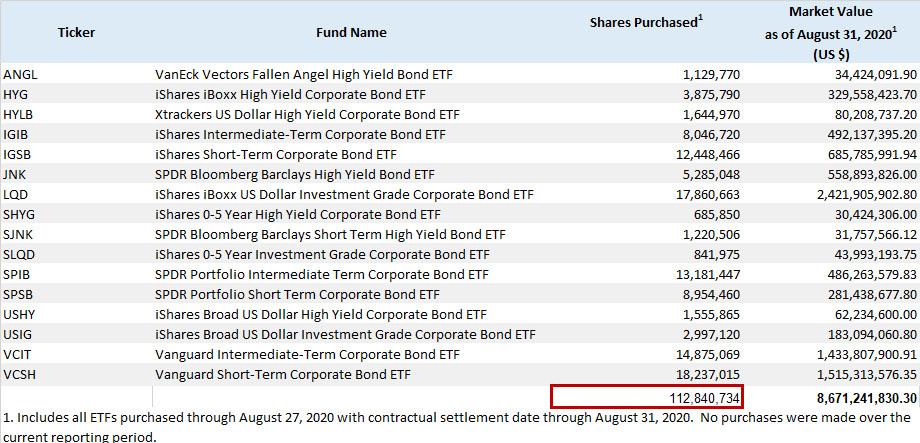 Flipping to the trade level data for the month of August is even more clear: as the Fed itself states, "No purchases were made over the current reporting period."
Disclosure: Copyright ©2009-2019 ZeroHedge.com/ABC Media, LTD; All Rights Reserved. Zero Hedge is intended for Mature Audiences. Familiarize yourself with our legal and use policies every ...
more