ETF Watchlist: Week Of October 9
If you've flipped on the financial news at any point over the last few months, you've probably heard somebody talking about market volatility. Or, specifically, the lack of it. Take a look at this chart for the CBOE Volatility Index (VIX) over the last 25 years or so.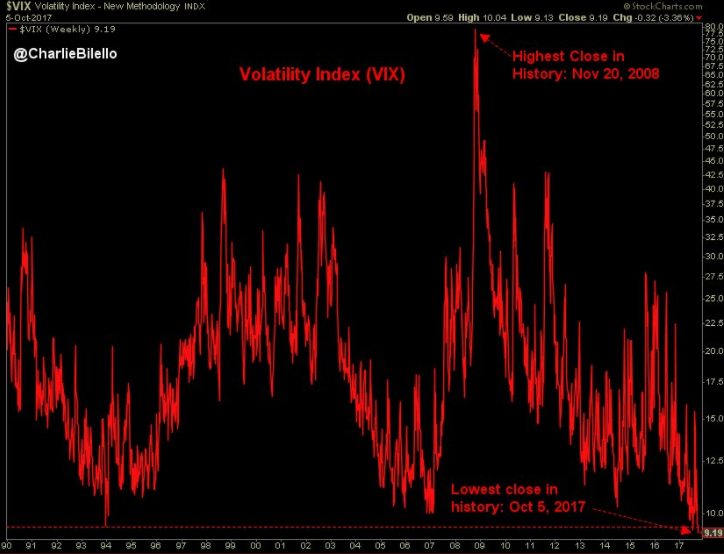 The VIX finished at 9.19 on Thursday, which is the lowest close in history. As in ever. Here's another stat for you. The VIX has closed below 10 on a total of just 23 trading days since 1990. All but three of them have taken place in 2017. We are living in a period of market calm that is literally without precedent.
A sound economy and a Fed policy that's put a lot of wind into the market's sails have continued to push equities higher, but why the lack of volatility? One theory blames ETFs and the overwhelming migration to passively managed index funds. It theorizes that a constant heavy flow of money going into unmanaged ETFs is dulling some of the volatility that typically comes when money managers trade more actively.
Are investors discounting volatility right now? According to Charlie Bilello, the annualized volatility of the S&P 500 over the past year is about the same as you'd typically find in a total bond market fund. That's atypical though and investors shouldn't get comfortable with the idea that the stock market lacks risk. As Bilello says in his article, "the absence of risk does not mean the elimination of risk".
With that in mind, here are the four ETFs to watch in the coming week.
iShares Micro Cap ETF (IWC)
I wrote about the current state of micro-cap stocks earlier this week. In short, it's been remarkable. The Micro Cap ETF put together a run where it was up on 29 out of 31 trading days before it ended this past week. As of August 18th, the fund was down 1.8% on the year. As of Friday, it's now up 13%. After such a run up, this probably isn't the best entry point, but the micro cap segment of the market still does demonstrate some value.