ETF Watchlist: Week Of November 27, 2017
Welcome to the final month of 2017, a year that has been great across almost all asset classes, sectors and markets. Traditionally, things calm down in December as investors focus more on the holidays and vacation time instead of their portfolios. Don't let that distract you, though, from the fact that December is one of the best months to be in the equity markets.
Consider this chart from economist Ed Yardeni.

The month of December has produced gains roughly 73% of the time, making it easily the best performing month. Is there any good reason why December tends to do the best? Not really. Market watchers tend to point to the so-called Santa Claus Rally, the time frame between Christmas and the first couple trading days of the new year where the markets also seem to go up. The reasons for this could be anything from year-end tax planning, bonuses or just plain feeling good about the holidays.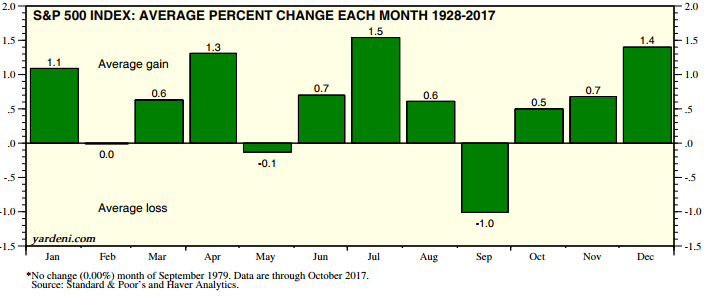 December's average gain of 1.4% over the past nine decades makes it the second best month to be in the stock market (historically speaking, of course). That's obviously no guarantee of what might happen in 2017, but the market's current momentum backed up by a little history suggests that this year could end on a high note.
With that being said, here are your four ETFs to keep an eye on as we head into 2017's home stretch.
ARK Innovation ETF (ARKK)
The Innovation ETF has consistently been one of 2017's top performers, posting gains of more than 84% on the year. The fund's theme of targeting technological improvement and innovative disruption has proven so popular this year that assets have grown from around $50 million at the beginning of the year to more than $200 million today. What's fueled the big gains? A big stake in the Bitcoin Investment Trust (GBTC) for one, which is up nearly 800% year-to-date. Other winners include Juno Therapeutics (JUNO), Illumina (ILMN), Amazon (AMZN) and Tesla (TSLA). What does the remainder of the year have in store? Could be more gains as tech and momentum remain in firm control.