E

What The Fed Did Do At Its Last Meeting On April 30 - May 1, 2019
This article provides an impact assessment of the FOMC April/May 30-1 2019 meeting.
At the meeting, the Fed left the headline rate, the Federal Funds Rate (FFR) alone with no changes as was largely expected and anticipated by market participants.
The chart below shows the current FFR situation.
(Click on image to enlarge)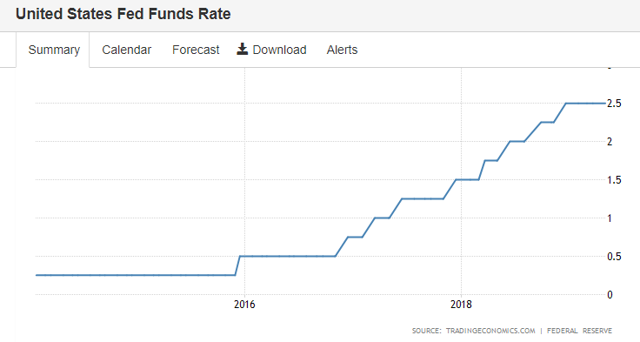 What Happens When The Fed Changes Rates?
A movement of the FFR has four broad impacts:
Bank lending costs on required reserves.
The interest burden on private debt.
Interest on newly issued Treasury deposits.
Interest paid on excess reserves, also known as the support rate.
Because the debt and credit levels have changed marginally since my last report, all charts and tables have been brought up to date.
All four impacts are examined in detail below.
Bank Lending Costs
The chart below shows the stock of private debt as a percentage of GDP.
(Click on image to enlarge)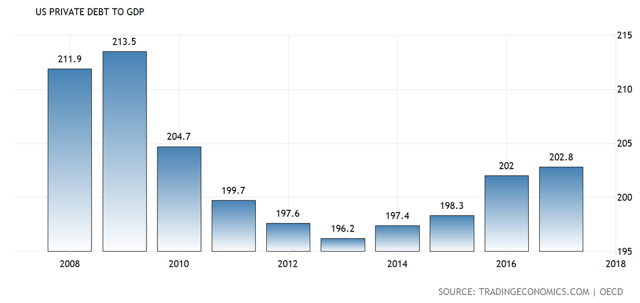 One sees the most current level of private debt-to-GDP is 202.8% for 2017.
The table below shows the impact of the rate hike on bank reserves advanced by the Fed, via the discount window, when a bank makes a loan.
(Click on image to enlarge)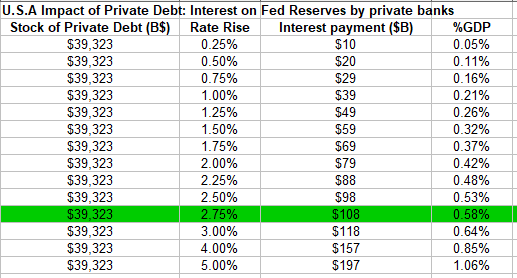 (Source: Author calculations based on Trading Economics GDP measure)
Loans create deposits and generate reserves at the Fed. The Fed creates the reserves on demand as part of the federal payments system. If not able to access reserve funds from other commercial banks on the interbank market, a bank can always access reserves from the Fed at the FFR. The interbank rate is shown in the chart below and shows that at present commercial banks would be better off obtaining their required reserves from the Fed discount window at 2.5% rather than the current 2.6% interbank rate.
(Click on image to enlarge)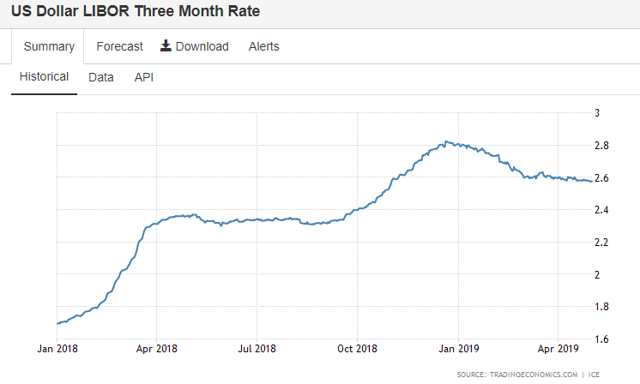 Every 0.25% rate movement changes the cost of loan funds by $10 billion. The private banks then pass on this rate change to the customer if they can.
An FFR increase is a giant, economy-wide tax on borrowers and lenders. Each time the Fed raises 0.25%, it moves $10 billion from the private sector to the government sector.