Powell Promises Fed Remains "Committed To Using Every Tool" To Save The World From Virus' "Considerable Risks"
"This is about as dire as the language the Fed uses can get."
Those are the words of George Pearkes, macro strategist at Bespoke Investment Group, as he reflects on what The Fed promises and worries about going forward.
***
Since the weekend when The Fed went "all-in", the dollar is marginally lower, Treasury bond prices are marginally higher, Gold is strong... but stocks are f**king insanely bid...
(Click on image to enlarge)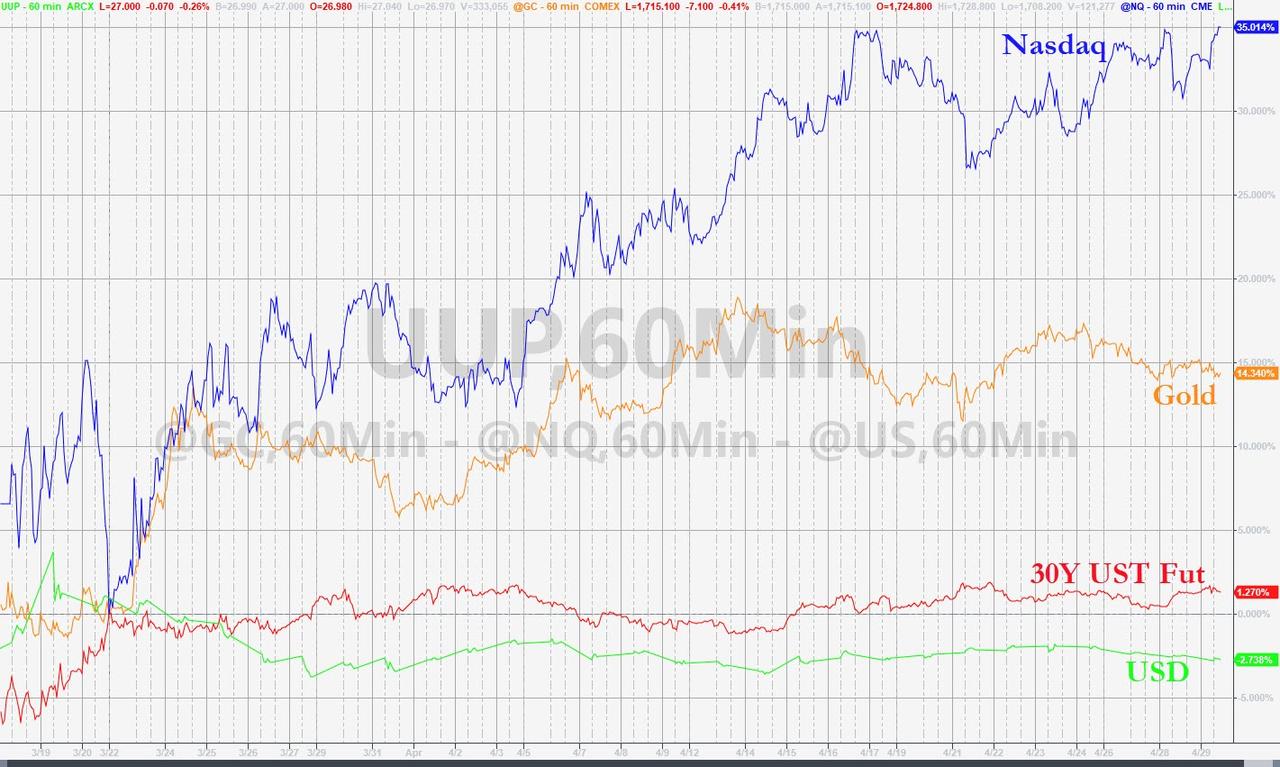 And during that same exuberant rampage in stocks after The Powell Put was "reportedly" unleashed, earnings expectations have collapsed...
(Click on image to enlarge)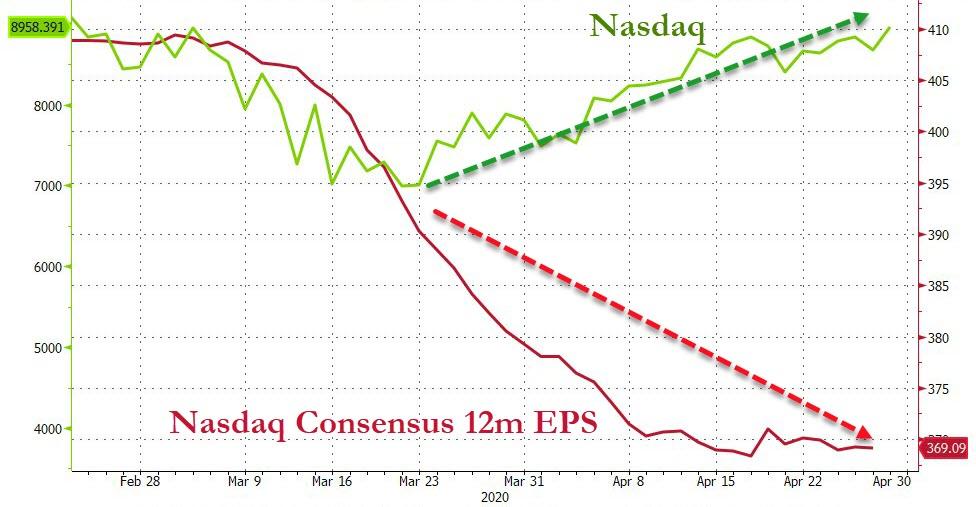 Source: Bloomberg
Is this really all that matters now?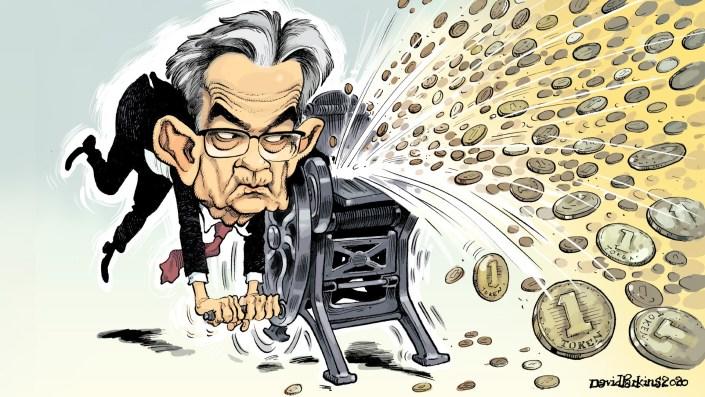 Can The Fed not see it has fueled a FOMO-framed multiple-expansion versus complete collapse in consumer's economic confidence...
(Click on image to enlarge)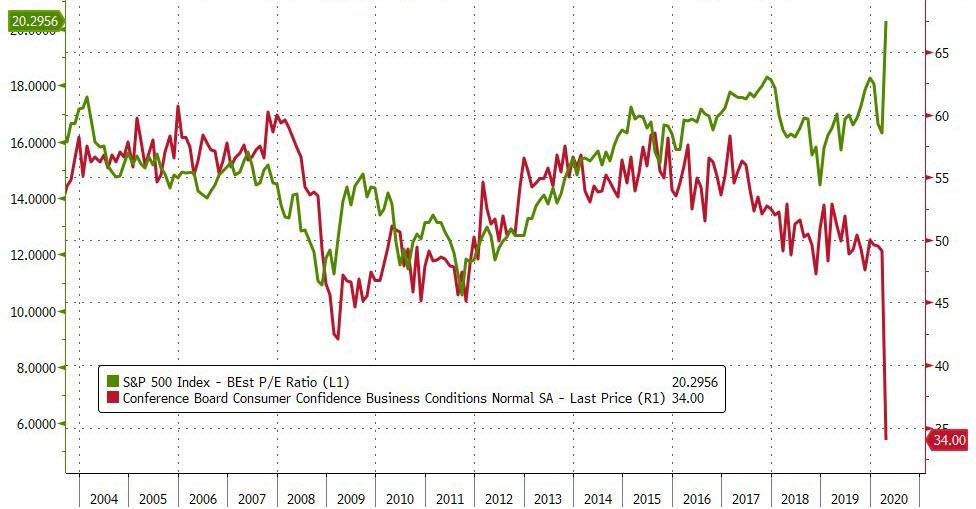 Source: Bloomberg
It would appear so and therefore any hint of a doubt about The Fed's full-throated "all-in", "print-or-die" approach to monetary policy forever will hit markets (stock markets most of all) like a ton of bricks.
But, don't forget The Fed has been tapering its QE-Infinity recently...
(Click on image to enlarge)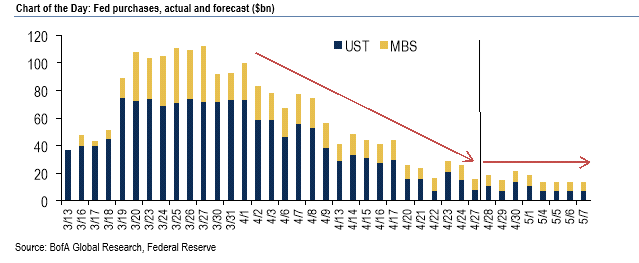 As we detailed earlier, WSJ's Fed watchers Jon Hilsenrath and Nick Timiraos started off their expose on how the "Fed Is Changing What It Means to Be a Central Bank" in which the only thing that really mattered was the first paragraph:
The Federal Reserve is redefining central banking. By lending widely to businesses, states and cities in its effort to insulate the U.S. economy from the coronavirus pandemic, it is breaking century-old taboos about who gets money from the central bank in a crisis, on what terms, and what risks it will take about getting that money back.
This is a good description of what the Fed has done in the past month: the breach of virtually every central bank taboo imaginable, crossing lines not even Ben Bernanke dared to cross by openly buying corporate bonds and backstopping virtually all credit instruments, all in the pursuit of stabilizing markets the US economy and avoiding a full-blown depression, even if it meant institutionalizing moral hazard as the only imperative and ending free and capital markets as we know them, resulting in "markets by decree."
Disclaimer: Copyright ©2009-2020 ZeroHedge.com/ABC Media, LTD; All Rights Reserved. Zero Hedge is intended for Mature Audiences. Familiarize yourself with our legal and use policies every ...
more