EC

Business Cycles Have Become Longer
It's amazing how the economic situation has turned in the past 9 years. In 2009, investors and economists were discussing the possibility of how recessions were getting worse. That's a daunting potential trend because a recession worse than the 2008 financial crisis would be catastrophic. There was recency bias in that claim because the reality is the 2001 recession wasn't worse than the previous one. The crash in stocks was bad in 2000 because they were possibly the most overvalued in history, but the economy and stock market aren't the same thing.
The new trend shown in the chart below created by @Not_Jim_Cramer on Twitter is economic expansions appear to be getting longer. That observation might have some recency bias since we are in a long expansion right now. However, it's clearly rooted in more evidence than the claim recessions are getting worse which was made in 2009.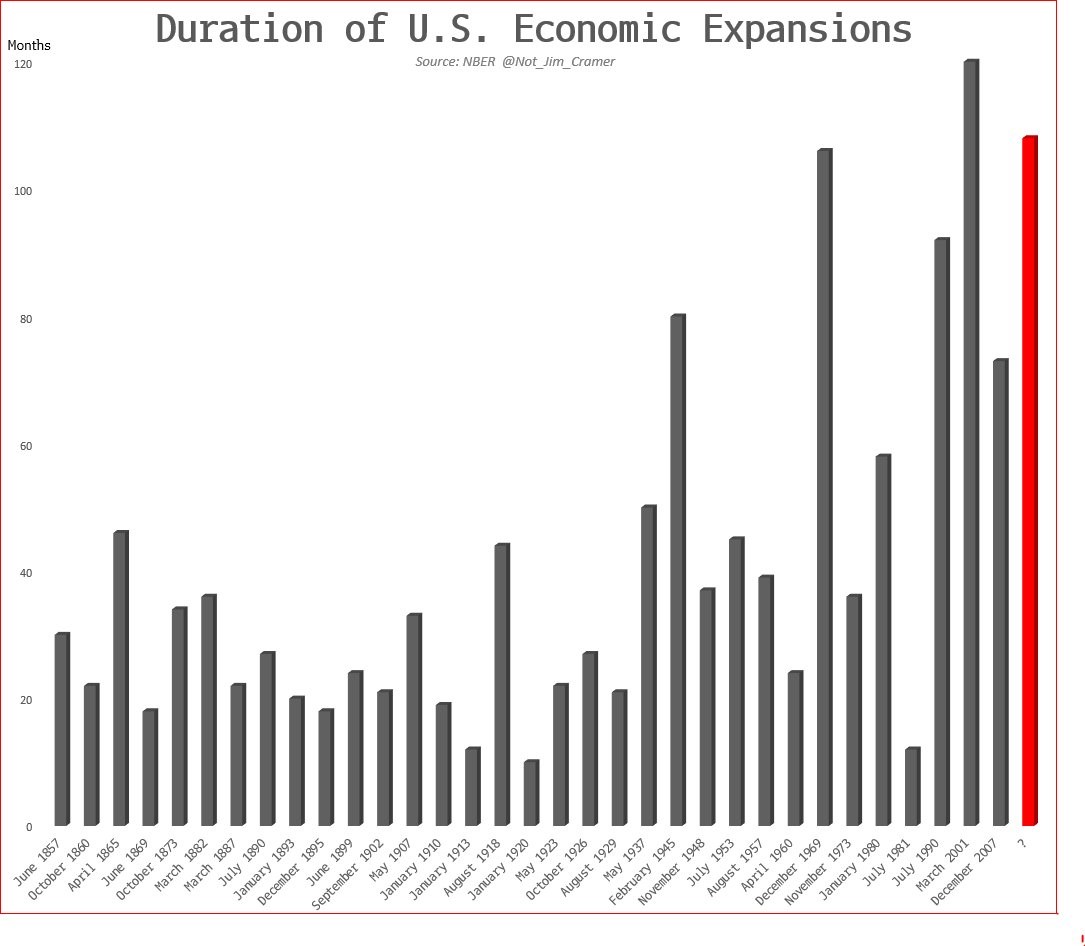 Source: Twitter @Not_Jim_Cramer
The past 4 expansions are rated as the 1st longest, 2nd longest, 4th longest, and 6th longest since 1857. That includes 34 business cycles. It's difficult to come up with one reason for this change since the current economy is monumentally different than it was in the late 1800s and early 1900s.
One aspect which is clear is if you have invested based off the notion that recessions occur every 7 years or so, you have lost a lot of money. That's a silly notion that revolves around lazy thinking. We're not saying there won't be a recession soon based on only this data; this is just an observation to consider. We're saying basing an actual investment thesis around the fact that recessions occur every 7 years simply is not rigorous enough analysis to make you money.
When Is The Next Recession?
Since this is about to be the longest expansion in our lifetimes, some investors are getting nervous about the end of the business cycle. Because it has lasted so long, many investors haven't experienced a bear market. Anyone with less than 9 years of experience hasn't seen a full business cycle. Some of these traders are oblivious to the fact stocks can go down and others are hedging because they know the results can be bad. To be clear, being experienced isn't enough to allow you to outperform during a bear market. Many seasoned investors were crushed in 2008. Also, not having experience doesn't prevent you from doing well during market crashes.
Disclaimer: Please familiarize yourself with our full disclaimer here.