6 Pet Stocks And An ETF For National Pet Day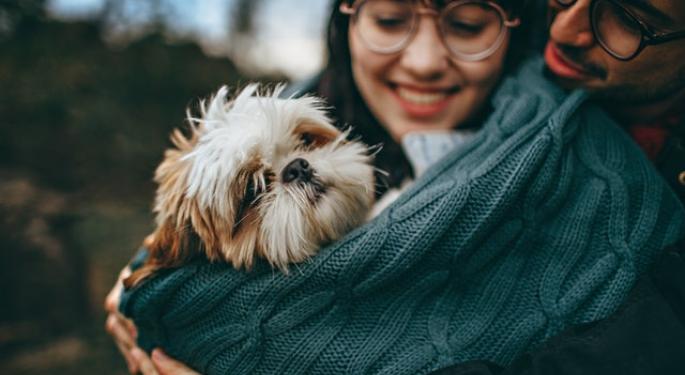 Image Source: Pexels.

National Pet Day was created in 2006 to bring awareness to adopting and spoiling pets. The holiday takes place every year on April 11.
Here is a look at some pet-related stocks for investors to consider on National Pet Day.
Chewy: One of the leading pet ecommerce companies is Chewy Inc CHWY. The company has seen its operations expand during the pandemic as many pet parents choose to have items shipped to their homes instead of going to stores that carry pet food and supplies. The company reported fourth quarter sales of $2 billion, a year-over-year increase of 51% (See related article: Chewy's Q4 Beat Shows Strength In Pet Market, Says Bullish BofA).
Petco: In early 2021, Petco Health and Wellness Company WOOF went public raising over $800 million. The company has over 1,400 locations that are within a three-mile radius of 54% of customers in the U.S. Petco has expanded its ecommerce business to help with future growth. The company also plans to push into pet health care going forward.
Barkbox: Omnichannel pet company Bark is going public in a SPAC deal with Northern Star Acquisition Corp STIC. The company is well-known for its Barkbox subscription program that is shipped to over 1 million dogs a month. The company also sells items in physical stores for categories like fun, food, home and health. Barkbox grew its customers from 618,000 in fiscal 2019 and 663,000 in fiscal 2020 to 1.05 million in fiscal 2021. The company launched Bark Home, Bark Eats and Bark Bright to tackle additional areas like dog food and pet insurance.
Rover: Rover, the largest dog walking business in the U.S. is going public via SPAC merger with Nebula Caravel Acquisition NEBC. The majority of the company's revenue comes from overnight care.
"Rover is the answer to the question of what do I do with my pet when I leave town on holiday or go into work?" Rover CEO Aaron Easterly told us. The company is 10 times bigger than the next largest competitor. Rover will explore acquisitions to help with growth and diversification in other areas.
Disclosure: Author is long shares STIC.
© 2021 Benzinga.com. Benzinga does not provide investment advice. All rights reserved.