UBS, Fed And More Of The Same
While the major stock market indices struggled on Friday and it looked on the ugly side, the range from high to low was still in between the range from Thursday. The Nasdaq 100 remains the strongest and the S&P 400 and Russell 2000 remain the weakest. I would like to see the weak bounce without the leaders ceding. That may be a tall task right here, but the bulls need to get prices to close above Thursday's high.
Over the weekend, we saw UBS buy Credit Suisse in a deal to save further carnage. Interestingly, I always viewed both Swiss entities as among the weaker institutions along with Deutsche Bank which has been eerily quiet. The markets are still keenly watching First Republic after a JP Morgan-led group put together a $30 billion deposit aid package, reminiscent of 1998 with Long-Term Capital.
The Fed is meeting this week and we will hear from them on Wednesday. We know that the labor market is a tad weaker and inflation continues to come in. The crisis in the banking system totally eliminated a 1/2% rate hike. Markets are expecting 1/4% with some thinking the Fed pivots to neutral.
Finally, last week I showed the 2-Year and 10-Year and how yields have collapsed but for the wrong reasons. Below you can see the U.S. Dollar Index and which is weaker than treasuries, another sign of economic and market changes. While we like to see a weaker dollar in normal times, we don't want to see a fall because of recession and rate cuts.
(Click on image to enlarge)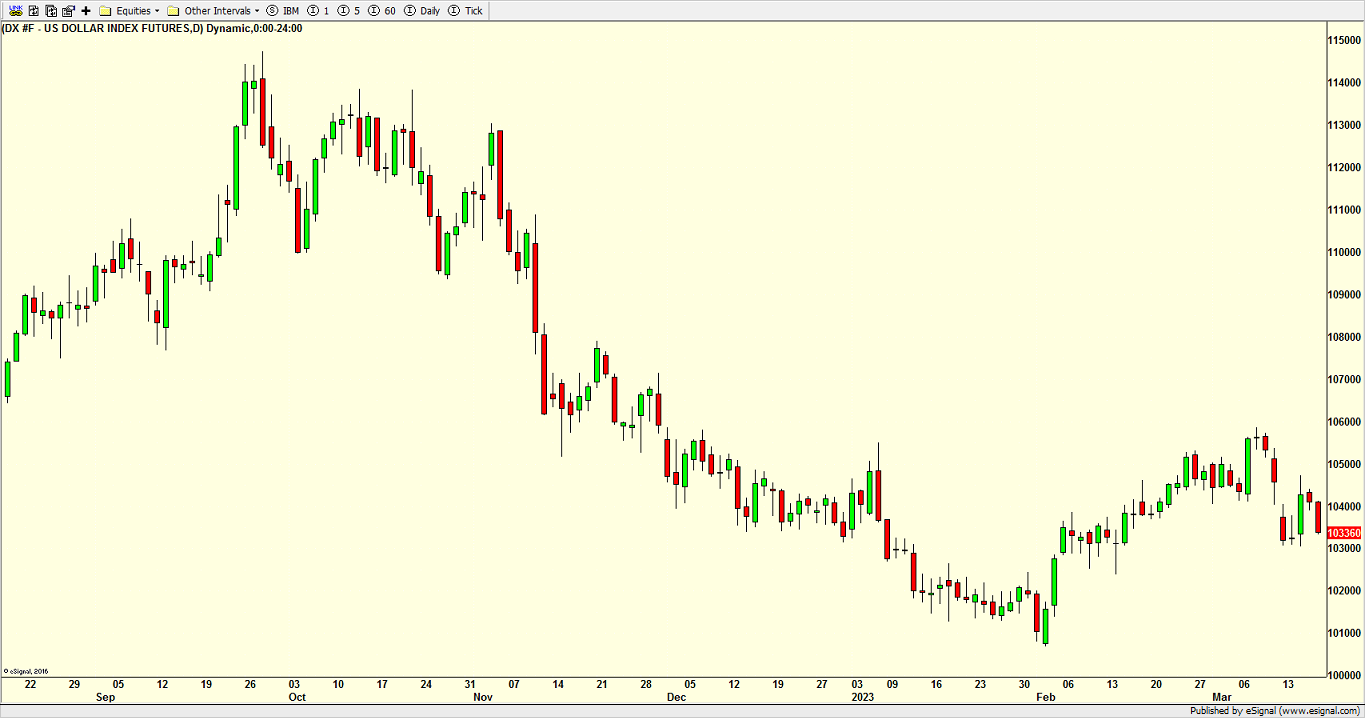 On Friday we bought TQQQ. We sold IJS and some levered NDX.
---
More By This Author:
Bank Failure, Bank Runs And Images Of 2008
Hating, Disavowing And Fighting The Rally
Bulls Battle Back Right On Cue
Please see HC's full disclosure here.