Small Cap Biotechs Lead The Market In 2019 Up 20% YTD
Update: 1:40 EST 2/25
…
Gene Therapy stocks soar on Spark (ONCE) Deal: BLUE, CRSP, RARE​; and XBI up 4.2%.
Another big deal as GE sells healthcare business to Danher (DHR) for $21.4B; GE up 8.26%, DHR up 8.38%.
==========
M&A Drives Mid and Small Cap Biotechs Stocks Higher
The Small Cap weighted XBI is up 20% YTD.
iShares Russell 2000 (IWM) is up 19.6% YTD to $158.15.
Healthcare Sector (XLV) is up 9.5% YTD.
Investors have a very short memory of the market free-fall in Q4 2018 because now we have recovered over 90% of Q4 losses on many market indices and even show gains over a 52 week period. We vaguely remember the reasons for last year's tumble but many analysts attributed the sell-off to the FED and the concern about rising rates and of course daily geopolitical headlines. Nothing much has changed except the FED talk has become more benign and we are more optimistic with a temporary trade truce with China. Even if a minor trade deal is closed we may have averted a disastrous global trade war. But looking ahead we have some tough hurdles with a March 29 Brexit deadline and the Robert Muller III report on Russia's influence in the 2016 election.
Small Caps Recover in 2019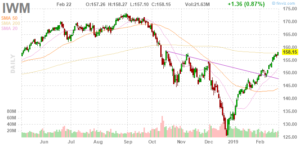 Small and Mid-Cap Biotechs Are M&A Targets
We have come very far in 2019 with little earnings support from large cap biopharma and a lot of revenue growth from price increases. But several major deals have closed in 2019 with two over the past week.
Roche Holding (RHHBY) is one of our core large cap holdings and is up 13% YTD; Roche is in the final stages (see WSJ) of acquiring Spark Therapeutics for about $5B. Spark (ONCE) is a gene therapy Company with a pipeline of products targeting blindness, hemophilia and neurodegenerative diseases. ONCE shares closed at $51.56 on Friday (up 35% YTD)so look for a move up on Monday since the market cap is only $1.94B.
Merck (MRK) another large cap core holding bought micro-cap Company Immune Design (IMDZ) for $300M in cash or $5.85/sh a 312% increase from the 2/20 closing. IMDZ is a clinical stage immunotherapy focused in cancer with a Phase 2 TLR4 agonist and a Phase 2 RSV vaccine. The Company has two unique drug discovery platforms.
Over the past six weeks we have tracked the technicals focused on the XBI and recommended three small cap healthcare stocks for the longer term. All are up big since JPM January 9: Amarin Corp. (AMRN) up 32% to $19.86, GenMark Diagnostics (GNMK) up 17,.8% to $7.31, TeleDoc Health (TDOC) up 25% to $69.17.
GenMark Diagnostics released earnings on 2/21 showing top line growth in revenues to $70.8M a 35% increase over 2017. Guidance by GenMark management forecasts 2019 revenues between $85-90M with placements of ePlex between 170-190 units.The Company has a Market Cap of $394M an a P/S of 5.84 based on current sales of only $67.4M so any significant revenue growth now at 36.2% QtQ should create value. EPS improved QtQ at 30.1%. The balance sheet may need help with a new $$ raise given the expected growth and a P/B of 9.75 with Debt/Equity ratio of 0.69.
Here is a useful Summary of 2019 M&A Deal Trends from Deloitte.
One conclusion from Deloitte is that deals will pick up and get larger with dollar value up.
PWV says that abundant capital not the economy will shape M&A in 2019.
Can Momentum Continue?
A "risk on" sentiment has been powering small and mid cap stocks in 2019. Here are some of the mid-cap stocks that are near 52 week highs or have good momentum that must be on someone's deal list: ARRY, ARNA, GWPH, IONS, NVCR. Stocks on our watch list that may have lost momentum and/or have dropped below $2B Market Cap: ANAB CRSP LGND IMMU XNCR.
The market has been excellent for trading and investing as investors trashed their portfolios in the meltdown of late 2018 and sought new positions once the 2019 rally gained traction. With valuations stretched and geopolitical events on the horizon profitable trades may not come so easy. As an aside note that the large cap IBB trails the XBI over past 3 mos. and longer term but XBI is more volatile with downdrafts.
Disclosure: I am long AMRN BMY CELG GNMK TDOC