Biotechs Hold And Ignore Rocky Week Of Global Politics - Big Earnings Upcoming… Updates CELG, BIIB, AZN, XBI
IBB flat to down over 5 days at $117.87; XBI down 3.2% over 5 days. Technicals do not look good.
AstraZeneca (AZN) up 1.9% to $38.15 on $1B new product growth. Stock is at 2018 highs.
Biogen (BIIB) stock drops 10% to $344.75 as speculators sell on the news.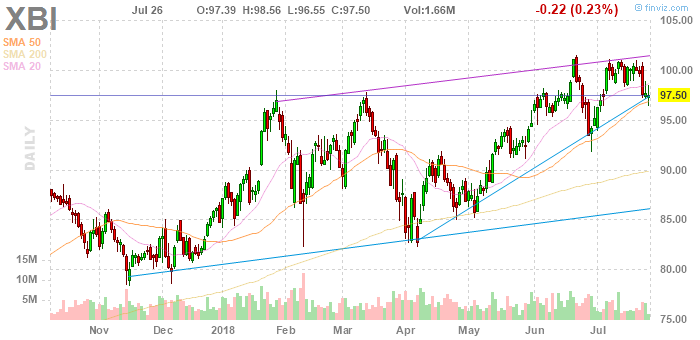 ======
Updates 7/25 am: GILD and VRTX earnings after close.
Biogen (BIIB) up over 3% on Phase II Clinical Study for Elenbecestat drug in Mild to Moderate Alzheimer Disease.
Lilly (LLY) delivers strong results with 9% Q2 revenue increase. New products drove 12% revenue growth, Elanco Animal Health unit to be spun off. Stock pops 4.5% on news to $93 level.
========
Update: 7/24 am
Biogen (BIIB) up 4.8% to $375 level.on earnings, Q2 revenues up 9% and profit beat. GAAP diluted EPS up 3%. Revenue growth was driven by SPINRAZA which contributed $433M in global revenues. MS (multiple sclerosis) revenues were $2.3B.
Update: 7/23/18 After Close
Celgene (CELG) up AH presumably on Revlimid/Rituximab data from Phase II study. Now up 8.3 % for one month.
Biogen (BIIB) will present data from their Alzheimer Disease Portfolio on a 7/25 WebCast.
==========
Biotech Stocks Hold and Ignore Rocky Week of Political Drama
Will Q2 Earnings be Bellwether for Top Line Growth?
Roche ADR (RHHBY) Gains on Alzheimer Disease News
Earnings for Large Caps: Begin This Week with: Biogen (BIIB), Lilly (LLY),Astra Zeneca (AZN), Gilead Sciences (GILD), Vertex Pharmaceuticals (VRTX), Bristol-Myers (BMY), Amgen (AMGN), Abbvie (ABBV) and Merck (MRK).
Biotech and Tech stocks teetered near highs for the year despite all the political drama of Putin and Trump at Helsinki, Russian "Spy" at the NRA, Tariffs and Trade War, Brexit Uncertainty, currency volatility and the Powell FED rate hike policy. And some large cap drug companies offered price cuts to appease Trump tough talk.Major averages were near flat, Dow led up 0.25%, but some high fliers took a hit: NFLX,TSLA. Earnings helped support the market: HON, JNJ, MSFT. Here are biotech ETFs for the past week:
Disclosure:
long CELG, RHHBY