Will Copper Prices Live Up To Expectations With Supply Gap?
A good case can be made for the copper market to be a star performer among commodities in the next few years. However, you wouldn't know it by the price action lately. Copper futures prices are down about 25% from 2018 and have lost about half their value since the all-time high set in 2011. Copper has actually resembled the overall trend in commodity prices during these periods. With the expansion of production for electric vehicles, some analysts believe there will be a substantial supply deficit in copper in the near future. However, there are more variables to the analysis than that.
Electric Vehicles and Demand for Copper
I have read a lot about how the growth in electric vehicle production is going to push demand for copper well beyond production in the coming years. Matt Badiali at Banyan Hill Research recently stated in Barrons that the world will need to produce 5 million metric tons of copper per month by 2030—about 2.5 times more than it will produce this year—in order to meet projected demand from the electric-vehicle industry.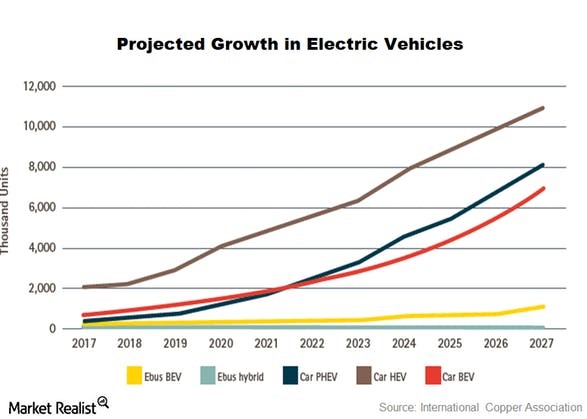 The trend has certainly been higher for production of electric vehicles and it can't be ignored. The question is how much growth will occur. There have been many stops, starts and sputters in the auto industry throughout the years. Gas prices are also a big variable going forward. The U.S. is pumping out enough oil to probably put a cap on major price increases for the foreseeable future. However, having a more environmentally friendly vehicle has also been a driving force for many electric vehicle consumers. Will that continue or will it dissipate over time? Or, will alternatives like liquid natural gas, fuel cells or biodiesel become the alternative the auto industry gravitates toward in the next 10 years?
China Demand for Copper
It is difficult to analyze the copper market without considering China in the equation. China accounts for about 50% of global demand and their economy can sometimes set the tone for copper prices. This has been a troubling sign for the copper market recently, as their economy has been weakening and the trade talks with the U.S. have raised many questions for copper demand. The trade talks and tariffs are an obstacle for copper prices to move higher. Thus far, the trade issues are signaling less demand and uncertainty, which has been dragging prices lower.
Disclosure: Past performance is not indicative of future results. Futures trading is not suitable for all investors. The risk associated with futures trading is substantial. Only risk capital ...
more