White Gold Fever: Riding The Lithium Wave In The Stock Market
Image Source: Pixabay

Silver-white, light, and highly reactive, lithium might not be the most famous element on the periodic table, but it is definitely one of the most influential at present in shaping our modern world. As the crucial ingredient of lithium-ion batteries, that power everything from your smartphone to electric vehicles (EVs), lithium has gained the status of the "white gold" of the 21st century.
In 2022, the global supply of lithium reached 737,000 tons, marking a significant jump from the previous years. Yet, with projections suggesting the production could reach 964,000 tons in 2023 and a whopping 1.17 million tons by 2024, the lithium rush is far from over.

The Lithium Rush: It's Electrifying!
What's driving this lithium craze? In one word: electrification. As nations around the globe commit to a greener future, replacing gas-guzzling cars with electric ones, and powering grids with renewable energy, the demand for lithium batteries has gone through the roof.
Investors too can join the lithium rush by trading in the stock market. With nations like Australia, China, and Chile already securing their front seats, there are plenty of investment opportunities to consider. One of the world's largest Chilean lithium producers is Sociedad Química y Minera de Chile (SQM). When it's not busy producing lithium, SQM also churns out plant nutrients, iodine, and other industrial chemicals.
This "Lithium Giant" exhibits a strong seasonal period that usually starts on August 22 and lasts until November 7. Over the past decade, during this time span, SQM has had a marked notable average gain of 15.99%. Additionally, the pattern returns have recorded a 90% positive streak since 2013, piquing the interest of potential buyers.
Seasonal Chart of Sociedad Química y Minera de Chile over the past 10 years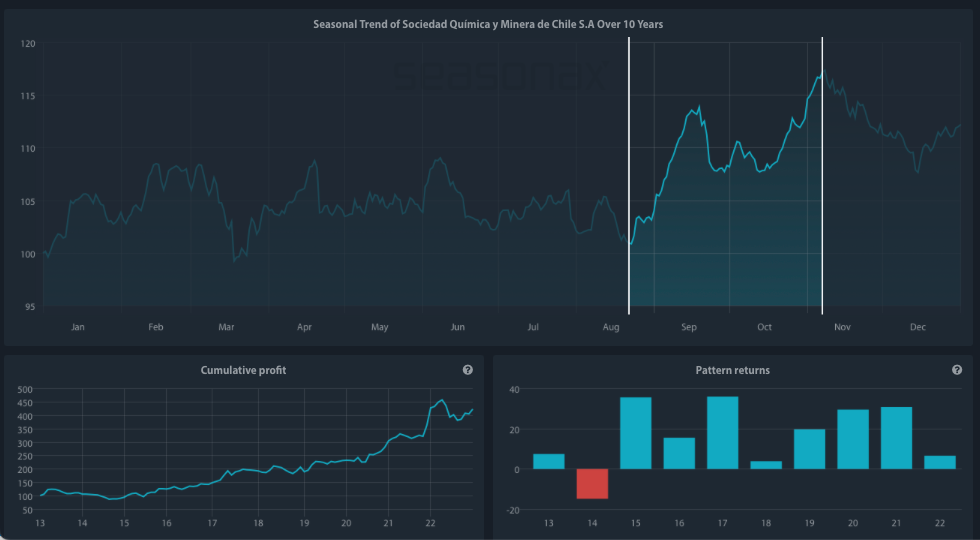 Source: Seasonax – Click the link to access an interactive chart. http://tiny.cc/Seasonax-SQM
Keep in mind that a seasonal chart depicts the average price pattern of a specific asset in the course of a calendar year, calculated over several years (unlike a standard price chart that simply shows prices over a specific time period). The horizontal axis depicts the time of the year, while the vertical axis shows the % change in the price (indexed to 100). The prices reflect end-of-day prices and do not include daily price fluctuations.
Another key player in the lithium industry is the Albemarle Corporation (ALB). Based in the United States, Albemarle proudly holds the title of the world's largest lithium producer, making it an influential force in the lithium market. A substantial part of Albemarle's lithium is used in the production of lithium-ion batteries for EVs. With the global push for electric mobility and renewable energy, the need for lithium has skyrocketed, and Albemarle has risen to the challenge.
Seasonal Chart of Albemarle Corporation over the past 10 years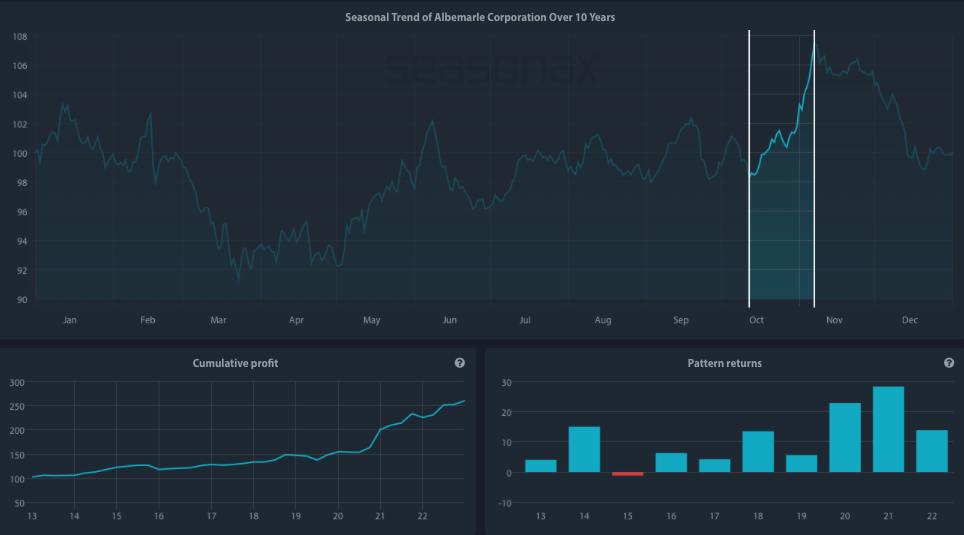 Source: Seasonax – Click the link to access an interactive chart. http://tiny.cc/Seasonax-Albemarle
A quick look at the seasonal chart above is enough to see substantial peaks during May and October. What is even more astonishing is that this lithium producer has been delivering results like clockwork. For a decade, it has boasted an impressive 11% climb within a mere 19 trading days between October 12 and November 7. But it's important to mention the cautionary note that one should never forget the primary rule of investment: past performance is not indicative of future results.
However, the significance of these recurring peaks cannot be discounted. They might be attributed to a variety of factors – seasonal buying trends, strategic business moves, or even simply the return of traders from their summer hiatus.

The Future of Lithium
As we move towards a more sustainable future, the importance of lithium will only increase. With electric vehicles and renewable energy storage poised to dominate in the coming years, it's safe to say that the future will indeed be powered by lithium.
It is also crucial to spotlight those market participants who, despite not being directly engaged in lithium mining or production, still play a considerable role in the lithium market due to their extensive use of lithium-ion batteries. A notable example is that these batteries power a wide range of Apple's devices, including iPhones, iPads, MacBooks, and Apple Watches.
Tesla, Inc. is another illustrative example of this phenomenon. As the numero uno in the EV industry, Tesla's lithium needs are formidable, influencing lithium prices worldwide. Not just a consumer, Tesla has been dipping its toes in lithium supply, signing agreements with mining companies and exploring lithium extraction from its property in Nevada. One thing is clear – in the race towards a greener future, lithium is leading the charge.
Wherever you decide to invest into the lithium industry directly or indirectly, be sure to leverage Seasonax to identify the optimal entry and exit points based on recurring patterns. When you sign up for free at www.seasonax.com, you can access over 25,000 instruments, encompassing various sectors, stocks, (crypto)currencies, commodities, and indices.
---
More By This Author:
Seasonal Weakness In Oil Companies: The Summer Slump
"Wining And Dining" On The Stock Exchange
"Sell In May Effect": Uncovering Investment Opportunities During Seasonal Weakness
Disclaimer: Past results and past seasonal patterns are no indication of future performance, in particular, future market trends. seasonax GmbH neither recommends nor approves of any particular ...
more