Top 5 Picks Poised For An Explosive Upside
Many precious metals stocks have moved nicely over the past two weeks. Many gold investors wanting in on the next big move have been left on the sidelines, under-invested. It's my view that this has occurred because everyone and their brother has had one eye on the often-published gold and silver seasonality chart.
This chart is a composite of 40 years of action, and presents gold as weak until late July, and silver as weak until late August.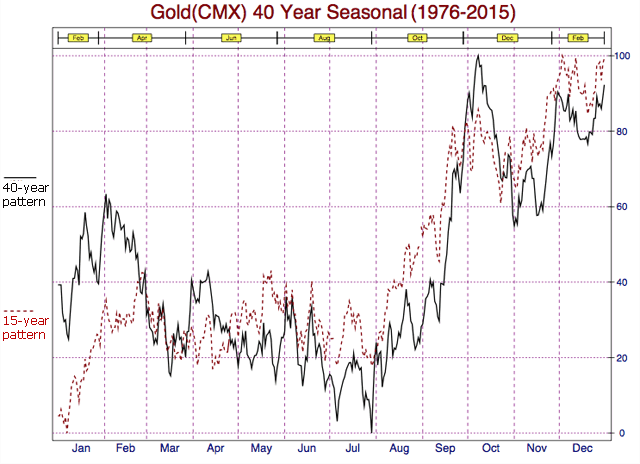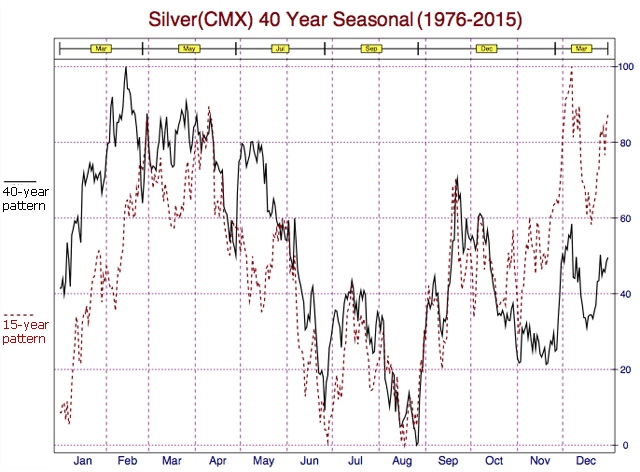 As a result, many investors have been waiting for lower prices before accumulating their positions. The market, however, rarely satisfies the crowd. So, it began its move earlier than expected.
It is time to review the strategic big picture; we are now over four years into the bull market in gold stocks. It began in January, 2016, with an across-the-board, vertical, seven-month, 150% rally, propelling all precious metals sectors. The market then went on to sort out the winners and losers over the next two years in a protracted, painful consolidation.
This three-year event may be classified as Phase I. This consolidation ended in September 2018, and the next leg-up began, and is still ongoing. The market is now in early stage Phase II prior to the point of recognition (POR), as the public still hasn't recognized the bull market. The POR however, appears to be fast approaching as the market's steam boiler has now gotten up a full head of steam, and is about to unleash its power and propel the bull upward. This is the "Impulse Move" that Rambus has been chronicling.
The bull is now maturing to the point that it is about to express the raw power of a primary bull market. Bull markets surprise to the upside, and Wall Street is about to be shocked and awed over the next six to twelve months in a potent display of the rise of a bull market.
Institutional players are now beginning to sense this and have been buying gold futures contracts and standing for delivery. This is a major shift in psychology from the past, as gold is being substituted for bonds in big money portfolios.
In the past, gold has been such a misunderstood asset, but fund managers are beginning to realize that when a bond yields nothing, it becomes an inferior asset to gold. At zero interest, a bond becomes the definition of pure risk with no return; so why not just own gold? Shifting a portfolio's gold holdings from 1% to 5% on a system wide basis would require gold's price to zoom multiple thousands of dollars. It's coming.
Bullion banks must keep a lid on the gold price for their end of quarter reporting. But, come July 1, the price may become unrestrained. This time around, it is doubtful that the bullion banks will dare put their heads into the lion's mouth by shorting gold. The gold price suppression scheme appears about to end, and the gold market is about to come unglued.
Let the FED buy all the financials and bonds that they want; the private sector is beginning to buy gold and gold can take care of itself.
Let your mind wander a bit
Chris Vermeulen recently laid out his price forecast. He stated that once gold hits its old high of $1900, it may hesitate, but it's not stopping there. Gold is going to run all the way up to $2500-2700, and silver to $30+. Now here is the attention-grabber, he says this is going to happen this year.
So let your mind wander just a bit. If it unfolds in this manner, where do you think the gold and silver stocks are going to be? I suggest spending some time thinking about this eventuality.
With this in mind, I would like to present 5 top-pick stocks poised to explode to the upside over the next six to twelve months. These stocks are chosen strictly from the technical set-up they are in right now. Their selection is not based on fundamentals, just technicals. These stocks were selected for their positioning, as they have not taken off yet. However, it's not too late in case you find yourself on the sidelines, as their move has not yet begun.
These stocks are just finishing up a lengthy consolidation process. They have been gathering energy for some time now, and when they break out, this energy will be released to the upside and their breakout is set to occur in the short term.
Five Top Picks: BTG, PAAS, MAG, SSRM, and SA
Keep in mind these were not chosen from fundamentals, but from their technical set-up. The criteria is primarily two fold:
The narrowing tightness of the Bollinger Bands.
The ADX line dropping to 12, and then turning up.
When these two events occur, it is a big measure of the explosive power about to be unleashed. Once all the indicators bottom then turn up, the move is typically powerful and extended. All of these picks are at the cusp of a big move.
Before we review our top 5, let's first look at an example of what one looks like once the move has already begun. Sandstorm Gold Ltd. (SAND) provides a great example as it has already left the station, and is a good model of what we are looking for:
Note below how the BBs have begun to expand after narrowing into a cinched squeeze of the price bar range. This is graphically measured by the BB Width index indicator second from the bottom. It got down below 10, indicating a very tight (explosive) set-up.
Next, we see the ADX line bouncing off the 12 level line that is drawn in. When the ADX declines all the way to 12, it indicates explosive power potential once it turns up. It has done so, and SAND is now on the way.
Below, we see the technical set-up of all of the indicators turning up, showing it is now fully-aligned and underway.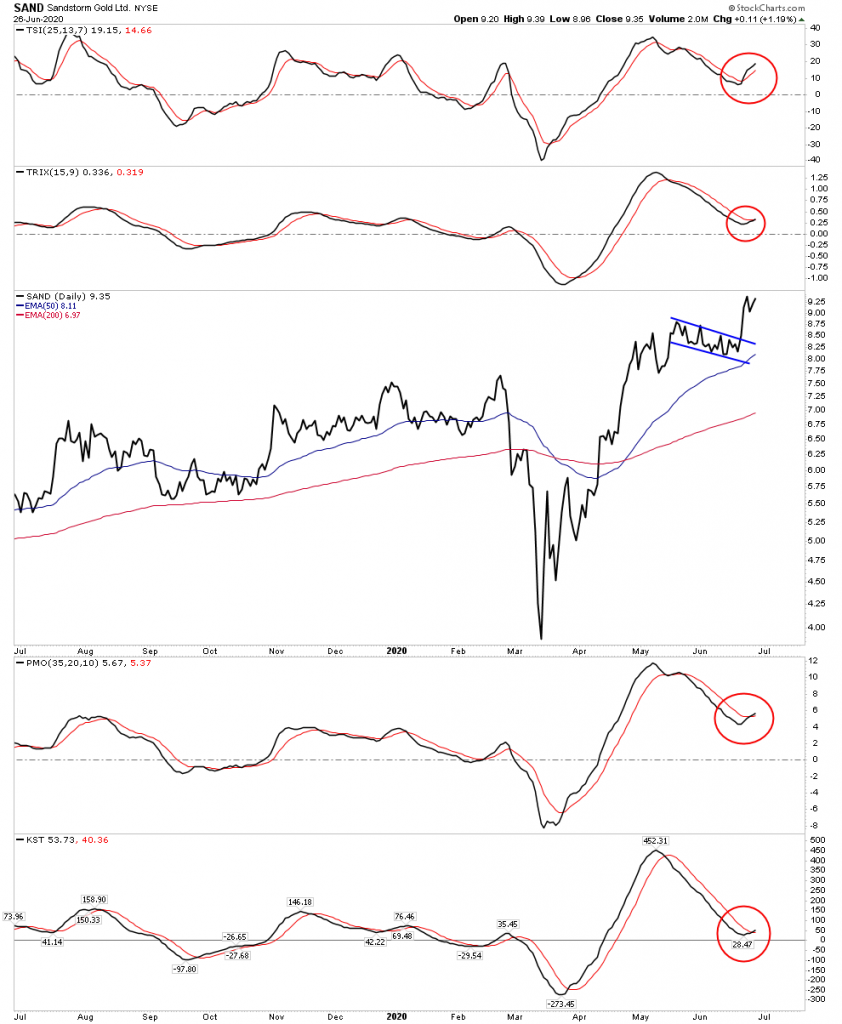 The Top 5 Picks - B2 Gold Corp. (BTG):
Tightly narrowed BB's shows that when BTG breaks out, it should release a powerful impulse of energy. In addition, the ADX is deeply under the 12 line. When it turns up, hold on.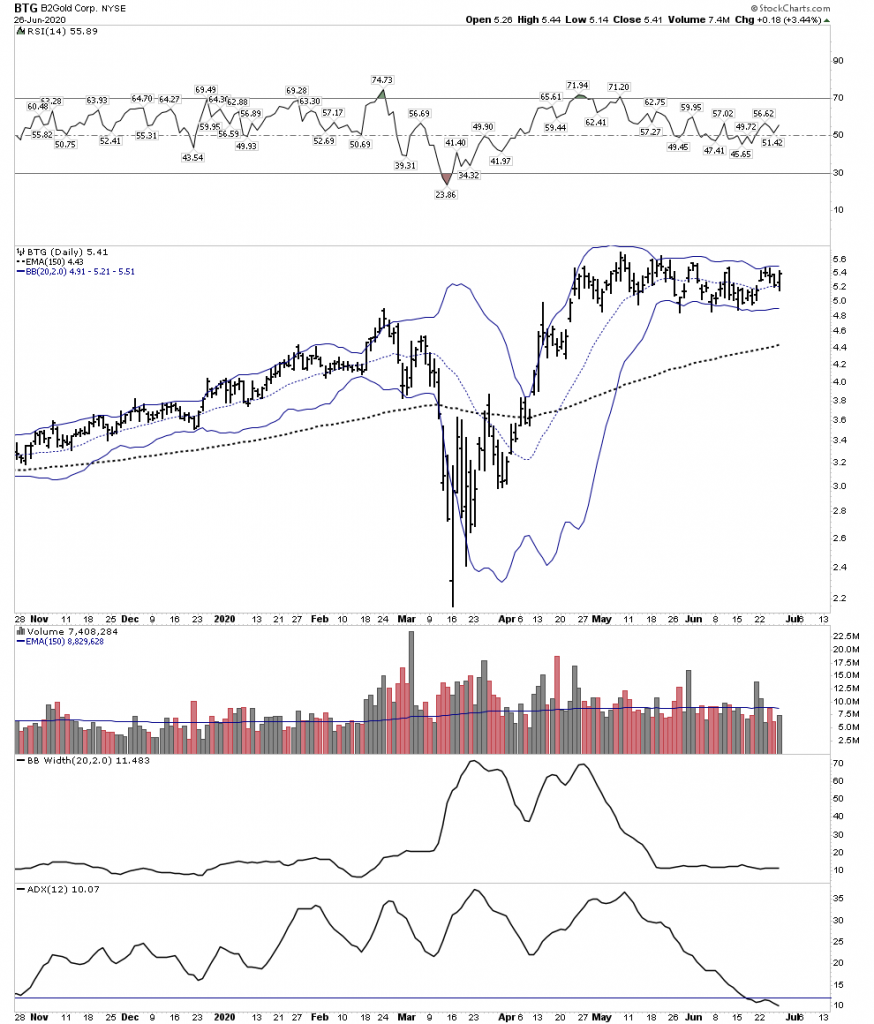 Below, we see all of our indicators at the cusp of a turn, and the bull flag is presently being broken-out of.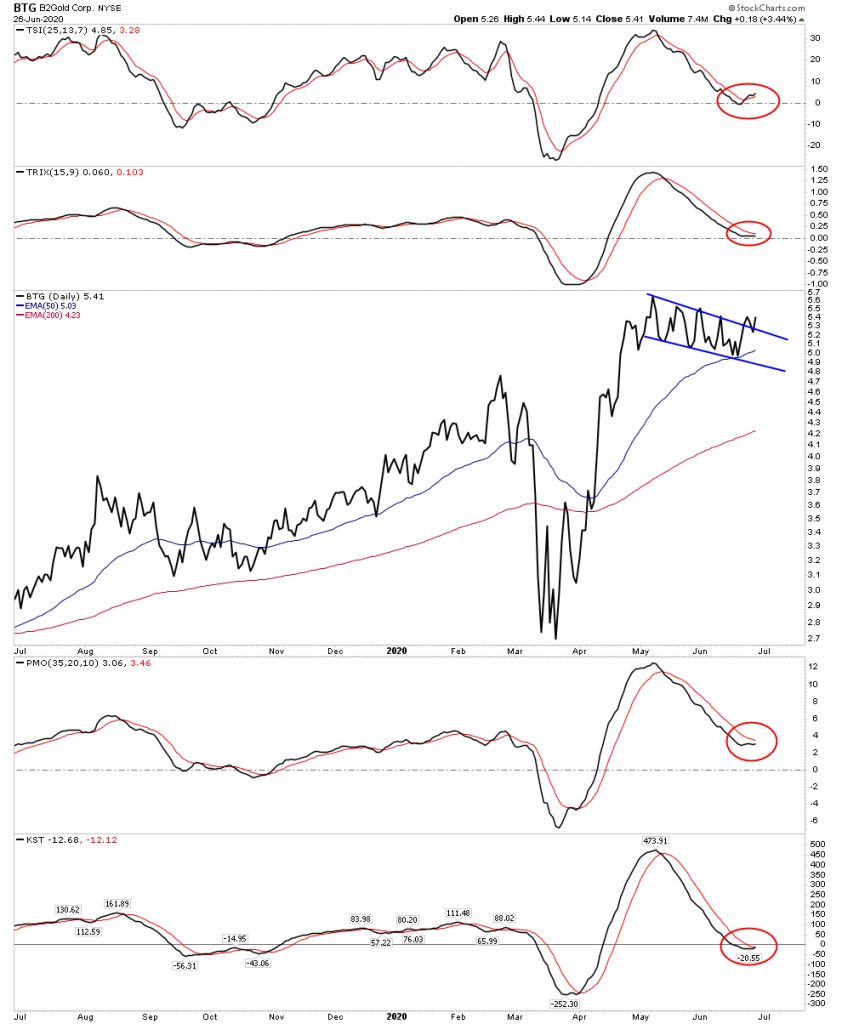 Long-term BTG appears to be in the midst of extending a halfway pattern-measured move.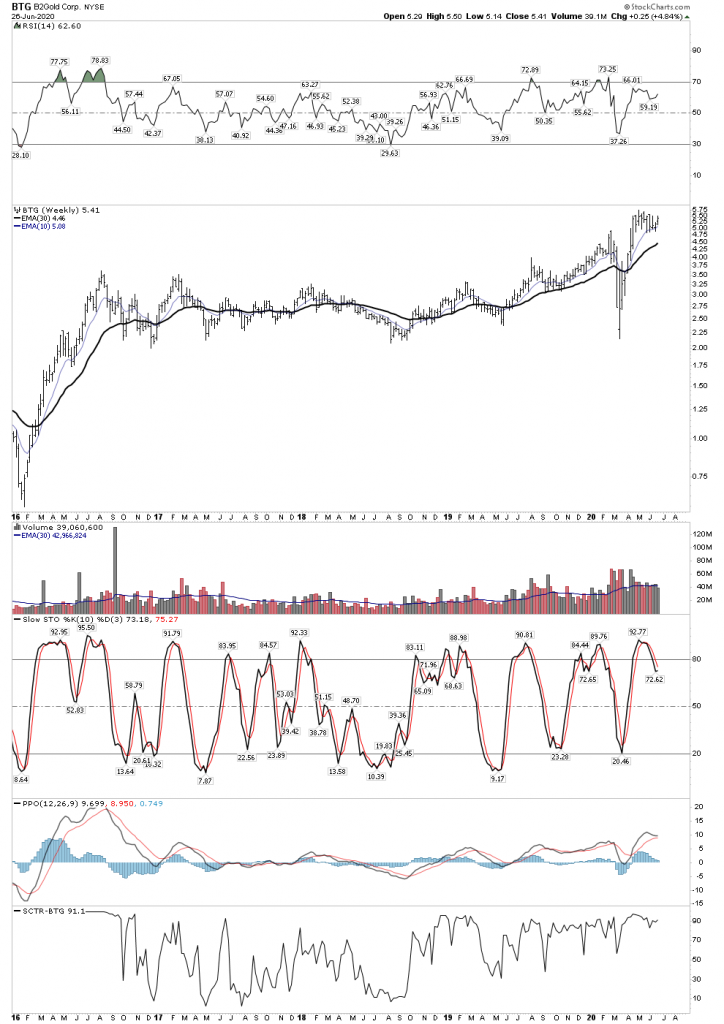 Pan American Silver Corp. (PAAS):
The ADX line still needs to turn up, but it is now getting into final position.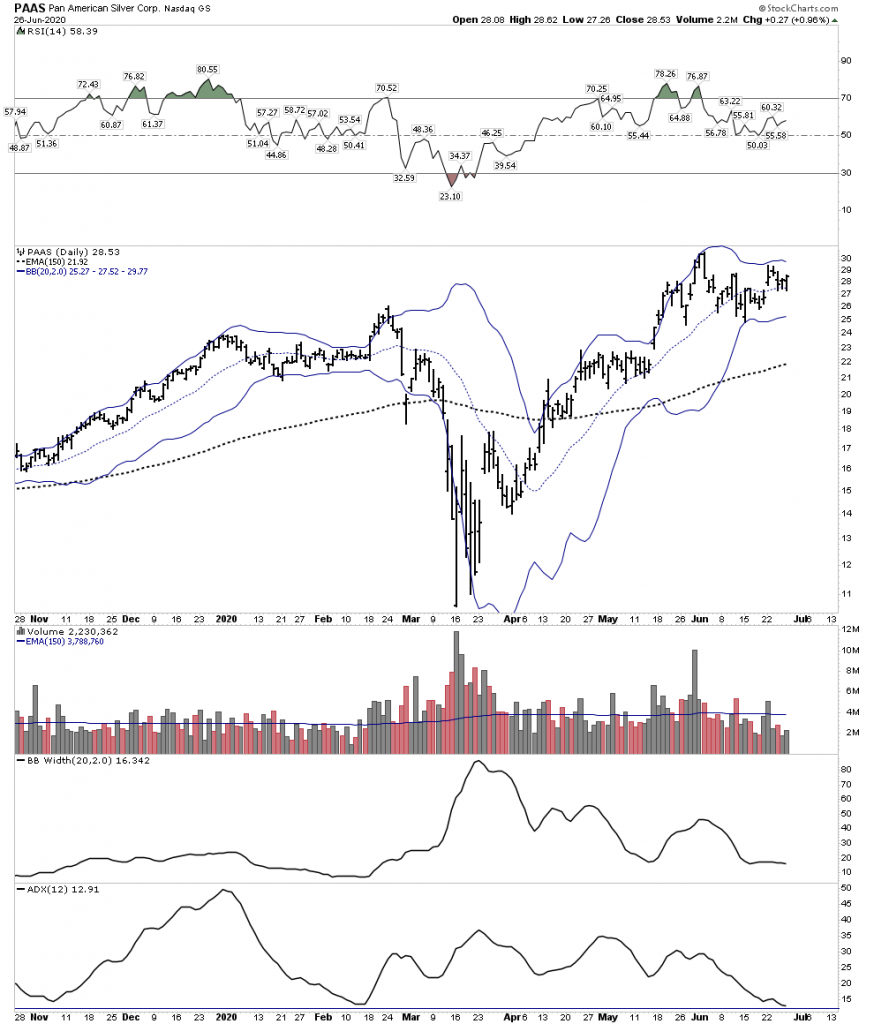 This is still slightly early, possibly signaling one more cycle down in its blue pennant.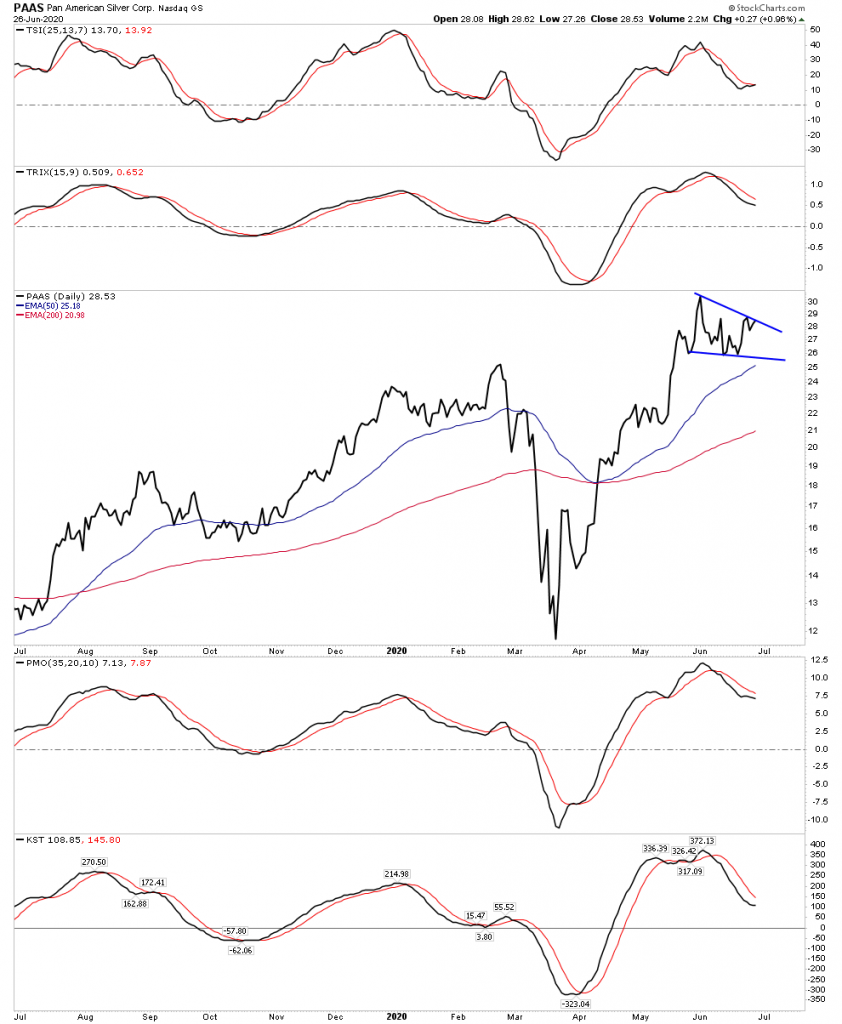 MAG Silver Corp. (MAG):
ADX is yet to turn up, but when it does, fireworks await. It's all there.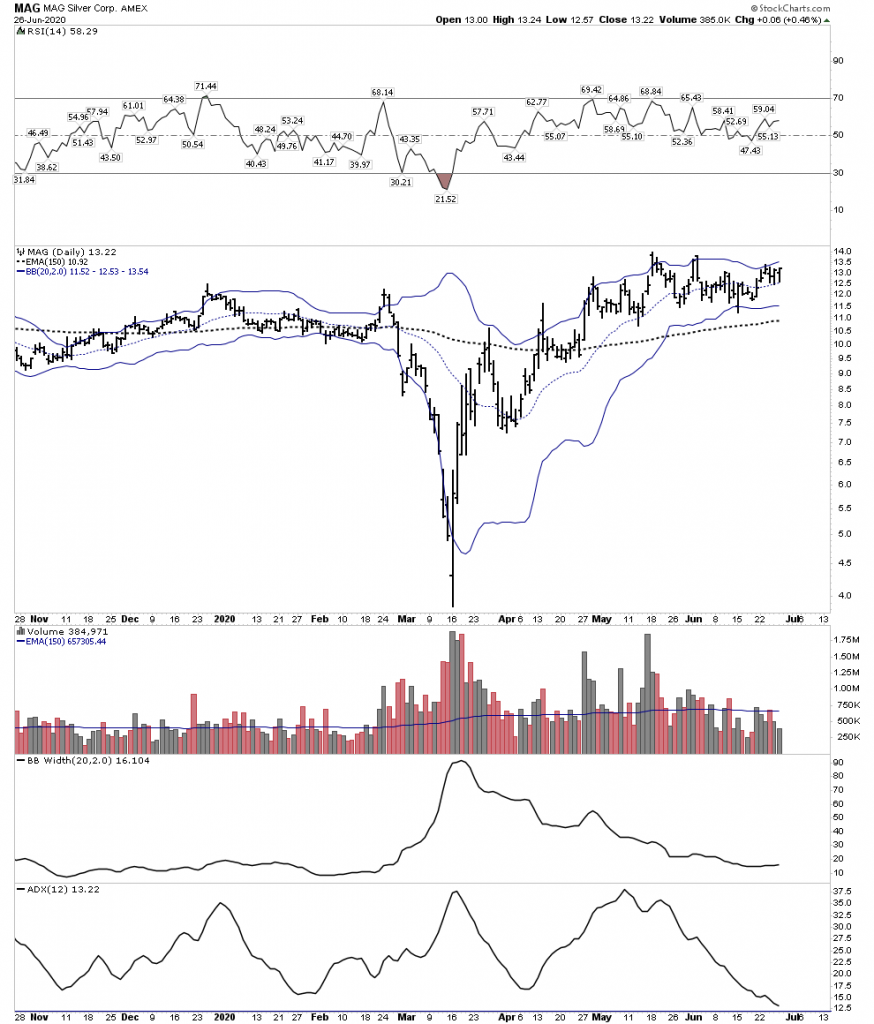 Indicators below signal a turn is imminent.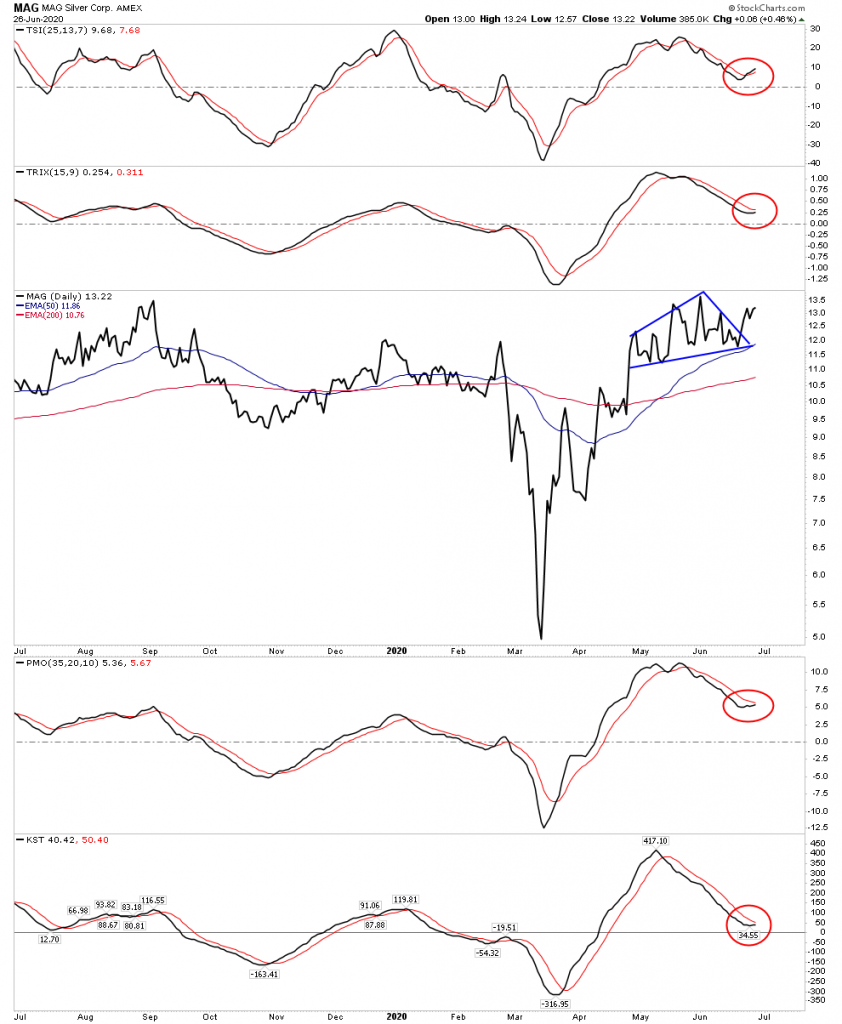 Seabridge Gold Inc. (SA):
BB is cinching down to 10 and ADX will soon to go below 12. This will be a powerful extended move.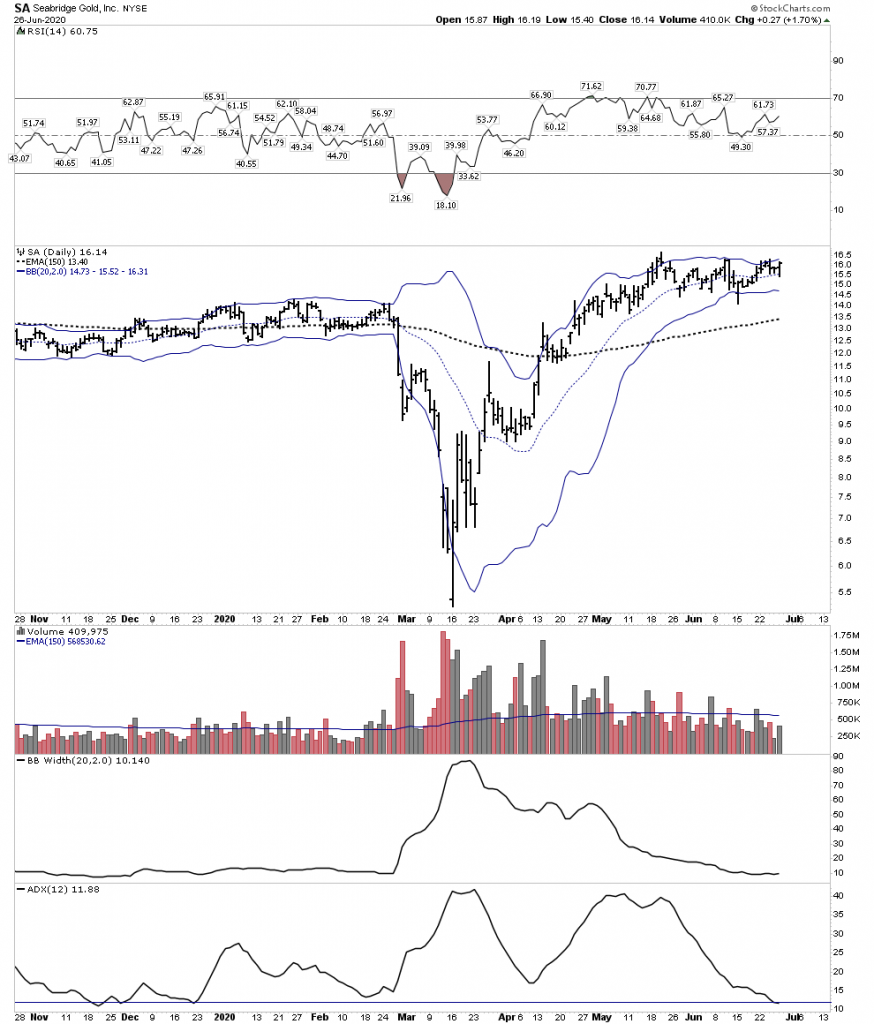 Here we go.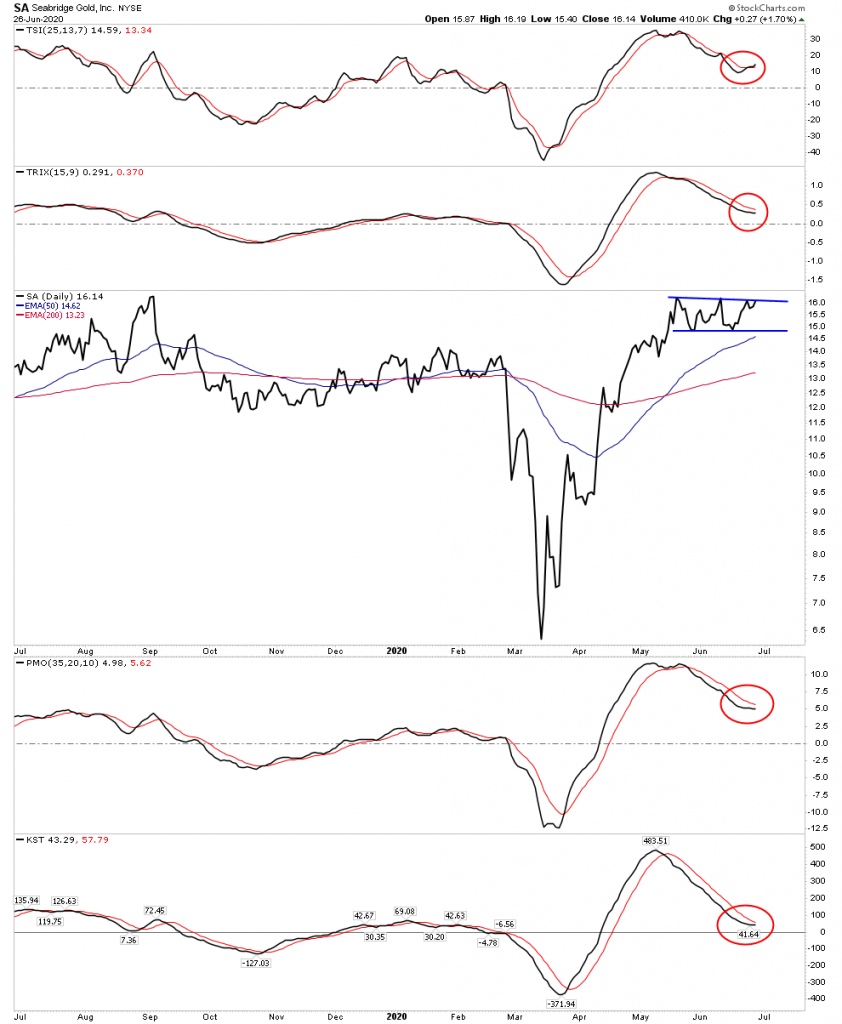 SSR Mining Inc. (SSRM):
Simply beautiful.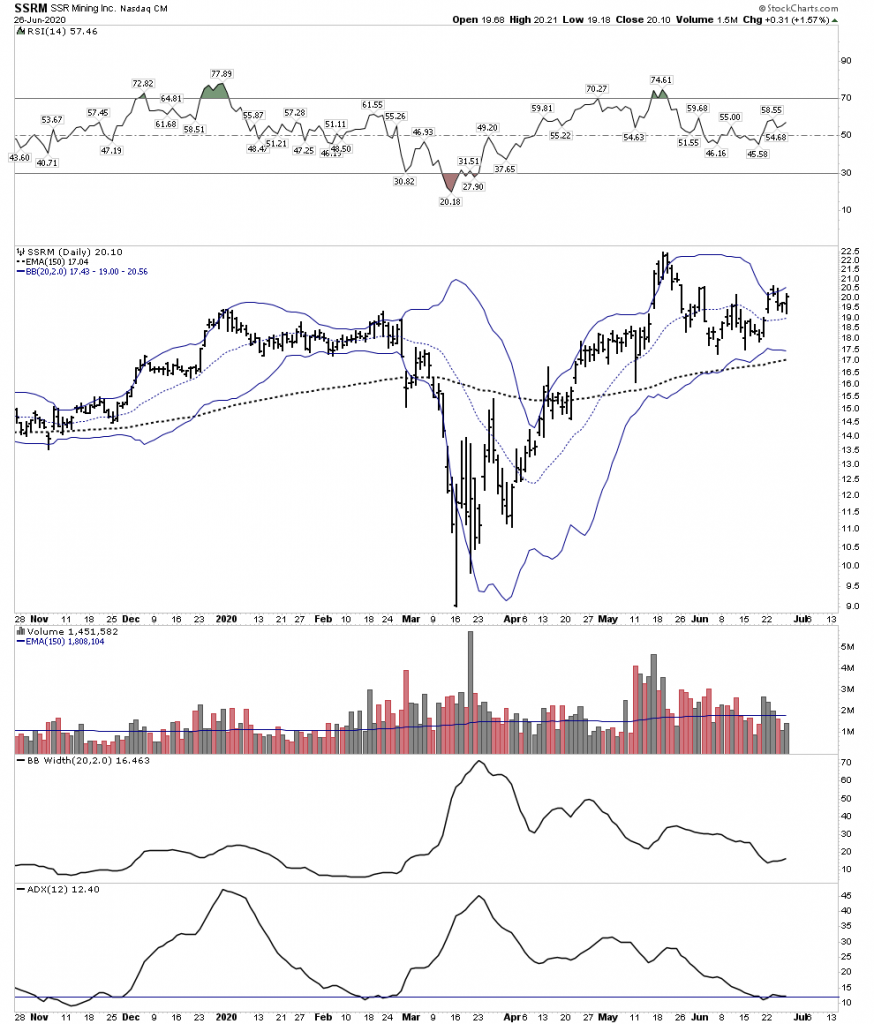 A breakout is in progress.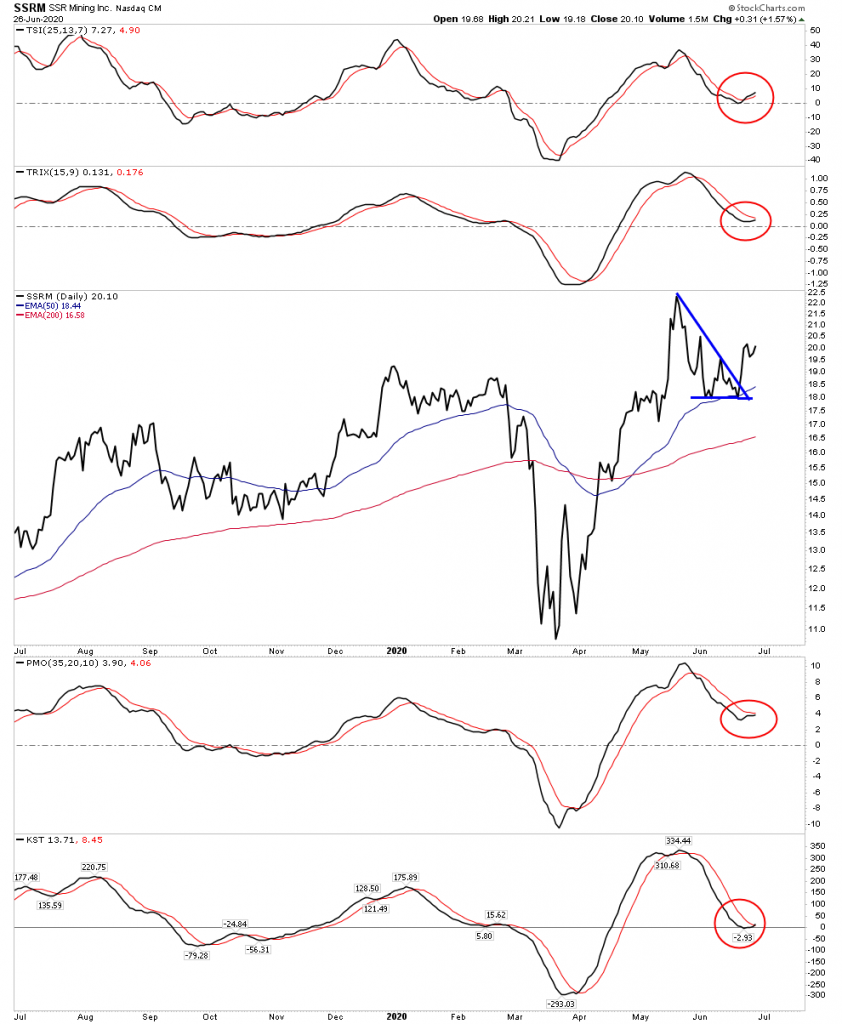 All of these 5 stocks should enjoy powerful extended moves over the next six to twelve months. It's not too late for any of these, as all of the movement remains in front us. During this period, the precious metals bull market should experience the POR when the public wakes up and realizes they must own some of these stocks.
That's the time when the bull begins to fully express himself. I emphasize this has not yet occurred, and its outright display of power will be humbling to watch. The time to buy and hold is now.