The Oil Futures Crash Is A Warning To Gold Speculators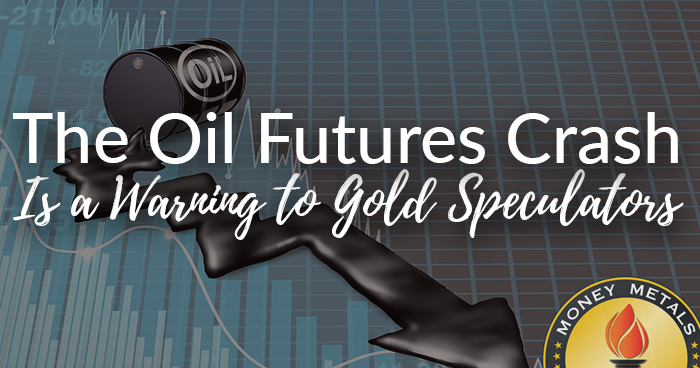 The metals complex showed relative stability this week as the oil market suffered a historic meltdown. West Texas Intermediate Crude crashed 70% at one point this week on the continuous contract, bringing prices briefly below $7 per barrel. By Thursday, prices were trading between $14 and $18 per barrel.
The volatility on the May futures contract was even more extreme. On Monday, May futures for crude oil crashed to one dollar, then to zero, then to a few pennies below zero, then to an unbelievable negative $37 per barrel.
With the world literally running out of places to store oil, oil contracts for immediate physical offtake represented a liability rather than an asset. Nobody wanted to take delivery of oil.
That left speculators, hedge funds, and exchange-traded funds that hold oil futures as financial instruments only needing to unload their contracts at any price. They ultimately would rather pay buyers to take unwanted barrels of oil than assume the obligation and hassle of owning them.
Some traders cried foul over the apparently forced selling and filed complaints with the CME Group, which runs the world's largest commodity exchange, and the U.S. Commodity Futures Trading Commission. Billionaire oil executive Harold Hamm of Continental Resources wrote a letter to the CFTC calling for the agency to investigate possible market manipulation.
CME Group Chairman Terry Duffy responded on CNBC by insisting the futures market was functioning just fine and had not mispriced oil contracts when they began trading below zero.
CNBC Anchor: There was one that comment he put in his letter to the CFTC. He asked them to investigate whether there had been market manipulation or failed systems or computer programs that played a part in our going negative. If they carried out that investigation, can you answer what they'd find for us now?
Terry Duffy: You know, the CME, we are a neutral facilitator of risk management, and we're happy if people want to look into the markets. Futures contracts have been around for hundreds of years and I will tell you since day one, everybody knows that it's unlimited losses in futures. So, nobody should be under the perception that it can't go below zero.