The First Crack In The Golden Dam
It seems that the big downswing I've been forecasting has just begun. Gold declined on Jun. 3, and there is no strong reason for it to go back.
Yesterday's (Jun. 3) daily slide came as a surprise that seems temporary… to most investors. But you know that it's just the first crack in the golden dam.
The Downswing Is on the Way
Gold has ridiculously good fundamentals. We have open-ended QEs – money is being pumped into the system at an unprecedented pace, even when stocks are well beyond their all-time highs. The world has been in a pandemic for over a year, and the economies were hit hard. And yet, despite all these positive news, gold – the king of safe havens – did not manage to soar above its 2011 highs and then stay above them. Given how extremely positive the fundamental situation is, gold's reaction is even more extremely bearish. This market is simply not ready to soar without declining significantly first. Bull markets and bear markets move in stages, and even though this time the final slide was postponed multiple times, it's clear that gold is not ready to soar to new highs without completing its final stage – the downswing.
The history is rhyming regarding the shapes of the price moves as well. Just as gold moved back and forth, forming three distinctive tops in 2008 and 2011-2012, we saw the same thing now – between the August 2020 top and the recent top, which seems to have been the final breath of the short-term bull.
I've been emphasizing this self-similar pattern for many weeks, and it seems that the bullish part thereof is now over. Also, it seems that it ended at the combination of two triangle-vertex-based reversal points.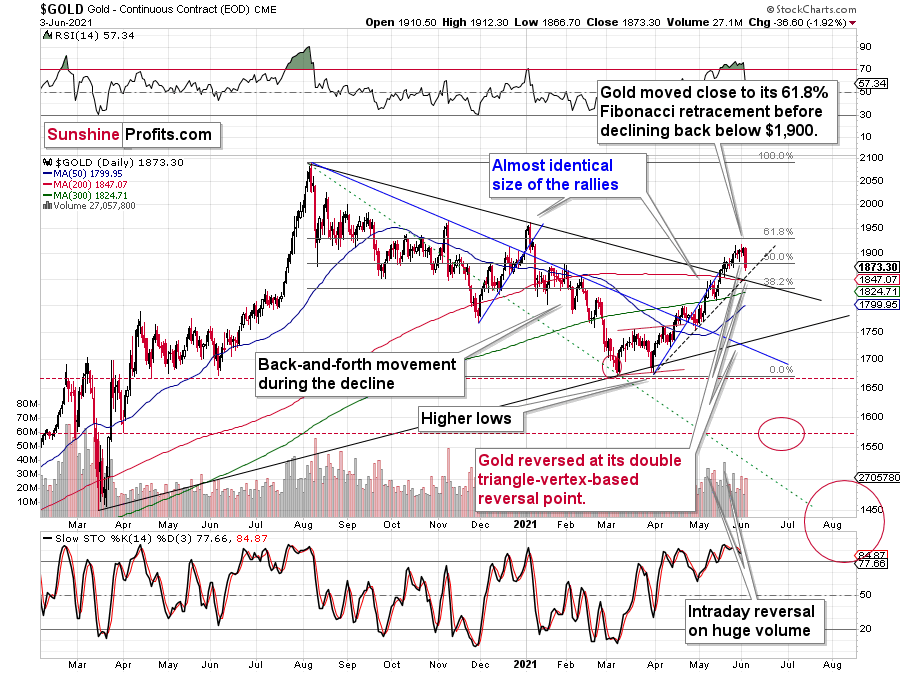 The triangle-vertex-based reversal points have worked multiple times on the precious metals market, and it's no wonder that we just saw them work once again.
On Wednesday (Jun. 2), gold closed ~$5 higher, and this move took place on relatively low volume. In fact, gold hasn't rallied on volume this low since Apr. 26. This was a bearish sign for the short term, and indeed after the Apr. 26 session, gold moved lower in the following days.
And, right on cue, gold declined by $36.60 in yesterday's trading. While this decline might seem surprising to some, it's actually a perfectly natural thing for gold to do right now.
The low-volume daily rally was only a confirmation, as we knew that Tuesday's daily reversal was critical all along – based on the triangle-vertex-based reversal we recently saw. Combination of this with highly overbought RSI, a sell signal from the stochastic indicator, and, most importantly, the analogies to how the situation in gold developed in 2008 and 2012, provides us with an extremely bearish price prediction for gold.
Disclaimer: All essays, research and information found on the Website represent the analyses and opinions of Mr. Radomski and Sunshine Profits' associates only. As such, it may prove wrong ...
more