The 10-Year Treasury Note Is The Canary In The Silver Mine
Fundamentals
More people are beginning to see how the rise in the 10-year note and increase in interest rates may affect the economy longer term. The 10-year Treasury is at 1.5470. We have come down a little from the recent high, which was causing concern in almost every asset that was leveraged. Most of the economy is highly leveraged, so any rise in interest rates is a major cause of concern.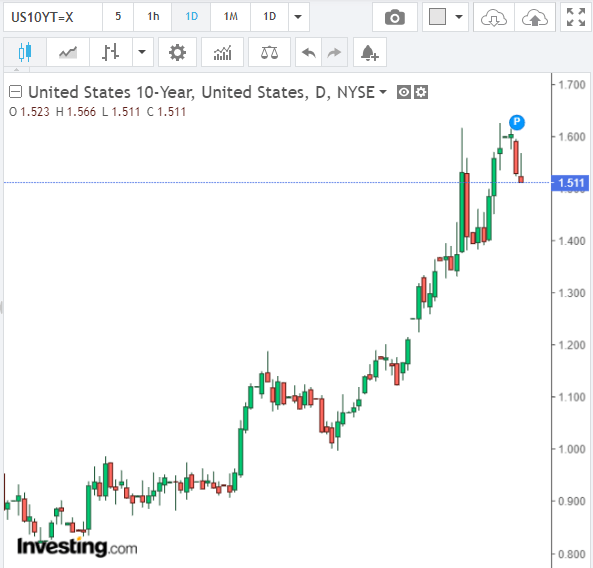 Silver continues to be difficult to obtain. There's a premium and a wait to get physical silver. The key to the short squeeze in silver is that as the economy opens up again, demand will increase for silver for industrial uses, which will further strain supplies. The supply chain already is stretched, so increased demand should cause prices to rise. Silver also is in demand as a safe haven asset and as an alternative to the US dollar and other fiat currencies.
It's a poor-man's gold, so far more investors can buy silver than gold, which increases demand and, therefore, the price. We believe that gold and silver are going to see significant increases in price as they become a major alternative as real money compared to the continuously devalued fiat currencies, such as the US dollar.
As the government prints more money, the value of the US dollar continues to plummet in value. The government giving all that money for free means the US dollar is worth less and less. Physical gold and silver have been valued for thousands of years, which also gives them an advantage in terms of risk over Bitcoin.
The pandemic appears to be nearing an end, but the damage to the economy is still staggering. Eight to 10 million people are unemployed. Debt levels are still enormous - getting larger with all the stimulus - and defaults are starting to increase. Interest rates already are rising and prices of basic commodities, such as grains and crude oil, are all rising rapidly.
That is why the 10-year note is rising. Your dollar is going to buy less than it did, and in the future it will buy even less. Gold and silver offer far more stable value than fiat paper currencies. $1,000 silver is possible, especially with new players in the market, such as from Reddit. We are days or weeks away from a major rally in gold.
To learn more about how the VC PMI works and receive weekly reports on the E-mini, gold, and silver, check us out on Ticker ...
more