Soybean Prices Plunge To Six Week Low On Lack Of China Buys
Chicago Board of Trade soybean futures plunged to a six-week low on Friday – giving up at least half of the gains seen in the run-up to the signing of the "Phase One" Trade deal.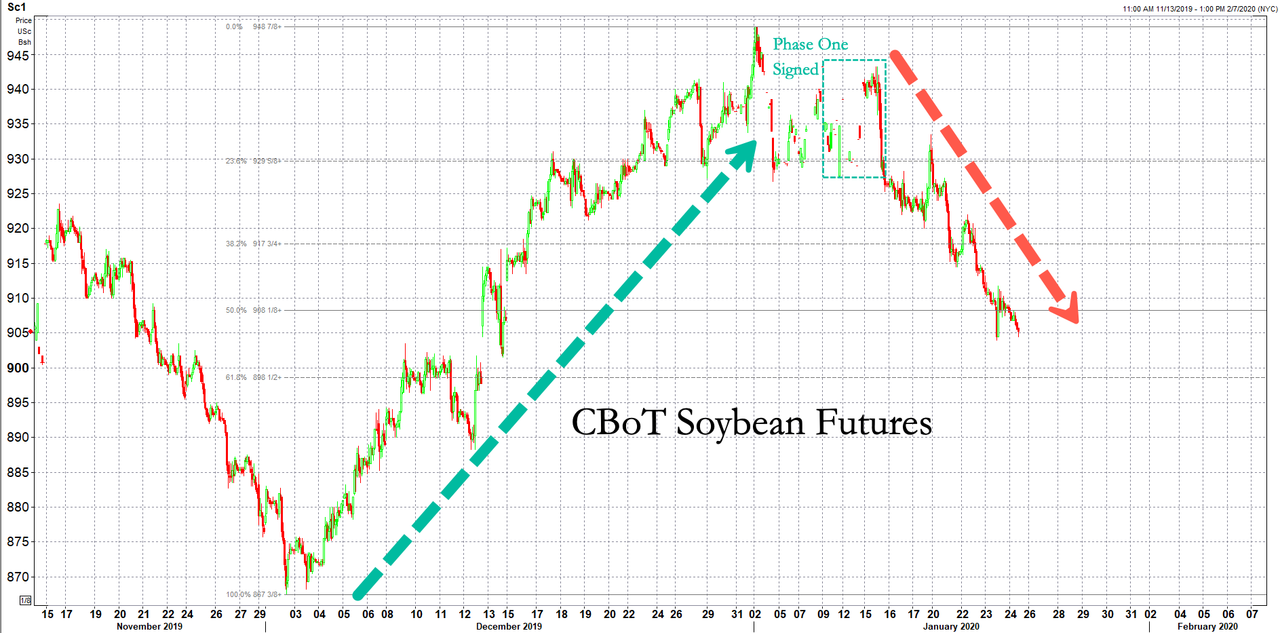 Reuters notes that uncertainty is increasing among traders whether Chinese demand can fulfill trade deal commitments.
There's also new concern that a massive soybean harvest in Brazil could entice China to source more beans from the South American country than the U.S. -- due in part because market conditions are much more favorable (i.e., prices of beans are cheaper in Brazil).
Health Secretary: Risk of coronavirus to UK public remains low
The U.S. Department of Agriculture (USDA) has yet to confirm massive agricultural purchases by China since both countries signed the trade agreement last week.
Here are some of the agriculture commitments China pledged in the trade deal:
· China Purchases to Include Oilseeds, Meat, Cereals, Cotton
· China to Buy Add' l $19.5B U.S. Agriculture Products in 2021
· China to Buy Add' l $12.5B U.S. Agriculture Products in 2020
As Bloomberg notes, China is committing to buying about $32 billion in additional U.S. farm products over the next two years, that's coming on top of levels seen in 2017 (pre-trade war). Specifically, China committed to importing at least $12.5 billion more agricultural goods this year than in 2017, rising to $19.5 billion next year. It's unclear just how this will happen without China's destroying existing supply chains. China will also "strive" to purchase an additional $5 billion a year in farm products.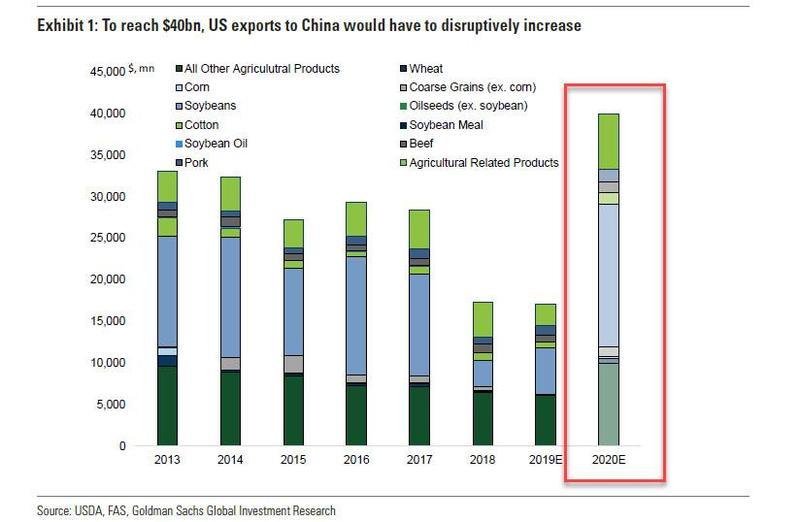 Consultancy firm Agritel told Reuters that, "Soybeans are still waiting for confirmation of purchases from China, while Brazilian harvest pressure will soon be felt."
It appears the sizeable Brazilian harvest, expected to hit a record, could be very attractive for China considering bean prices are cheaper than the U.S. This would further complicate things between both countries, as it's likely China could have a commitment issue and might not fulfill hard targets of the trade deal in year one.
Disclosure: Copyright ©2009-2020 ZeroHedge.com/ABC Media, LTD; All Rights Reserved. Zero Hedge is intended for Mature Audiences. Familiarize yourself with our legal and use policies every ...
more