I don't think any investors would be buoyed by the thought that a nearly ninety-year uptrend in the price of silver was still in force if they were looking at silver under $3.00 per ounce.
And that's the good news. Here is a fourth chart which plots the price of silver over the past one hundred years on an inflation-adjusted basis...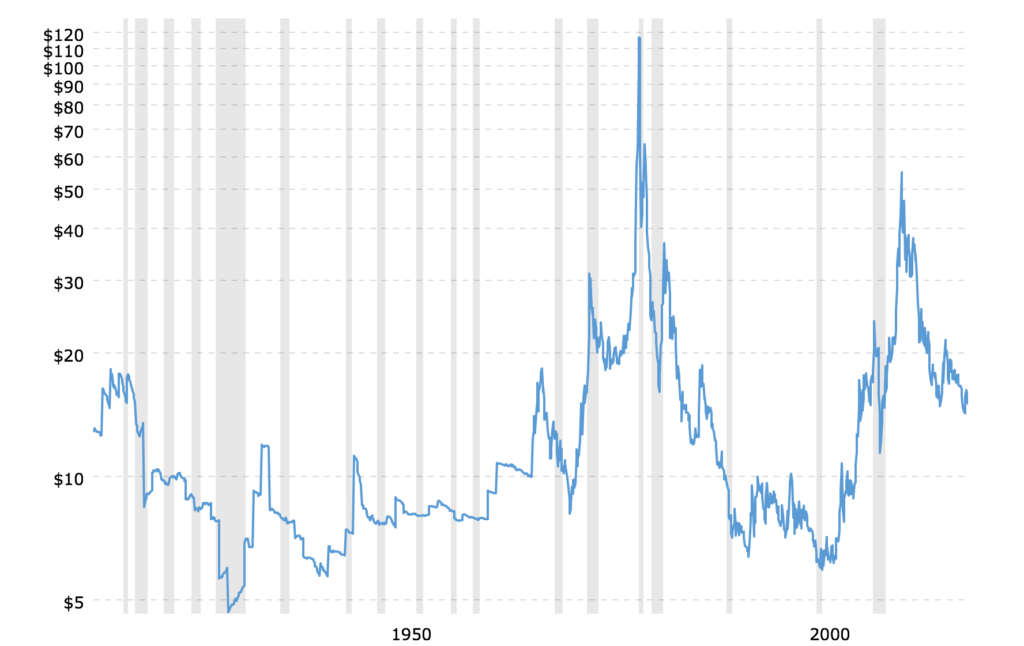 Using silver's intraday peak in 1980 of just over $50.00 per ounce (inflation-adjusted price $160.00 per ounce), and comparing it to today's price of $14.98 per ounce, silver has declined by ninety percent over the past four decades (thirty-nine years).
Silver is cheaper today than it was a century ago. What's more, in April 1919, exactly one hundred years ago, silver began a two-year decline that cleaved its price nearly in half. Can you imagine silver today at $8.00 per ounce?
Some say that silver at $15.00 per ounce is a bargain. Actually, they are a little more exuberant than that. Often we hear "It's a screaming buy!" Why?
There are no fundamentals or technical factors to support such claims.
Can silver suddenly spike upwards from here, say to $20.00 per ounce? Sure, but whenever silver has done anything similar in the past (and not very often) it always comes back down to earth.
Maybe, with lots of help and lots of luck, you might catch the fast train. Just remember to get off at the first stop.
(see also Gold-Silver Ratio: Debunking The Myth and Silver Fails Miserably to Meet Expectations)