Eight years ago this month, silver started its "next big move". And that move continues today. It is awesome to behold. See the chart (ten-year history of silver prices) below.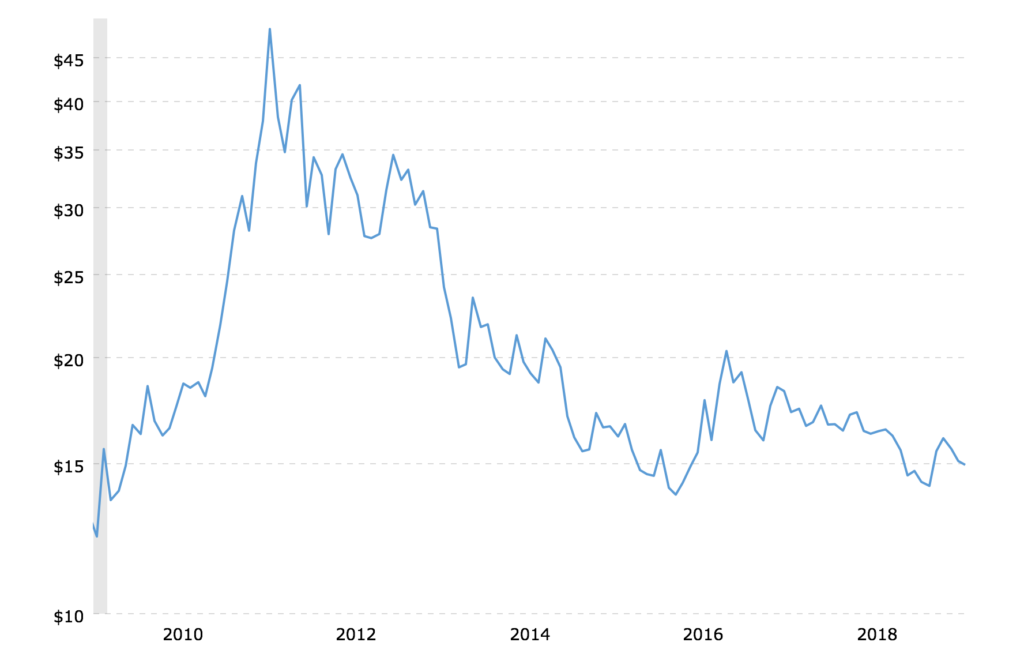 After an intraday peak price spike to $49.82, silver has tumbled head first down the mountain slope to its current level of just under fifteen dollars per ounce, at $14.98. That represents a cumulative decline of seventy percent, which is awfully bad.
But in order to put things in perspective, we need to go further back in time. Below is another chart. This one shows the silver price for the past twenty years...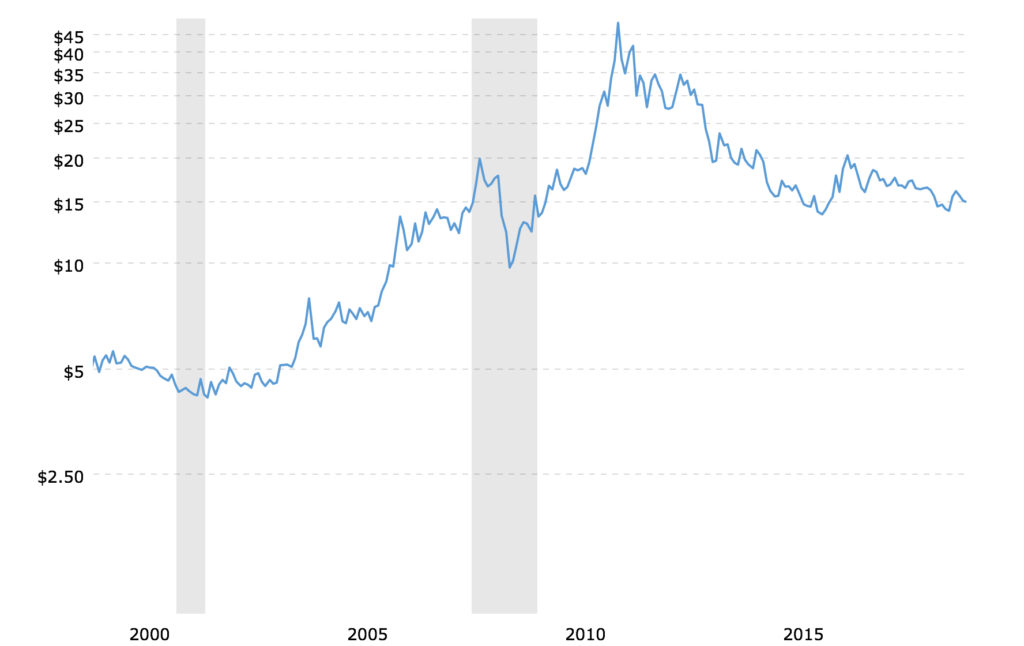 This second chart provides a different perspective of silver's price action over the past eight years.
Here we see that the current seventy percent decline in silver's price came on the heels of a one thousand one hundred fifty percent increase beginning in late 2001 and ending with the price spike we mentioned earlier that took silver to almost fifty dollars per ounce.
While I haven't drawn it in, there is a long-term uptrend line dating back to November 2001 that is still intact. Silver could actually fall back to somewhere close to $10.00 per ounce in the near term without breaking the trend line.
The prospect of silver under $11.00 per ounce may not thrill those who are über bullish, but the uptrend line still provides possible technical support for the beleaguered metal. It also might be a source of hope for those analysts and investors who seem to always be defending their bullish expectations.
We still need to know more, though, before we can proclaim that all is well with silver. Below is a third chart of silver, which shows a one hundred year history of the white metal..
In this chart, there is also a long-term uptrend line. This one dates back to December 1941. It, too, provides a possible floor under silver's price of somewhere close to $10.00 per ounce.
There is also another, longer, uptrend line dating back to 1932, when silver was priced at $.28 per ounce. A possible intersection point for that trend line, within the next year or so is at $2.50 per ounce.