Silver Looking Good, Will Become Great Once Stocks Confirm Their Bullish Trend
Image Source: Pixabay

Did we state in the title 'stocks to confirm their bullish trend'? Are we saying that stocks are already bullish? Yes, that's what we are saying. Stocks are already bullish, indeed, simply because they confirmed their bullish turning point. There is no stock market crash underway, we explained this in our 2008 vs. 2022 comparison. Here is the clue of the story: silver tends to perform well in a bullish stock environment. Silver looks good, right now, with a bullish reversal on its daily chart. We believe silver will become a great market if stocks continue their bullish trend in 2023, consistent with our silver forecast 2023.
Remember, what matters is price and chart structures, not how a market feels. Price will move higher, lower, or sideways. Emotions will probably follow the price but with a lot of delays. The differentiation between a bull market, a bear market, and consolidation is the turning point. As explained in one of our previous posts, we can clearly observe a turning point in stocks in 2022: The Confirmed Double Bottom In Stocks.
There is a strong Intermarket relationship between silver and stocks, especially when stocks are bullish. We explained this in great detail in A Contrarian Call For 2023: Stocks Up, Silver Up.
That's why we also want to focus on the SPX chart as part of this silver outlook.
Below is the daily SPX chart. Astute readers will find some crucial insights by looking at this chart both from price and time perspective:
(Click on image to enlarge)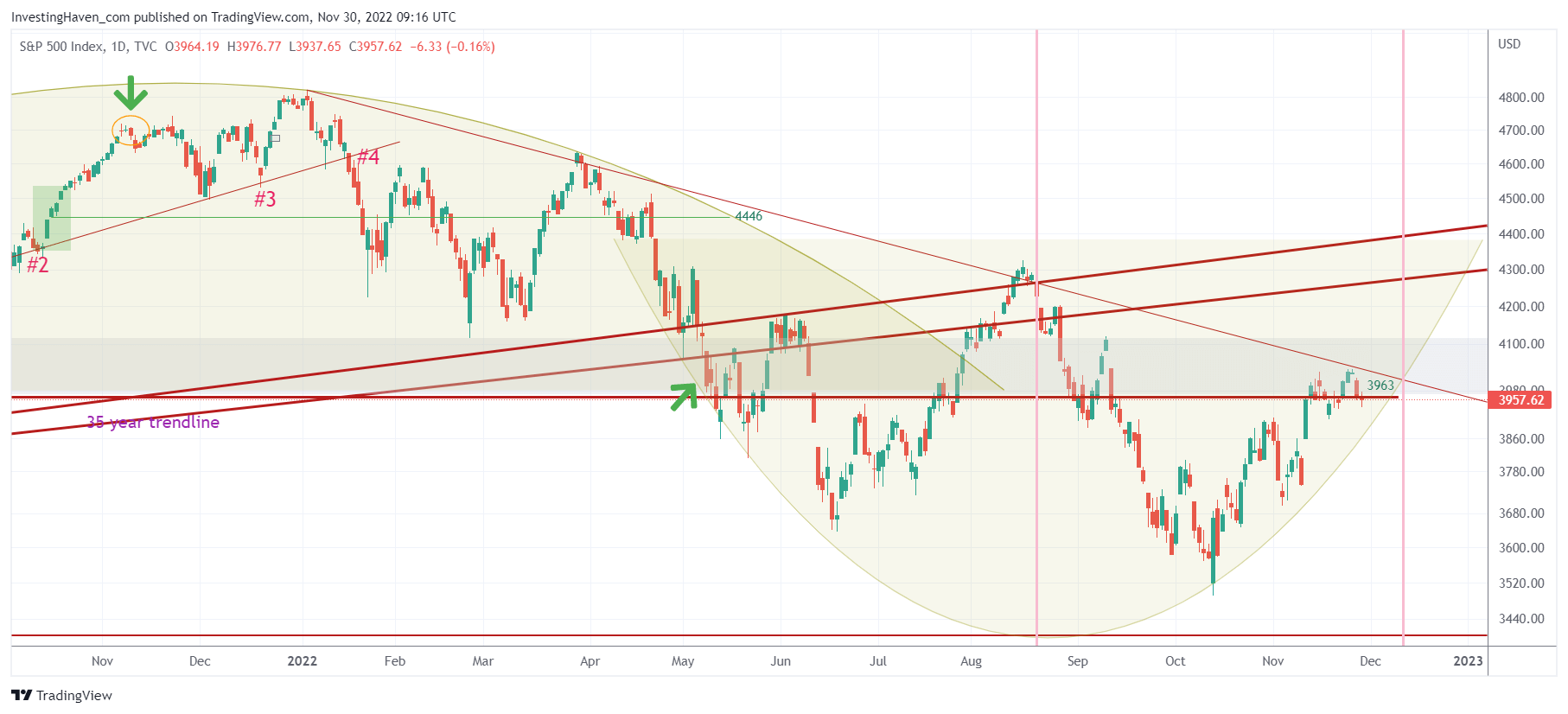 From a price perspective, SPX is hitting resistance at a falling trendline. You don't need to be a chartist to find this trendline. However, it is the exact price point at which resistance is hit that really matters. The falling trendline is very close to 'cross' 3963 which is THE most crucial price point in 2022. Moreover, this is touch #3 of the falling trendline.
Before jumping to conclusions, we want to understand the insight(s) from this chart as it relates to the time axis. Long story short, we derive December 12th as a decisive date.
If we combine price and time insights, we conclude that SPX might dip below 3900 between now and December 12th, but whatever happens as of that date will be crucial, absolutely crucial. There is a very high probability that SPX will clear its falling trendline around or right after December 12th.
If this forecast is materialized, it will be the ultimate confirmation that investors can consider positions in the silver market. We think of it as the green light from the stock market for silver investors.
Our silver price chart which features silver's 3-month cycles (not to be confused with the stock market cycles which are very different) has a clear message: a strong bullish reversal is almost complete.
(Click on image to enlarge)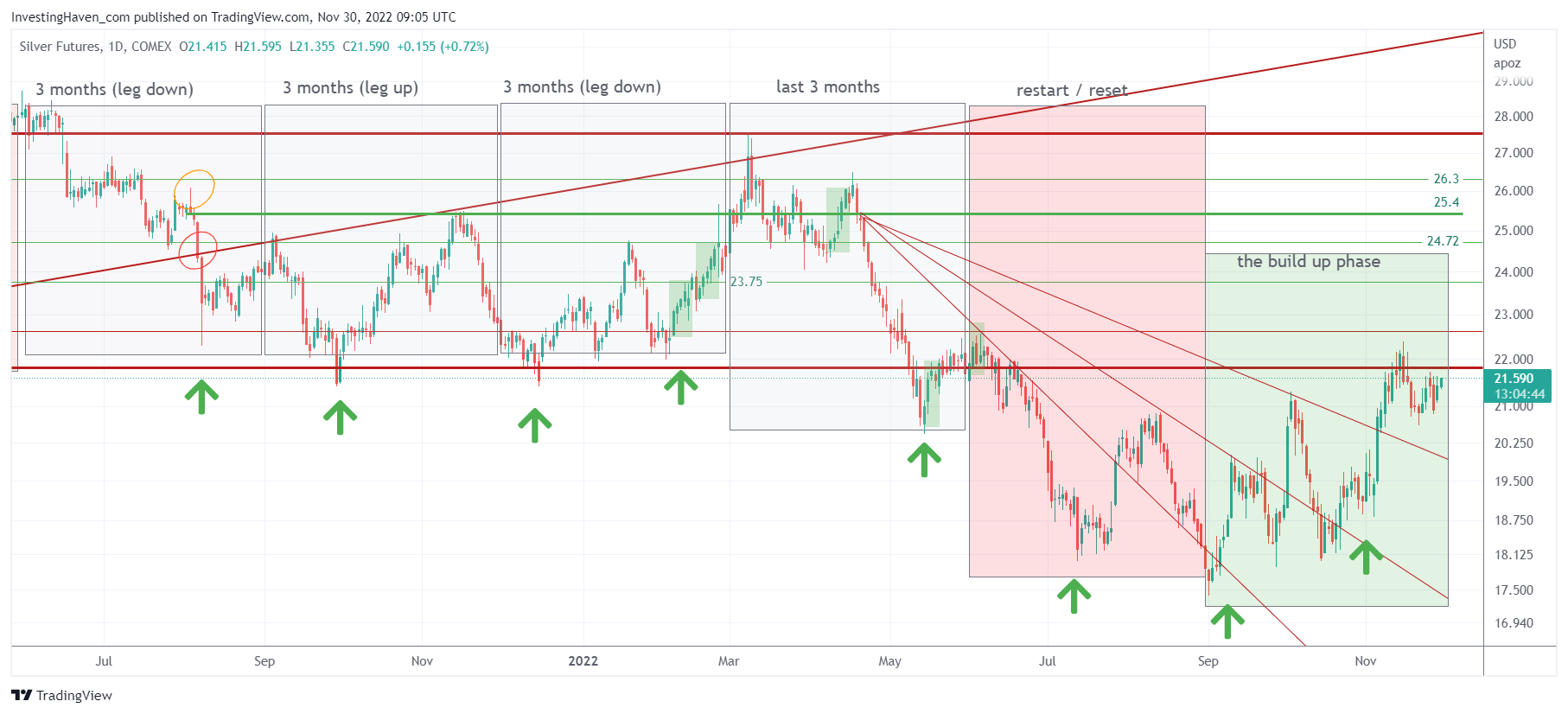 The last 6 months may have felt very uncertain, in stocks and silver. However, the silver price chart shows a bullish reversal over 6 months. Adding to confidence levels is the perfect structure of the reversal: the first half, in terms of price, took exactly 3 months, half the time, to complete. It's as perfect as it can get which implies higher confidence levels in the conclusion.
With that said, we believe that silver miners are starting to look very attractive.
(Click on image to enlarge)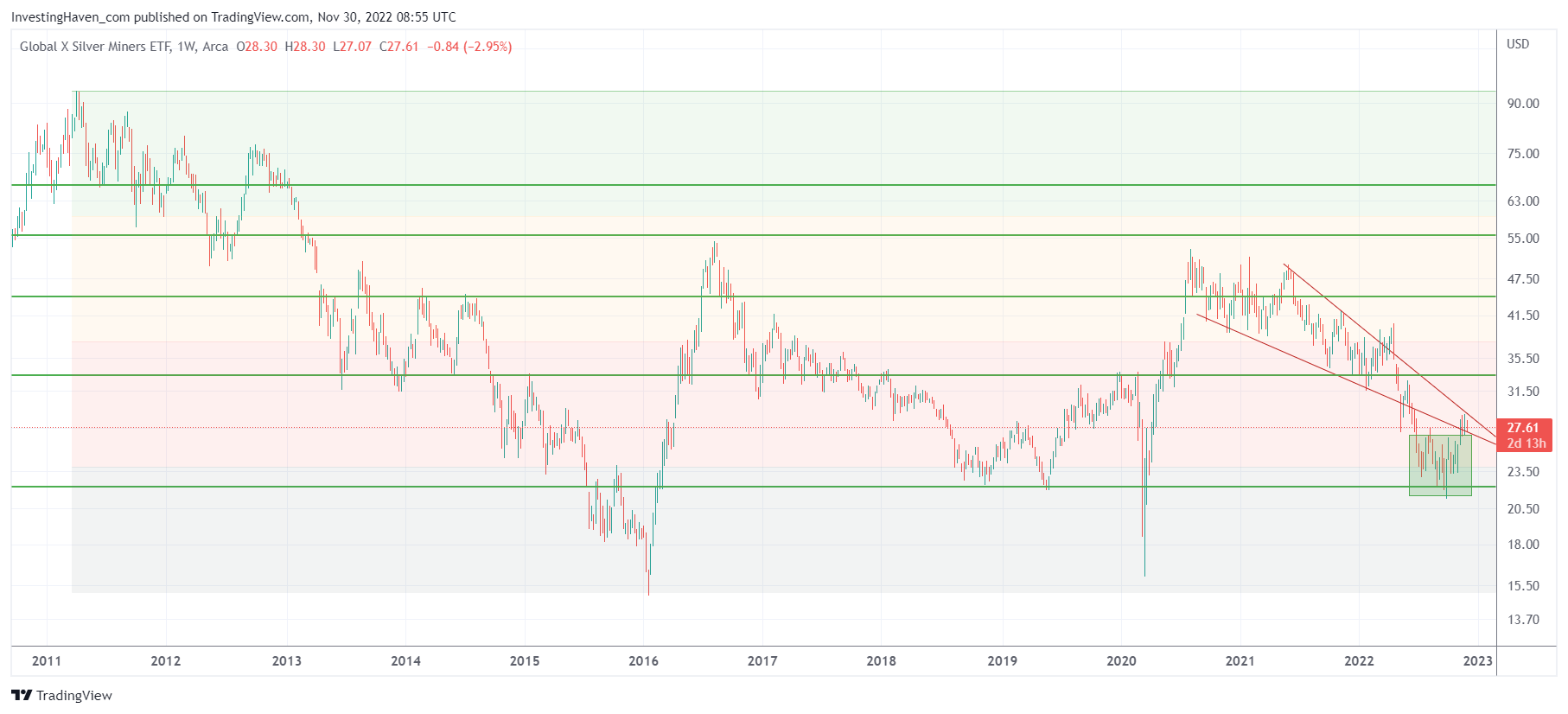 The area of 23 to 32 points in SIL ETF is the consolidation area. More importantly, 23 points have turned into an epic support level going back to 2018. At this very point in time, silver miners are printing a quadruple bottom over 5 years.
Buying the dip near secular support is probably the best investing approach for long-term-oriented silver investors.
---
More By This Author:
Silver Price Chart: Bullish Reversal Structure Almost Complete
Lithium Investing Tip: Buy The Dip Or Not
The Confirmed Double Bottom In Stocks
Disclaimer: InvestingHaven.com makes every effort to ensure that the information provided is complete, correct, accurate and ...
more