Over 40% Of The SPR Drained
Image Source: Pixabay
This is the equivalent of cashing in your only life insurance policy in your 30's with a wife and kids to buy a house..
If something goes wrong it'll be really bad really fast.
"Davidson" submits:
Total US Crude Inv declines 1mil BBL(a rise of 1.7mil BBL working inv and decline of 2.7mil SPR) US Crude Production rose 0.1mil BBL to 12.1mil BBL/Day, US Crude Imports declined ~1.3mil BBL/Day(8.97mil BBL/Week). Fudge factor was 0.064mil BB/Day(0.45mil BLL/Week)
Refined Product Inv held roughly steady as US exports of refined products held near recent lows. Refinery inputs declined 3mil BBL in this report due to Suncor's refinery fire and shutdown.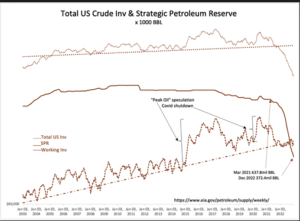 ---
More By This Author:
Pessimism Growing
The Drain Of The SPR Continues
"Administration Desperate..."
Disclaimer: The information in this blog post represents my own opinions and does not contain a recommendation for any particular security or investment. I or my affiliates may hold positions or ...
more