Is The Reckoning Nigh For Silver Shorts?
Investors are buying silver in vast quantities – in whatever form they can get it.
Smaller silver bugs are buying it a few ounces at a time from scarce retail inventories. Whales are accumulating millions of ounces via the silver ETFs or by standing for delivery of COMEX futures contracts.
Unless the bullion banks and other shorts can finally engineer a price smash, they may have to stop selling paper and start buying a lot of physical.
If the short sellers are naked, i.e., not hedged with long positions elsewhere, a genuine short squeeze driving prices higher could commence.
Over the past several trading days, the silver market has simply been resilient. Prices haven't risen. More importantly, they haven't fallen much either.
Long investors continue to buy as the paper sellers dump massive amounts of unbacked silver contracts on the market.
We'll know by the end of this week when the March futures contract goes off the board, how many of those contracts are held for delivery of actual bars.
It is expected to be a record number – perhaps 2-3 times the average. See below.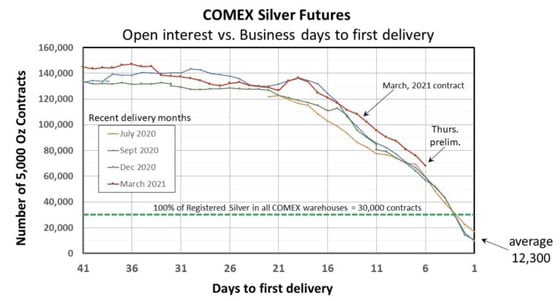 If the number of contracts held is 30,000, the demand would, in theory, completely wipe out the entire stockpile of registered bars in the COMEX vault system.
That almost certainly won't be allowed to happen. The contracts provide the option of cash settlement in the event physical silver is not available in adequate quantities.
Widespread cash settlement would at least put the lie to the notion that a futures contract is a proxy for the actual metal. In a sense, that would be a good thing.
The COMEX has been a tool for manipulating prices, creating price volatility, and discouraging ownership of the physical metal since gold and silver futures trading started at the exchange during the 1970s.
The number of "Registered" bars has been in decline in recent months and that trend is accelerating. The stockpile dropped by 5.5 million ounces last week.
Disclaimer: Money Metals Exchange and its staff do not act as personal investment advisors. Nor do we advise about or advocate the purchase or sale of any regulated security, listed on any ...
more