In Case Silver Gets Slammed More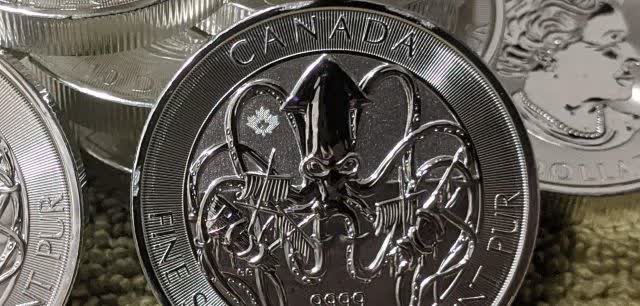 Two ounce Canadian silver "Kraken" coins via user u/Geltmascher on the Silverbugs sub-Reddit.
Silver Gets Slammed After The Fed Meeting
This week offered a good illustration of the Fed's power. Six months after Congress passed a $1.9 trillion fiscal stimulus, after months of inflation concerns and shortages, the prospect of the Fed raising rates twice two years from now was enough to crush precious metals and industrial commodities on Thursday. What caught our attention in particular was the performance of the iShares Silver Trust (SLV), which was down 4.8% on Thursday. You can see the gap down in SLV and the Sprott Physical Silver Trust (PSLV) on the five day chart below.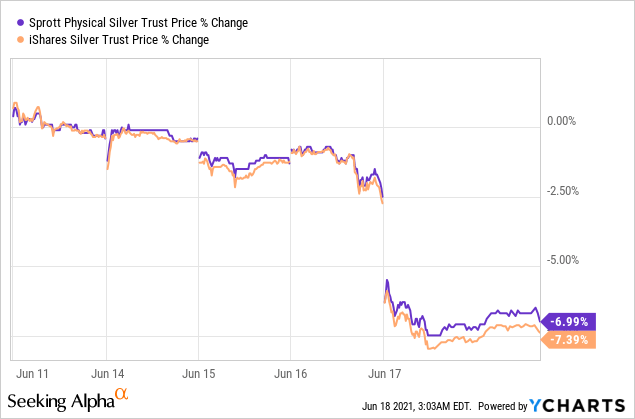 Below we'll look at ways you can protect yourself in case silver slides further, but first, let's look at how SLV has performed as one of our top names recently. It's a good illustration of the benefit of being exposed to more than one asset class, even in a concentrated portfolio.
Our Top Name Six Months Ago
SLV was our #1 name on December 17th of last year.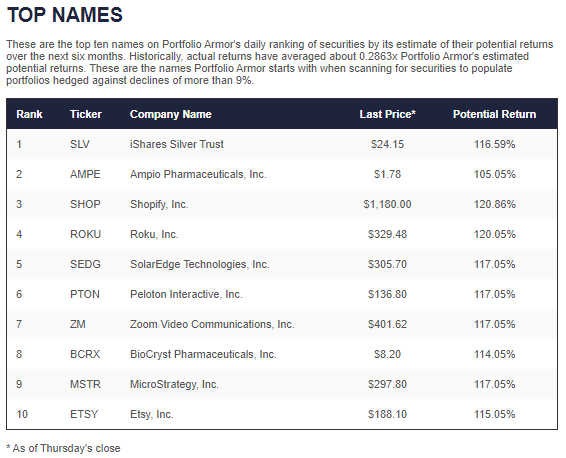 Screen capture via Portfolio Armor on December 17th, 2020.
It was up about 4.6% as of Wednesday's close, but after Thursday, it was in the red.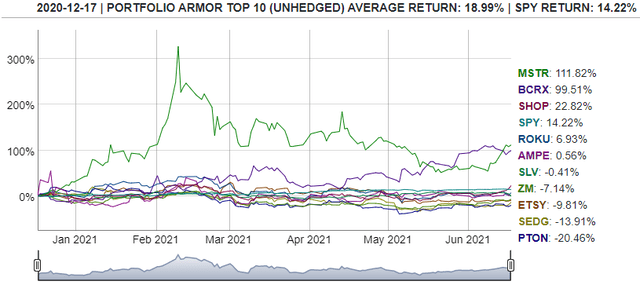 The performance of that top names cohort was bailed out by MicroStrategy (MSTR), which owns a bunch of Bitcoin, and BioCryst Pharmaceuticals (BCRX).
Three Of Our Top Names Earlier This Month
In addition to SLV, we had the silver miner First Majestic Silver (AG) and the ProShares Ultra Silver ETF (AGQ) in our top ten on June 7th. They were all in the red as of Thursday's close.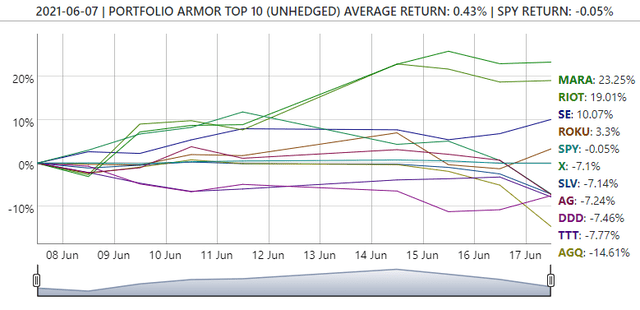 The average performance of the June 7th top names cohort so far has been propped up the the performance of the Bitcoin miners Marathon Digital Holdings (MARA) and Riot Blockchain (RIOT).
Downside Protection For SLV
If you're long SLV and are concerned it might have further to fall this year, we show a few ways to hedge it in the video below. If you're long physical silver or PSLV, you might consider the first hedge shown here (we're wary of suggesting collars for those who don't own the underlying security, which in this case is SLV). SLV is an imperfect proxy for silver, but it nevertheless correlates closely with it.
The last hedge we show in that video may be of particular interest to SLV holders: it has a potential upside twice as large as its potential downside.