How Will Silver's (SLV) Recent Spike End?
When Joe Public buys shares during a wave of euphoria, they do it close to a market top or before the beginning of a decline. Looking at you, SLV!
Silver rallied on Friday (Jan. 29), gold reversed its direction before the end of the day and so did miners, with the latter slightly underperforming gold. I wrote this before, and I'll stress this once again today – the above is a perfectly bearish indication of an upcoming downturn in the precious metals market. This is not the first time it's happening, and this combination of relative strengths worked reliably in the past. And we are not only just seeing that happening – we are seeing that at precisely the moment that is similar to previous patterns that were followed by sizable declines, which means that the relative bearish factors are even stronger.
This also applies to the huge inflows to the SLV ETF that we just saw most recently. Let's take a look below.

Figure 1
The inflows were huge, which means that a lot of capital poured into this particular silver ETF. No wonder – it was very popular among Reddit (and other forums) participants last week. Naturally, these investors are – in general – not professionals and they are not institutions either. They are part of the "investment public", which tends to buy massively close to market tops and/or before important price declines.
This indication might work on an immediate basis, but it could also work on a near-term basis – it depends on other circumstances. Did this work previously? Let's check – after all, there were two other cases when we saw big spikes in SLV inflows – at the end of 2007 and at the beginning of 2013.
What did silver do back then? I marked those situations with blue, vertical lines on the chart below.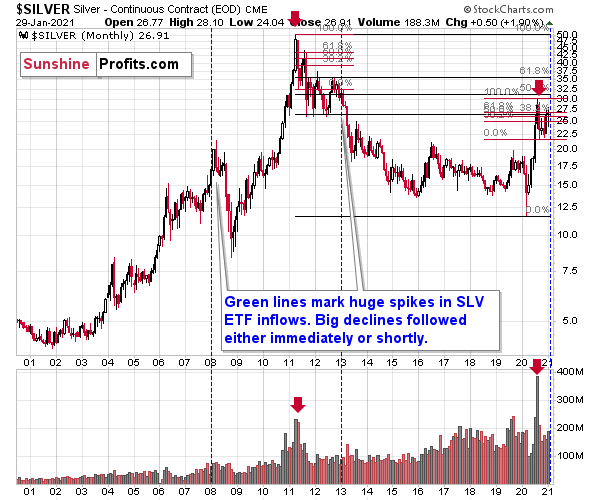 Figure 2
The beginning of 2013 was when silver was not only already after its top but was also in the final part of the back-and-forth trading that we saw before the bigger declines in that year.
Disclaimer: All essays, research, and information found on the Website represent the analyses and opinions of Mr. Radomski and Sunshine Profits' associates only. As such, it may prove wrong ...
more