GDX: Gold Miners Are Cheap And Are Likely Headed Higher
Despite clear signs of higher inflation, robust technical setups, and other bullish elements, VanEck Vectors Gold Miners ETF (GDX) and gold miners in general, remain notably undervalued. Current revenue and EPS estimates appear conservative. Thus, future upward revisions could impact gold miners very favorably. Gold, GDX, and the broader gold mining sector have favorable fundamental tailwinds, bullish technical setups, and likely have substantial room to appreciate going forward.
Image Source: Pixabay
Where Gold Goes Gold Miners Follow
We recently discussed gold and the fundamental factors surrounding the yellow metal. Amongst the key elements are the U.S.'s perpetually increasing monetary base, remarkably high Federal debt as well as the U.S.'s debt to GDP ratio, dovish Fed policy, decreasing Treasury yields, rising inflation, and other elements.
The conclusion is that this is an attractive environment for gold, and the current bull market likely has notable upside. While gold miners often get overlooked, they are engaging investment vehicles. As the price of gold goes up the value of gold mining companies should grow as well. However, stock in gold mining companies typically rises more than the underlying asset. For instance, if gold is to appreciate by roughly 5%, we could see an increase of around 10-15% in a gold mining company's stock. Therefore, investing in gold miners is essentially like leveraging investment in gold, as you can see a move of 2-3X in a typical gold mining company relative to gold.
GDX: VanEck Vectors Gold Miners ETF
GDX is a well-diversified large and mid-cap-sized gold miner ETF. GDX has 52 holdings, and its top ten holdings account for roughly 63.5% of the ETF's weight. Top holdings include companies like Newmont (NEM), Barrick (GOLD), Franco-Nevada (FNV), Wheaton (WPM), Kirkland (KL), Kinross (KGC), AngloGold (AU), and others.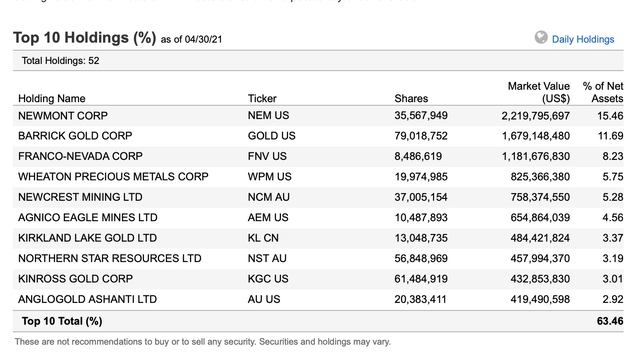 Source: vaneck.com
Technical Image
GDX
Disclosure: I am/we are long GDX, NEM, KL, KGC, GOLD. I wrote this article myself, and it expresses my own opinions. I am not receiving compensation for it. I have no business relationship with ...
more