Despite Dismal Start To Commodities, Goldman Sees Delayed Surge In Replay Of 2007
Heading into 2022, an otherwise very bearish Goldman (whose chief equity strategist David Kostin forecast a 3-month S&P price target of 3600 and expected the index to end the year at 4,000, even as its far more accurate flow traders correctly predicted a meltup, more on that later) said that the only bright light on the otherwise drear 2023 horizon was in commodities which the bank said would "be the best-performing asset class once again in 2023, handing investors returns of more than 40%." The Wall Street bank said that while the first quarter may be "bumpy" due to economic weakness in the US and China, scarcities of raw materials from oil to natural gas and metals will boost prices after that.
"Despite a near doubling year-on-year of many commodity prices by May 2022, Capex across the entire commodity complex disappointed," Goldman chief commodity analyst Jeff Currie wrote on Dec. 14. "This is the single most important revelation of 2022 — even the extraordinarily high prices seen earlier this year cannot create sufficient capital inflows and hence supply response to solve long-term shortages."
Back in 2020, Goldman predicted a multi-year commodities supercycle and had stuck to that view even as energy prices dipped in recent months due to China's coronavirus restrictions and a global economic slowdown suppressing demand. And while the bank was correct in its bullish view in both 2021 and especially 2022, so far 2023 has been a bust with both oil sliding to pre-Ukraine war levels and the Bloomberg commodity index approaching one-year lows.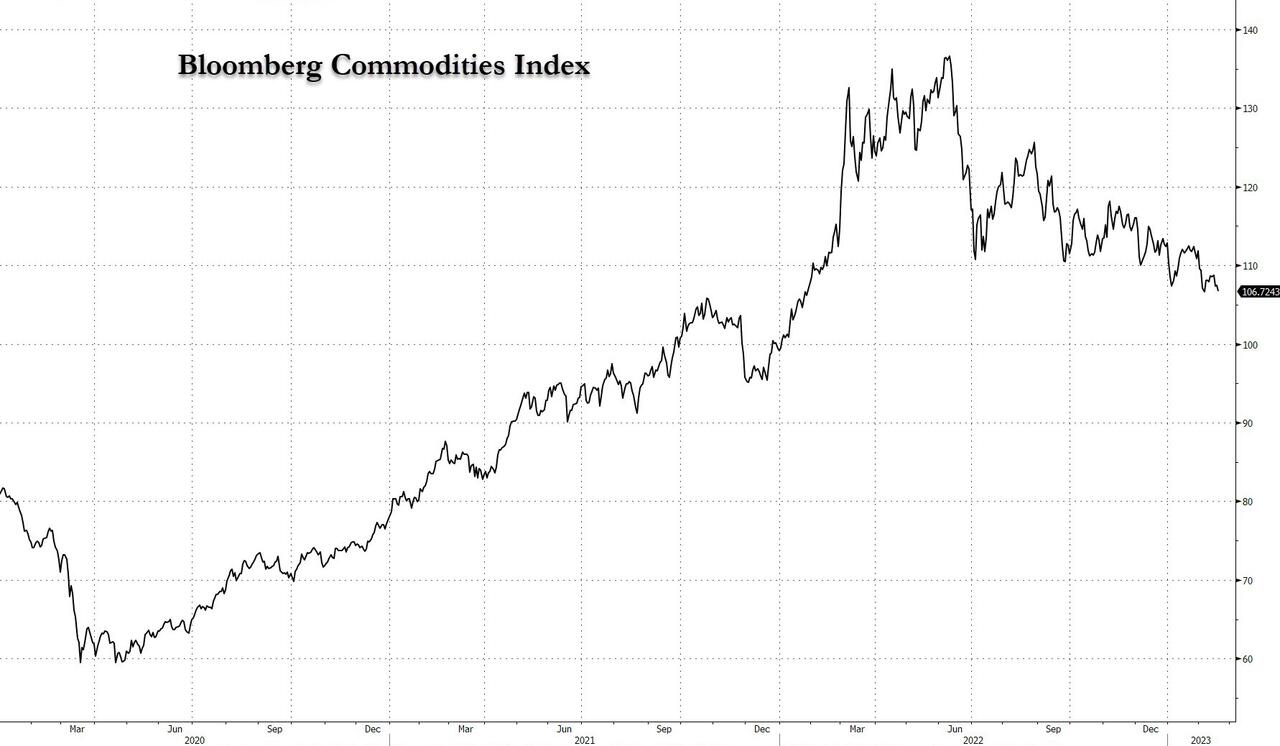 Ironically, even as commodities have sunk - largely due to relentless CTA selling and hedge fund shorting, offsetting any incremental demand for physical from a recently reopened China - it is the same risk assets that Goldman panned just a few months ago that have soared, forcing the bank's equity strategist to raise his 3M price target from 3,600 to 4,000, while at the same time the bank's tactical research team led by Peter Oppenheimer, upgraded its 3M and 12M investment horizon for stocks to Neutral From Underweight.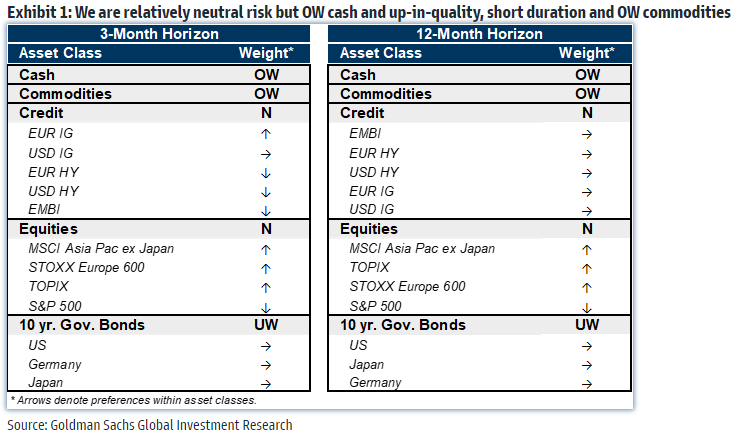 So having thrown in the towel on its bearish equities case, would Goldman do the same with its bullish commodity view?
We got the answer this morning when the bank's commodity guru Jeffrey Currie published what amounts to a mea culpa, yet while he conceded that his favorite trade of 2023 had been a dud so far, in the note titled "Caught between the Fed and a hard place" he forecast that the price surge has only been delayed and will come in the spring, which is why he remains "convicted that oil and metal fundamentals will rebound and maintain our bullish outlook with 12-month total returns of 29% on the S&P GSCI."
Some background as excerpted from his note:
Too much of a good thing in the US. At the beginning of the year, the core of our commodity view was driven by a cooling US economy, a resurgent China and a recovering Europe. These are ideal conditions for a commodity rally as a cooling US would allow for a Fed pause, leading to a weaker dollar which would allow for stronger Chinese fundamentals to dominate commodity pricing to the upside similar to 2007/08. While the recovering Europe assumption is still very much intact, the market is beginning to question the Chinese recovery, particularly within the property sector, and the recent string of strong US macro data points more towards an accelerating US than a slowing US. The subsequent rally in the dollar has had a negative impact on all the commodities that rallied late last year in the context of a weaker dollar environment, i.e. copper and gold. Our view on China is unchanged as we believe recent metal stock builds will prove temporary, while the risks around the Fed going farther for longer have risen, creating a potential headwind to what we still believe are constructive micro fundamentals, particularly in oil. Our economists point to the still relatively benign core inflation picture as a reason to stay with the core view, but the bar for commodities to rally continues to rise.

(Click on image to enlarge)

Rebuilding trust. After yet another setback, the renewed rangebound trade in oil and metals is causing the market to become wary, demanding more cyclical evidence to invest in the structural bull case. Since late last year we have been repeatedly arguing that the momentum in commodity markets remains positive yet every time the markets begin to rally, they have faced a setback and sell off. Copper looked on its way to $10,000/t with positive policy news out of China, but due to disappointing Chinese inventory data, it found itself below $9,000/t once again, causing the market to question the China re-opening thesis. Similarly, oil tested $90/bbl twice only to touch $80/bbl days later before quickly rebounding to $85/bbl; however, with long-dated WTI oil prices dropping below $60/bbl, the market has begun to even question the under-investment thesis. And now with strong US macro data driving up rates expectations and questioning the weaker dollar assumption, gold dropped back to $1850/toz. The more tied the market to macro sentiment, the bigger the selloff. As a counterfactual, markets like soybeans where macro sentiment is not needed and have visibly tight near term fundamentals have continued to trade higher. We acknowledge and respect that the market appears to be losing patience in the bullish thesis, as on net, commodities are down -1.5% ytd, making them one of the worst performing asset class this year. However, we remain convicted that oil and metal fundamentals will rebound this spring and maintain our bullish outlook with 12-month total returns of 29% on the S&P GSCI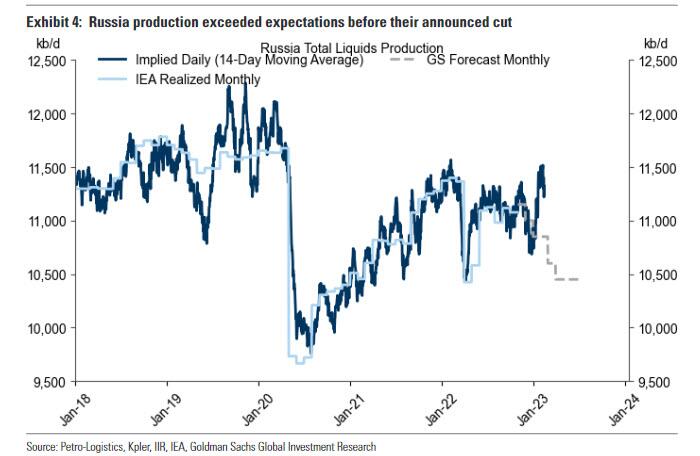 Why this conviction that the current downdraft in commodities is only temporary? We'll answer that shortly but first, a detour into why Currie believes oil prices will rise despite his $5 price cut just last week: in a nutshell "Inventory levels are still low, spare production capacity is limited and global demand is improving across nearly all of the key commodity markets. Even front-end oil timespreads have moved back into backwardation, a sign of physical tightness." Here is the longer version:
3. The oil downgrade was more of a mark-to-market. Despite this directionless trade, the bullish micro fundamental story is still very much intact. Inventory levels are still low, spare production capacity is limited and global demand is improving across nearly all of the key commodity markets. Even front end oil timespreads have moved back into backwardation, a sign of physical tightness. Our $5/bbl oil price downgrade last week was simply a mark-to-market of both past fundamentals and long-dated prices. In our view, both the path and long-dated terminal values remained unchanged at $80/bbl - it's just going to take longer to get there. We now have oil crossing $100/bbl in late 4Q23. Higher than expected US and Russian production and the loss of distillate-based gas-to-oil switching left the oil market with higher than expected current inventory. At the same time, the sharp decline in long-dated oil prices was driven by a surge in pent-up hedging activity that was taking advantage of sharply lower exchange margin requirements driven by more stable markets. But the forward fundamental paths are unchanged. Chinese mobility remains robust and our China oil demand nowcast suggests oil demand is 1.0 million b/d off the November lows. Further, the announcement from Russia last week and the recent drop in our Russia nowcast suggests that Russian output will likely fall in line with our expectations.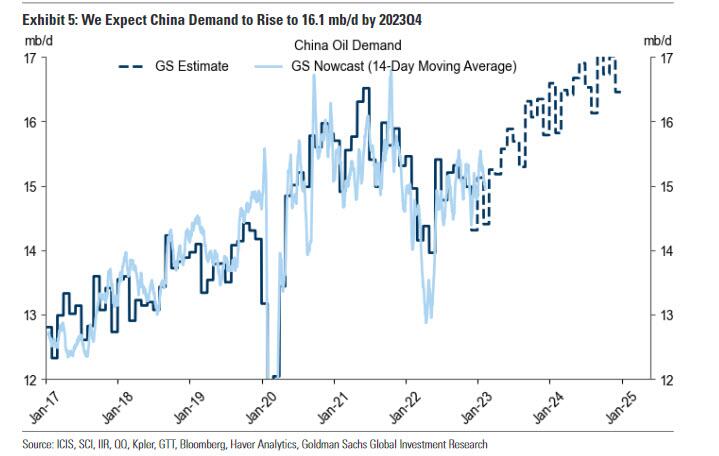 Currie then touches on his bullish view of metals which he argues are merely "waiting on China" before explaining why in his view, the commodity market is positioned for a sharp move higher thanks to a "rare macro setup" where thanks to China, the "global economy is below capacity and growing which is early cycle (what we have termed the 'recovery' phase of the business cycle), yet inventories and spare capacity are depleted which is late cycle (what we have termed the 'slowdown' phase of the business cycle). This is rare, as normally at this stage of the business cycle the economy is above capacity and slowing, as the US economy experienced late last year, with commodity inventories exhausted. During this 'slowdown' phase although demand growth is slowing sharply due to higher interest rates, demand still remains above supply which against exhausted inventories leads to significant commodity returns. However, this is not what played out late last year. Due to China being locked down during the second half of last year, the global economy was slowing below capacity and by late 4Q22 commodity inventories were outright building. Now we have a global economy where the US is accelerating above capacity and China is accelerating far below capacity, but at an increasing rate. This setup, however, is occurring in the context of late cycle inventories and exhausted spare capacity, but accelerating demand growth that is below trend. When China pushes demand above supply, the system will likely bump into capacity constraints on supply and inventories, recreating classic late cycle strong returns."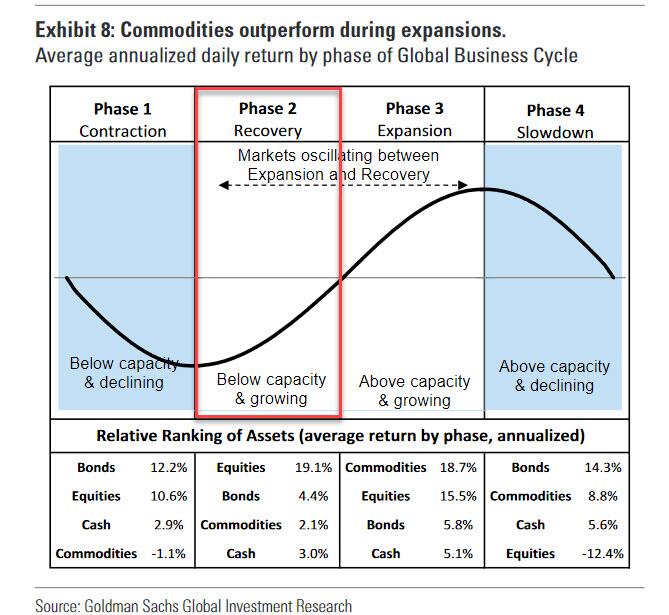 The bottom line and the reason why Goldman believes the commodity cycle is only just getting started is that the setup is ultimately similar to 2007:
This is not the first time we have seen this setup. We saw it in the 2006 to 2007 period. In late 2006, after the Fed raised rates by 450bp, oil sold off from $77/bbl to $52/bbl on the back of recession concerns and a warm winter. Markets were primed for a recession that didn't occur for another year. The yield curve inverted and commodity markets de-stocked amid limited spare production capacity. As the Fed paused, China aggressively stimulated, and Europe ultimately raised rates. These shifts led to a 12% decline in the Dollar and a near doubling in commodity prices."
Ironically, as Currie reminds us, it was the onset of a US recession—which everyone fears today—that pushed commodity prices to dizzying heights in early 2008 as Fed cut rates, coupled with Chinese stimulus, led to a surge in commodity demand, causing supply constraints to bind.
Of course, if 2007 is on deck, then 2008 should be as well (and everyone knows what happened then to short circuit the commodity meltup, something we discussed one year ago in "Shades Of 2008 As Oil Decouples From Everything"). To Goldman that's not the case - for obvious reasons after all another round of bank nationalizations and bailouts is not what strategists want to be pitching right now - and as Currie caveats quickly "we don't expect a repeat of 2008 today" yet he adds that "these events underscore the vulnerability of commodity markets to a resurgent China, slowing US, and weak Dollar against a backdrop of critically low inventories and limited spare production capacity."
We, on the other hand, do expect a repeat of 2008, but it won't take place for a while - it will likely start some time in late 2023 or early 2024 when the Fed Funds rate may be as high as 6% according to some, and when the next "hard landing" crisis will strike, but not before sending commodities soaring to the dizzying stratospheric heights of summer 2008... right before everything crashed.
---
More By This Author:
Producer Prices Surge More Than Expected In January As Gas Prices Rebound
What's Behind The Surge In Retail Sales: It Was All One-Time Factors
US (Nominal) Retail Sales Soared In January
Disclosure: Copyright ©2009-2023 ZeroHedge.com/ABC Media, LTD; All Rights Reserved. Zero Hedge is intended for Mature Audiences. Familiarize yourself with our legal and use policies ...
more