Crypto: Look Out Below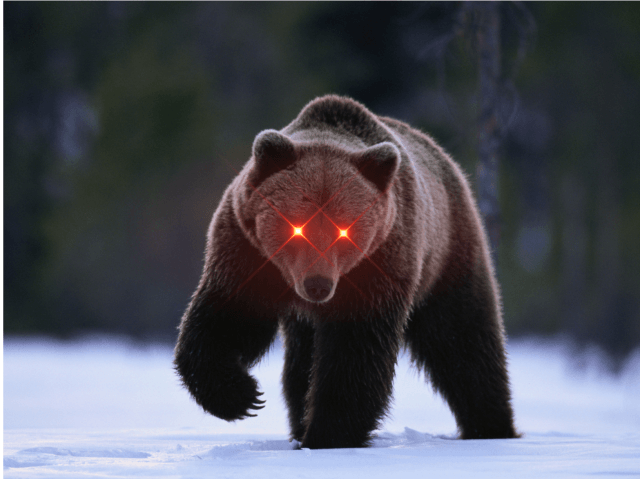 Credit to Oliver Renick for the clever "laser eyes" bear meme, more on which below.
Laser-Eyed Tom Brady
The symbol of Bitcoin bulls has been adding "laser eyes" to their social media profile pics. In hindsight, perhaps it was an inauspicious sign when Tampa Bay Buccaneers quarterback Tom Brady added them to his Twitter profile last week.
When the NFL great posted that last Monday, Bitcoin traded at over $59,000. As we type this, its price is hovering near $39,000. Three market technicians see further downside. Let's start with the one who looks to have called a top in Bitcoin. We'll close with a potential bright spot in the crypto complex.
Technicians See More Trouble For Bitcoin
In a post last week (Shades Of 2000 And 2008), we mentioned TD Ameritrade lead anchor Oliver Renick's prediction that if Bitcoin didn't stop crabbing and start rallying on inflation news, it could sell off, tanking the whole crypto sector. So far, it looks like Renick called a top. As we type this, Bitcoin is down more than 30% over the last 7 days, with the next two largest cryptocurrencies by market cap, Ethereum, and Binance Coin, down a bit more.

Screen capture via Coin Market Cap.
Oliver Renick offered a follow-up post early Wednesday (Bitcoin Is On The Verge Of Implosion). In it, he first reiterates his bearish argument that Bitcoin's use case as "digital gold" has failed this year as it didn't respond to inflation heating up:
[I]t's going in the opposite direction of gold just when inflation is becoming the primary concern for investors. This is the biggest thing happening. The most popular story for owning bitcoin -- digital gold -- is failing at precisely the wrong moment. It doesn't matter what bitcoin did relative to gold year-to-date, the past year, or since inception. What matters is what bitcoin does compared to gold when inflation is actually a concern, and for the first time in more than a decade, inflation is the top concern among investors.
Disclaimer: The Portfolio Armor system is a potentially useful tool but like all tools, it is not designed to replace the services of a licensed financial advisor or your own independent ...
more