Crude Oil – How Many Minutes To Midnight Before We Act?
Yesterday, some might have wondered where is the limit to the upswing in oil. It would be natural to expect it to catch up to e.g. gold and silver upswings. Would be, could be. We just saw something that made us act. Diligently, with foresight and confidence – when the odds are with us. It's time to share it with you.
Let's examine the charts below to find out (charts courtesy of StockCharts).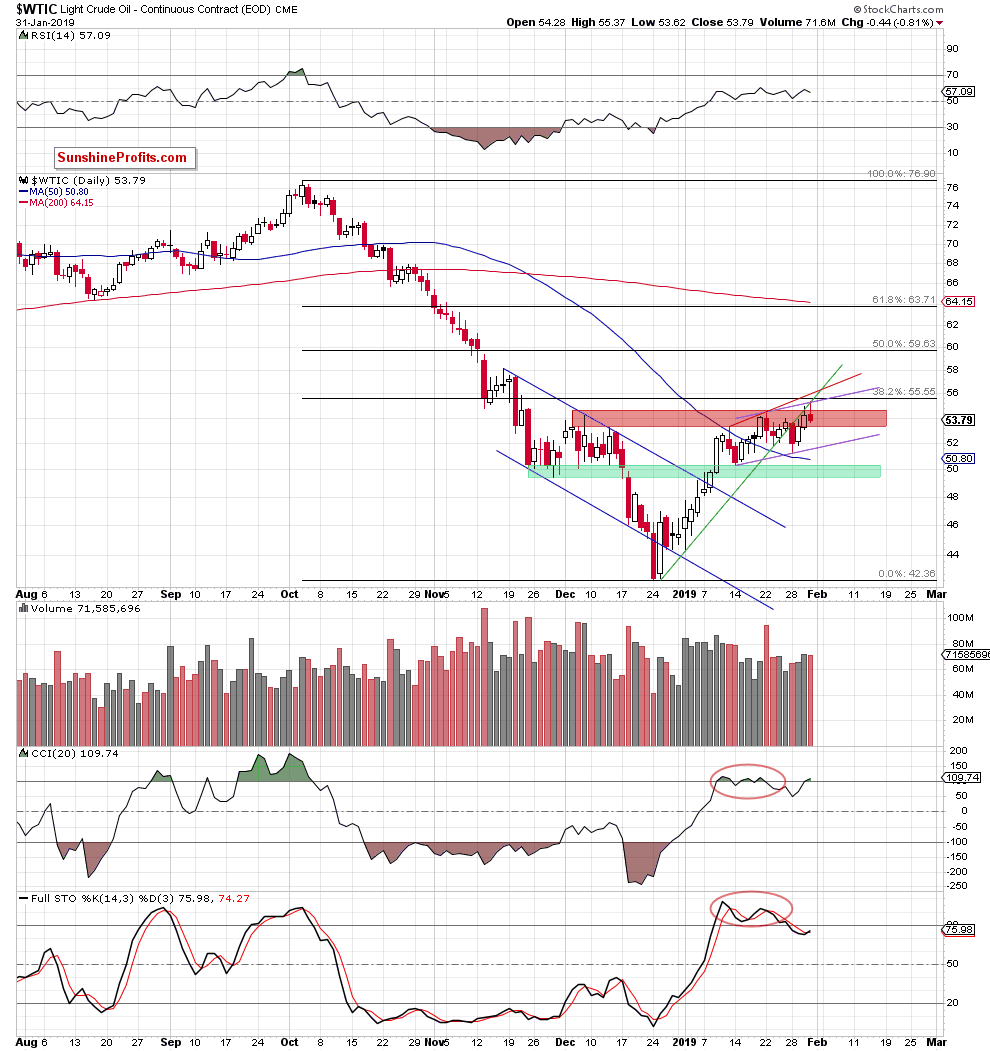 Yesterday, crude oil broke above December peaks and hit a fresh January high on intraday basis. The buyers, however, showed hesitation and didn't close the day on a strong note at all. The long upper knot and especially the close near the daily lows clearly show that – this is what a reversal looks like. The volume was not too shabby, giving credibility to the rejection of upside move.
You see, that is the strength of the proximity of 38.2% Fibonacci retracement and of another verification of the previously-broken green line. Now we have three daily closes below it which makes its breakdown confirmed. Black gold also climbed to the upper border of the very short-term purple rising trend channel – and again was rejected at it.
All these illustrate the weakness of the buyers and correspondingly increases our confidence in taking action. We are glad we can share this opportunity with you.
On top of that, the commodity closed another day below the upper border of the red resistance zone based on the December peak. It looks like the entry of oil bears to the trading floor in earnest is just around the corner.
Interestingly, the CCI invalidated its earlier sell signal, while the Stochastic Oscillator generated a buy one, but taking into account their recent action we do not trust them enough to base investment decisions on their signals alone. These and so many other indicators are derivatives of the price, meaning that they are lagging behind it. In other words, it is first about the price and only then about the indicator.