Craig Hemke Warns Of Fraud In Fractional Reserve Precious Metals Markets
Listen to the Podcast Audio: Click Here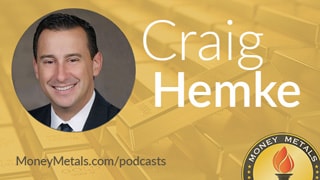 Mike Gleason: It is my privilege now to welcome in Craig Hemke of the TF Metals Report. Craig runs one of the most highly respected and well-known websites in the entire industry and has been covering the precious metals for a decade now, and he puts out some of the best analysis on banking schemes, the flaws of Keynesian economics, and evidence of manipulation in the gold and silver markets.
Craig, welcome back and thanks for joining us again. How are you my friend?
Craig Hemke: I'm fine, Mike. Thank you for the kind words. I very much appreciate it. It's always a pleasure to visit with you.
Mike Gleason: Yeah, likewise. Well, Craig to start out today, I want to go a little unorthodox here and ask you about palladium. You've been covering developments in that market closely. As we're talking today, we're seeing palladium higher than gold now, and the potential ramifications of what we're seeing in the palladium market could be significant for all metals.
So, if you would, set the stage here and give our listeners a summary of what you see happening there. Lease rates have been exploding higher and that just might be signaling a serious problem for the LBMA. Please explain a little bit about metals leasing and what the dramatic moves in palladium might mean, Craig. And hopefully after you do that, our audience will understand why we're leading off with that topic in this interview.
Craig Hemke: Yeah, that's the significance of it Mike. You've touched upon it. I guess in a sense, I wish I would have started the TF Palladium report back in 2010 because prices have about tripled since then, and it's been a better performer than gold and silver. And I've seen stuff today about people writing about how all of a sudden with palladium spot prices exceeding gold that that's something significant. It's not. That doesn't mean anything, because they're not interchangeable. It's really an apples and oranges thing. What matters in the palladium price is that it's breaking out to new all-time highs, and the circumstances behind this move.
Personal history, back in 2001, palladium ran from $400 up to $1,100 an ounce over the course of about nine months. And it was all in the back of what was clearly a demonstrable supply shortage at the time, primarily in London because the futures market is pretty small in New York. As legend has it, President Yeltsin, who was eager to curry favor with the west ... think of this as just past cold war time, was quick to supply physical palladium to London to be delivered in what was a supply squeeze. It had driven price up that far.
Russia supplies about 40% of the global palladium supply and price then crashed, went back down from $1,100 to $400 over the next nine months. So it was a full round trip. Price then came up again to $1,100 about this time last year, and for a while it looked like it's a clear double top on the chart, but it has since exploded since August. It's gone from $800 now to $1,200 over the last four months.
And behind this move and the significance of all of this for gold and silver investors is this supply squeeze that's clearly there. How can I say that? Two things: One, the lease rates in London that you mentioned ... David Jensen reports that yesterday a one-month lease rate for palladium in London was 22%. Let me repeat that, okay? Traditionally it's about zero percent, right? You look at the gold lease rates, silver lease rates are always zero to one percent. If you want to borrow my palladium so that you can deliver it against your short obligation or deliver obligation, I'm not sure I'm going to get it back because it's in such short supply. Therefore, I demand you pay me 22%, okay? That's up from 15% the day before. It's up from 10% last week so that's evidence of the growing shortage.
You can also look at a traditional measure which is backwardation. In futures trading you usually get contango, which means that the spot price is a little bit less than the front month futures, which is less as you go out the board, the price gets higher... that's contango. That's how boards are usually structured. In palladium, at present, it's backwardation. The spot price is about $1,250. The front month futures is about $1,230 and as you go out to this time next year for a ... I guess we'll call it a futures delivery in New York, it's about $1,150 so you have about $100 in backwardation. That's also evidence of supply shortage.
Now, putting this all back together; if this in fact, happening like it did in 2001, I don't think President Putin is going to be as accommodating at this time as President Yeltsin was. If, and this ultimately, now that everybody has this background, this ultimately is why this matters. If the physical palladium market in London begins to fracture and dissolve, and the LBMA palladium market gets exposed for what it is, which is a series of leases and promissory notes and unallocated accounts and all this kind of stuff, then that is going to shed light on the LBMA gold and silver markets, which are similarly a series of leases and fractional reserved, unallocated accounts and the like.
So what my hope is, and why I've paid such attention to this over the last couple of months, is that the world will wake up and go, "Well, hold on. Wait a second. Time out. If the palladium market is structured this way and it just blew up, there's nowhere near the amount of supply of palladium as these paper markets would imply, well holy cow, maybe the gold and silver markets deserve our attention too."
So, I'm not advising anybody to buy palladium coins and stuff like that. I mean, I'm sure the banks will do everything they can in their power to rig price back down. They'll probably be successful. But the hope with palladium is that it will shine the light ... draw attention to at least, the scam, the fraud of this fractional reserve and paper derivative pricing scheme, and then that'll trickle over into attention in gold and silver.
Disclosure: ​Mike Gleason is a Director with Money Metals Exchange, a national precious metals dealer with over 50,000 customers. Gleason ...
more