Black Gold Beats Silver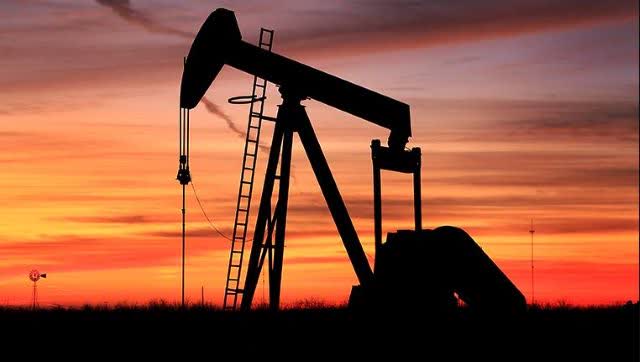 An oil derrick at dusk. Image via Laredo Petroleum.
Oil Versus Precious Metals Versus Crypto
Three ways investors have tried to play the reflation trade this year have been industrial commodities, precious metals, and crypto. Last week's Fed meeting and the possibility of rate hikes in 2023 put a dent in all three sectors, and then news of another China crackdown made crypto a sea of red on Monday. At the same time, the failure of Iran talks boosted oil. Year-to-date, here's what the comparison looks like, using the iPath Pure Beta Crude Oil ETN (OIL) as a proxy for oil and the Sprott Physical Gold Trust (PHYS) and Physical Silver Trust (PSLV) and proxies for gold and silver.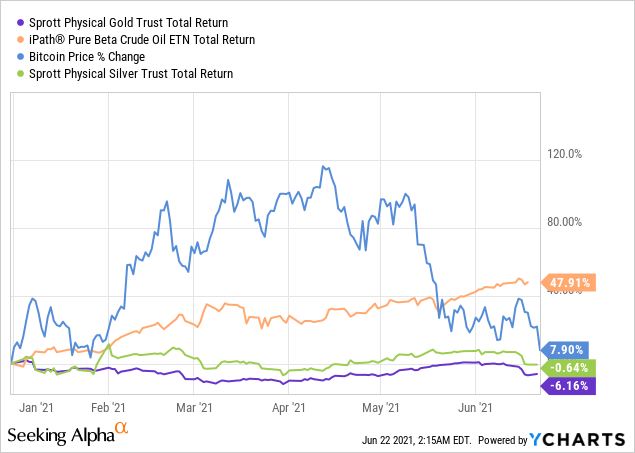 Oil's been the best performer by far, followed by Bitcoin posting a 7.9% return, PSLV down fractionally, and PHYS down a little more than 6%. It's interesting to consider why oil has crushed precious metals and crypto. Maybe it's because, while all could plausibly benefit from higher inflation, oil benefits from a rebound in the real economy as well. People who didn't get a chance to travel due to COVID lockdowns last summer don't need Bitcoin or silver to drive or fly now, but they do need oil (unless they're driving electric vehicles, about which, more below).
The Reflation Trade In Our Top Names
Every day the market's open, our system gauges underlying price action and options market sentiment to pick the securities it estimates will perform best over the next six months. This year, it's picked up industrial commodity names as well as crypto and precious metal names: sometimes ETFs or ETNs tracking the underlying commodities, and sometimes miners or similarly adjacent names. An example of this was our top ten names from May 13th.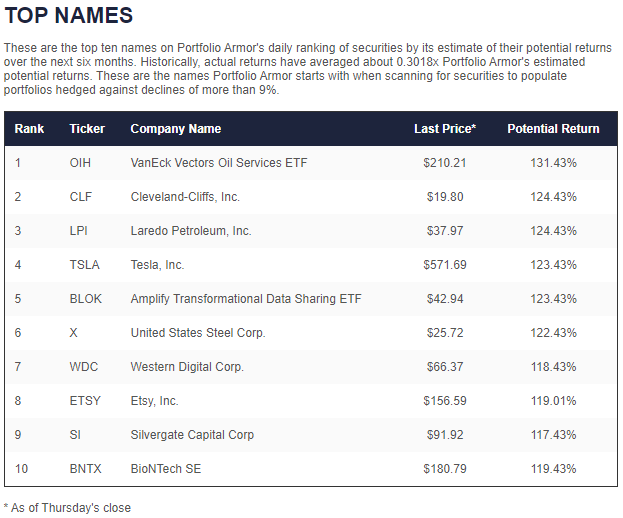 Screen capture via Portfolio Armor on 5/13/2021.
This top names cohort came to mind because it's the most recent one to include Laredo Petroleum (LPI), and LPI had a big day on Monday, spiking more than 14%. Regular readers may recall we first mentioned that oil E&P in February (Trouble In Texas). This particular top ten didn't have precious metals exposure but it had exposure to industrial commodities via LPI, the VanEck Vectors Oil Services ETF (OIH), the iron miner Cleveland-Cliffs (CLF), and US Steel (X). It also had crypto exposure via the Amplify Transformational Data Sharing ETF (BLOK) and Silvergate Capital (SI). The inclusion of Tesla (TSLA) in this cohort added exposure to electric vehicles. As of Monday's close, LPI had nearly doubled since May 13th.
Disclaimer: The Portfolio Armor system is a potentially useful tool but like all tools, it is not designed to replace the services of a licensed financial advisor or your own independent ...
more