Backwardation And Other Evidence Of A Silver Supply Squeeze
The effort to squeeze silver shorts may appear to have fizzled, but naked short-sellers are as vulnerable as ever.
Silver futures prices are entering backwardation. That is a bad omen for anyone betting on lower silver prices.
Backwardation happens very rarely, but this condition has been a reliable indicator that higher prices are on the way each time it has occurred over the past decade.
In the futures market, silver prices generally go up based on how far away the delivery month is. Most of the time, prices for future delivery are higher than today's spot price, i.e., the price for delivery now. There is a cost of carry – primarily driven by storage fees and opportunity cost of funds – when it comes to holding physical silver bars.
One way to think of it is that sellers build in the cost of storage to the price – and buyers of futures contracts must agree to pay increasingly higher prices the further in the future they wish to take delivery.
However, with all that said, the silver market isn't functioning normally at the moment. The higher prices being paid for delivery of bars today is an indication of short supply.
It also may imply that investors don't have as much confidence they will be able to get delivery later.
If investors felt sure the bars would be there, they could simply buy a futures contract for the lower price and stand for delivery.
But market participants are weighing the risk of delivery defaults, or cash settlements, more heavily. Many are paying up to get bars now for a variety of reasons.
Periods of backwardation in precious metals are relatively rare. The chart below shows just three periods of a silver backwardation in the past decade as well as the one happening now. In each case, sharply higher prices were needed to resolve the shortage.
(Click on image to enlarge)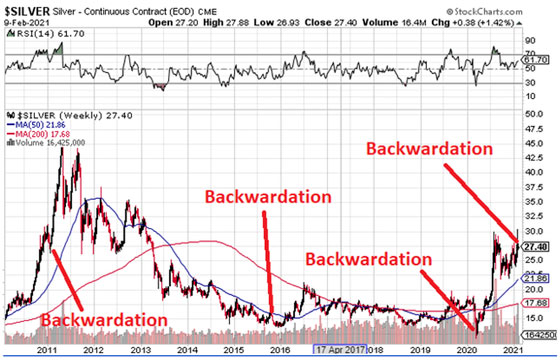 Price backwardation is not the only evidence of tightness in physical silver supply. There is more unusual activity involving the iShares Silver Trust (SLV). The exchange-traded fund reported more than 3,000 tons of bars were added early in the month.
Disclaimer: Money Metals Exchange and its staff do not act as personal investment advisors. Nor do we advise about or advocate the purchase or sale of any regulated security, listed on any ...
more