HH

As The Coal Industry Shrinks, Miners Deserve A Just Transition – Here's What It Should Include
Murray Energy, one of the biggest private U.S. coal companies, has become the fifth coal company to file for bankruptcy in 2019. Union leaders and many elected officials worry that in addition to the 7,000 miners on Murray's payroll, this step could threaten the solvency of the United Mine Workers of America pension fund, which supports over 100,000 retired miners and fully vested workers.
Whether people support or oppose the Trump administration's efforts to prop up the coal industry, one point of agreement is that shifting from coal to cleaner fuels threatens struggling coal-dependent communities. Murray Energy's bankruptcy is the latest reminder that it is past time to discuss a just transition for coal miners.
My legal scholarship examines environmental decision-making processes, with a focus on law and the urban-rural divide. In my recent research, I've dug into the origin and meaning of the idea of a just transition for workers.
My findings suggest that there is a strong ethical case for pursuing just transitions through policy. The challenge is to ensure that these policies nurture programs and institutions with lasting effects, rather than merely offering short-term band-aids.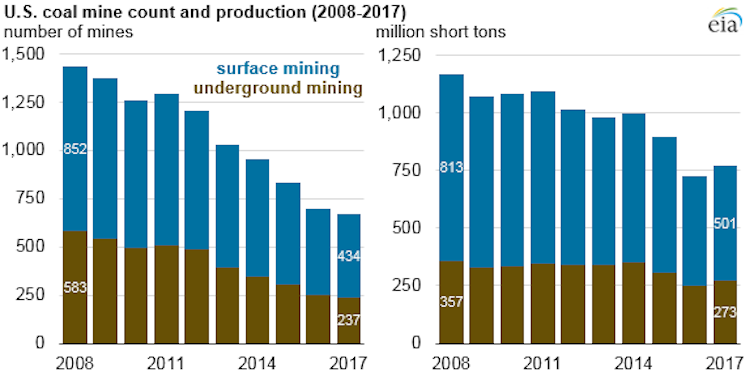 More than half of the U.S. coal mines operating in 2008 have closed. EIA
What is a just transition?
There is no single definition of a just transition, but in the coal context it generally means finding alternative ways to support struggling communities that are losing their traditional livelihoods.
The concept was popularized in the 1970s by progressive labor activist Tony Mazzocchi, who worked in the auto, steel and construction industries before becoming an organizer. He believed that workers who had contributed to the public welfare through hazardous work deserved help in transitioning away from their difficult jobs. He first called for "full income and benefits for life" for such workers, but eventually changed his demand to four years of income and education benefits. Even then, his efforts met substantial opposition.
This article is republished from The Conversation under a Creative Commons license.