Coloring One Green Shoot
China's Passenger Car Association reported last week that retail sales of various vehicles totaled 1.78 million units in March 2019. The total was 12% less than the number of automobiles sold in March 2018. This matches the government's data, both sets very clear as to when Chinese economic struggles accelerated: May 2018.
For decades, there was just one way for China's car market: up. Once the trend abruptly reversed 10 months ago, the free fall in the world's largest market has shown no signs of easing.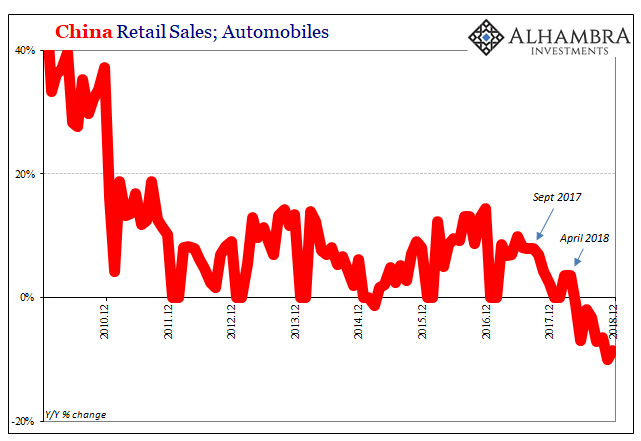 This is not the message being received especially here in the West, especially over the last week or so. It is the season for green shoots, which means that for the most part serious problems will be overlooked in the determined hunt for positive numbers. Any positive number.
Even in one country, the world has been counting on for "globally synchronized growth", sustained setbacks in the very nation which should be unambiguously booming, anything above zero will be super-hyped regardless. Put a plus sign in front of any single piece of Chinese data and let the spring season take it from there.
That was China exports last month. Also last week, China's General Administration of Customs said that the total dollar value of exports leaving the country in March 2019 was 14.2% greater than the dollar value of goods exported in March 2018. Exports in February had been down 20% year-over-year. Like China's manufacturing PMI, the +14.2% was broadcast as if the only thing that mattered.
Green shoot confirmed?
The problem, as usual, is Golden Week skews. In 2018, last year's March exports fell 2.7% year-over-year after rising 44.5% the previous month. This year the pattern is reversed, leaving only a simple calculation to gauge the overall baseline.
And that is the quarterly combined figure. In all of Q1 2019, exports rose by just 1.3% compared to all of Q1 2018. That's actually down from Q4 when total exports from China gained 4.8%. Exports haven't collapsed despite "trade wars" but what matters is the trend toward which everything points. The global economy isn't doing all that well, either.
Disclosure: This material has been distributed for informational purposes only. It is the opinion of the author and should not be considered as investment advice or a recommendation of any ...
more