Yields Soar, Sending 30Y Real Rates Positive Amid Overheating Panic: What Happens Next
Earlier today we pointed out that after being frozen for almost a year...
(Click on image to enlarge)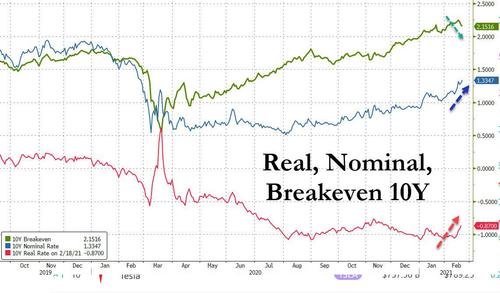 ... real yields finally surged, and nowhere was this more visible than 30Y real rates (i.e., TIPS), which just rose above 0%...
(Click on image to enlarge)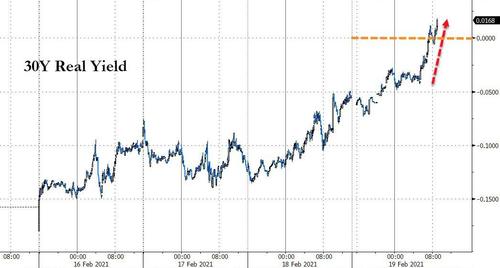 ... for the first time since June as 10Y real yields are suddenly exploding higher as breakevens slump.
(Click on image to enlarge)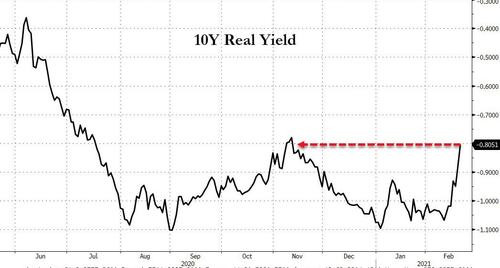 And now that Real Rates have joined Breakevens (which have moved sharply higher on the spike in commodity prices and especially oil) in surging fast, concerns about a real (no pun intended) VaR shock are also rising.
As a reminder, and as we discussed recently when it comes to VaR shocks - destabilizing, multiple-sigma events which lead to forced deleveraging among institutional investors who are forced to puke their "safe" assets - even more important than how high rates rise is how fast they do so. This is why a recent Goldman note "If Real Yields Rise More Quickly" is suddenly very appropriate. This is what Goldman said:
Real yields near all-time lows, but risks in focus. Investors have become more focused on the potential for and risks of higher US real rates after the shift to unified Democratic control. Our forecasts are for modest increases in 10-year real yields through 2021, but it is worth considering the impact of a faster move.

Looking back and looking forward at potential drivers and impacts of rapidly rising real yields. We examine three episodes of rapid increases in real rates over the last 15 years and look at what drove asset performance over those periods. Then, we illustrate the estimated sensitivity of key assets to shifts in both real rates and the growth outlook and predict asset responses to scenarios under which real rates might rise sharply.

Responses to perceived shifts in monetary or fiscal policy alongside improving growth are the most likely catalysts for any larger real rate move today. Past episodes of real rate spikes have generally followed a period of significant real rate decline; have come against a backdrop of improving growth views; and have generally featured either a perceived shift in central bank policy or in fiscal policy.

For markets, it matters whether higher real rates are "growth" or "policy" driven. Asset market responses to higher real rates depend significantly on the source of the rates move. If improving growth expectations remain firm, the impact on US equities and credit is likely to be limited, even if the market experiences temporary anxiety. Shifts in real rates driven by expectations of more hawkish monetary policy are apt to be more damaging.

Broader market backdrop matters for asset responses too. The 2013 taper tantrum coincided with a sustained downshift inChinese growth. The sharp pressure on EM assets and commodity currencies over that period owes as much to that dynamic as to the impact of higher US real rates. By contrast, when real rates rose sharply in 2015 and especially in late 2016, markets were upgrading their views of China-linked assets.

Sensitivities to growth and real rates have shifted post-corona crisis. The response of US equity sectors and indices to growth and real rate shifts has been different in the coronacrisis than in the period before. While banks have remained consistent outperformers, the underperformance of tech-related stocks and other "high-duration" stocks during periods of sharply rising growth and real rate expectations is a recent phenomenon. While some of this shift may stem from the rotations specific to the post-corona reopening process, we expect the vulnerability of the Nasdaq/tech complex to higher real rates to persist for now.

Protection against large real rate increases available in rates and beyond. The simplest protection against higher rates comes in Treasury markets themselves, but tilting portfolios towards less rate-sensitive areas may also help. Both past episodes and our scenario analysis suggest that gold and $/JPY may also offer good optionality for scenarios in which real rates rise more quickly.
Disclaimer: Copyright ©2009-2021 ZeroHedge.com/ABC Media, LTD; All Rights Reserved. Zero Hedge is intended for Mature Audiences. Familiarize yourself with our legal and use policies ...
more