We Very Likely Have Seen An Equity Market Peak As Biotech, Junk Fall Along With Bond Yields
Summary
Several impressive price developments conclude that market peaks have been seen. First was PAM member jdefp's EWP measurement of ESc1=3338.38 as 161.8 Fibonacci level, measured off the 2018 end-of-year decline.
Second, fall in Fed Reserve repo purchases, as well as liquidity conditions described in PAM's January 23 SA article; third, Fed's balance sheet has been reduced; the trend continues to March.
JNK, HYG, LABU, XBI, and Financials are also collapsing in pursuit of sharply declining bond yields. Market leader NDX cannot stay aloft in these conditions: the markets will roll over and peak.
With geopolitical and global health scare issues, as well as signs that the Fed is slowly devolving from very loose liquidity conditions to something that is more normal, risk assets are at significant risk, and bonds will benefit.
It did look that ESc1 and NQc1 still needed to complete their wave 5s, and therefore did make new higher highs, but it seemed to us that RTY and Dow futures were done completing wave 2s structures (next wave 3 downside); therefore Biotech should be sold, which we did, largely.

This recent article was derived from a previous PAM report where we discussed the reason why we believed that the market was undergoing a market blow-off stage and that the conditions were ripe for a market peak. Therefore, PAM would be served well getting more proof so we can position to the downside, accordingly, which we did.
This new article discusses the proof and evidence we gathered which indeed proved to us on Wednesday, January 22, that market peaks were unfolding right before our eyes. Those findings were summarized in a report and sent to PAM subscribers and then published in the PAM blog the following day, January 23.
Pre-New York market opening, on January 22, PAM member @jdefp commented that he has ESc1=3338.38 as the 161.8 Fibonacci level target for a market peak, taken off the 2018 end-of-year decline. Those levels were then just a few points away from prices which were being tracked by equity futures being traded during European markets.
I described the Elliott Wave Principle (EWP) schemata as a "beautiful" market insight; accordingly illustrated in the chart below.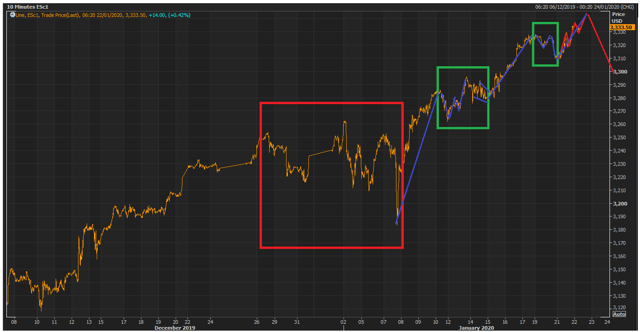 When the New York market opened on January 22, JNK, HYG, LABU, XBI, and Financials, as well as Small Caps collapsed in pursuit of the sharply declining 10yr yield. Market leader NDX cannot stay aloft in these conditions: the markets will roll over and peak, and did (see the two charts below).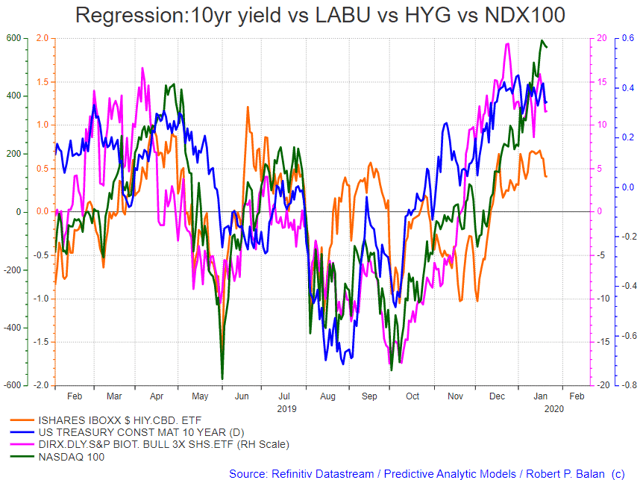 In our previous report, we said that if our assessment is correct, bond yields are going to fall sharply over the next few days, even weeks. That will force these bond yield proxies lower and presumably other sectors that fade when yields fall, like financials, a heavy-weight sector, which would pile on pressure on the Dow. On top of that, EM equities would front-run what would be subsequent undercutting of the major indices (see chart above and below).
Disclosure:
I am/we are long GOLD, BONDS, EURO.
I wrote this article myself, and it expresses my own opinions. I am not receiving compensation for ...
more