Powell On The Warpath
What a crazy week! It's good to be in CT and not flying again until December although I really do love seeing so many folks. Three trips in October were plenty. Atlanta, Dallas, and Florida. With skiing in Vermont scheduled to open in one week, it's time to start packing up although it certainly does not seem like Mother Nature will be cooperating anytime soon. She is giving all her winter love to the Wasatch and the Utah ski areas.
Let's start with the Fed which hiked rates 3/4% on Wednesday as the world expected. And after an initial surge on the news, Jay Powell poured a fire hose of cold water on the markets with his very hawkish commentary about higher rates for longer and that the Fed will be undeterred. Everything in the "risk on" category cratered on that news in what became an ugly final 90 minutes of trading.
I want to be clear when I reiterate my comments regarding the Fed. Stocks will bottom before the Fed pivots. Stocks will bottom before the Fed stops raising rates. There is no shot on earth that Powell & company continue to hike once unemployment is above 4% and the economy is losing jobs each month. He will get skewered by Congress, Republicans, and Democrats alike.
I have long said that the stock market needs help from the bond and currency markets. First, the 2-Year Note must stop going up, stabilize and then begin to trend lower. You can see below that at 4.71%, it's not there. With the Fed Funds Rate now up to 3.75% to 4%, it is only 1% away from parity.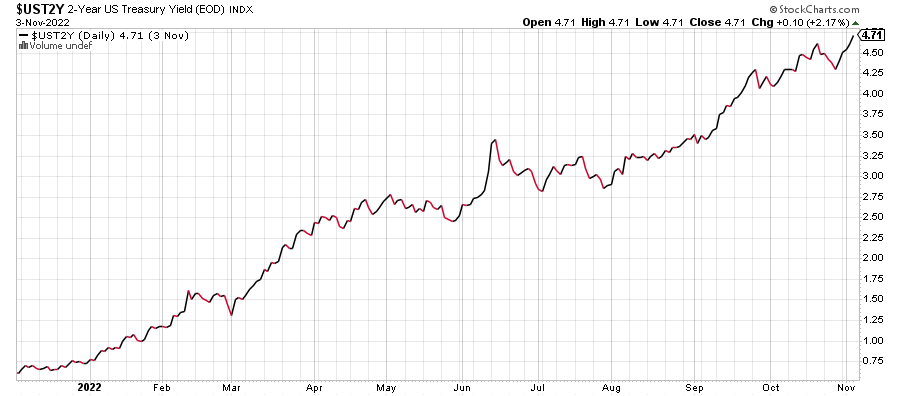 Next is the 10-Year Note which, for now, has peaked. However, we saw this movie over the summer where I wrongly claimed the instrument had seen its high for the cycle. Then yields turned tail right away and soared from 2.5% to 4.4%.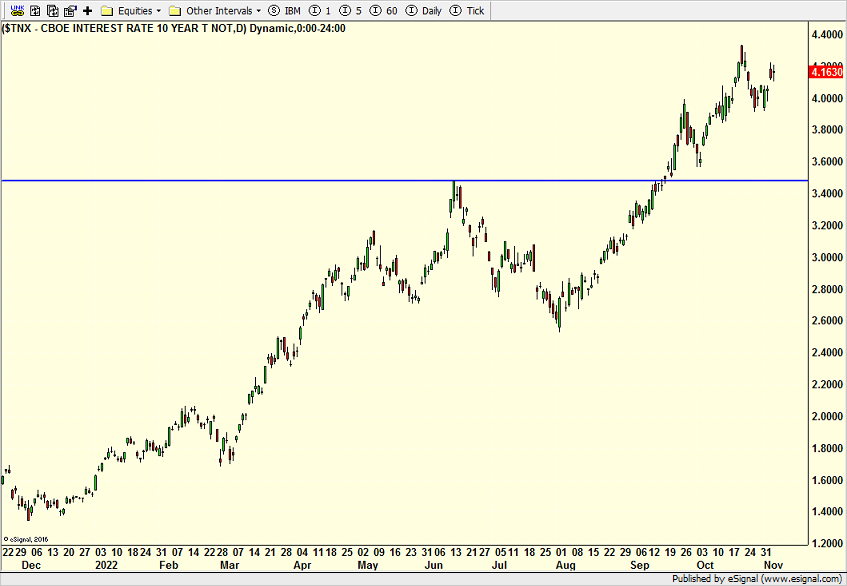 Finally, the U.S. dollar is below. It has the best chance of already seeing its peak. A move solidly below 110 will confirm that.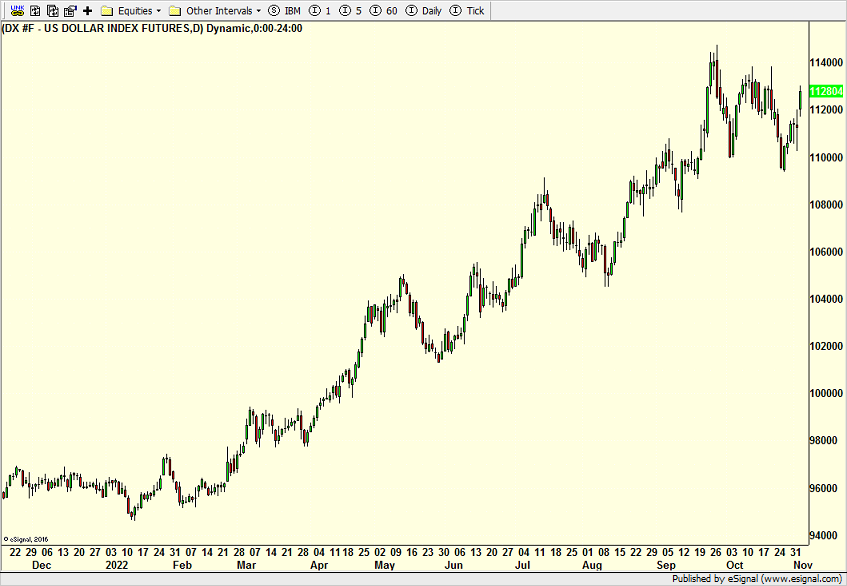 For those who think inflation is simply caused by corporate greed which is one of the new rallying cries heading into the election, you're wrong. It's not how it works and no economist on earth would support that. Inflation has always, always, always been caused by policy errors, either from the central bank or politicians.
And for those who think inflation can't be fixed, you're also very wrong. Inflation is about destroying demand. And like Paul Volker did in the early 1980s, the Fed can just keep raising and raising rates until Americans waive the white flag and surrender. With the exception of Florida and Arizona, the Fed has already decimated the housing industry with mortgages above 7%. Manufacturing is now starting to suffer. Eventually, the consumer will run out of savings and credit because that's just how America operates. Inflation may die a slower death this time around, but die it will.
I can't believe it's the first weekend of November and it's going to be in the 70s in CT! Mother Nature is being kind to all that grass I planted last month. While skiing doesn't seem likely anytime soon there is no reason to put away the golf clubs just yet. And maybe I can throw down some more seed and it germinates before the cold hits later this month.
On Monday we bought IJJ. We sold some levered NDX. On Tuesday we bought ENSG, more SOXL, and more FAS. We sold TQQQ, JAAA and HYG. On Wednesday we bought more SPSC. We sold LMAT, ORA, IWF, FDVV, YELP, CMI, FAS, and some XME. On Thursday we bought levered S&P 500. We sold PCY and EMB.
---
More By This Author:
Confounding The Masses
More Signs Of A Bottom
How Inflation Affects Your Taxes In Retirement
Please see HC's full disclosure here.