Gold: Logic Vs. Emotions, True Vs. Temporary
How gold behaved yesterday, everyone knows. How it rallied before today's opening bell, you probably already see as well. But can we assign this to some reasonable cause or rather just emotionality? Let's look at the charts first.
Yesterday was one of "those" days and today's pre-market trading ones one of those mornings. "Those" sessions that we all know take place every now and then, but we secretly wish they didn't. Like one of those things that "happen to other people" but never to us. You don't like it, and I don't like it. "Those" days test our knowledge (what's normal and what's not?) and – most of all – patience. Something happened, markets reacted, and just when it was likely that after several more days (a few weeks at best) the junior miners would slide profoundly to new yearly lows, it started to seem much less likely. The keyword here, however, is "seem", and in today's analysis, I'll show you why
That "something" yesterday that most likely triggered the rally in gold was the surprisingly positive employment numbers that resulted in temporary changes in the real yields (more on that later today; and yes, this does make the current situation look even more like 2013 …). And that "something" that likely triggered another rally was likely the exceptionally bad… employment numbers (different numbers, though, as yesterday's report was about initial jobless claims and today's report was the nonfarm payrolls for April. There were fewer jobless claims, but fewer jobs as well. It shouldn't have been the case that gold rallied on both pieces of news, but it's what we saw. Overall, yesterday's and today's rally seems to have much more to do with emotionality and, well, randomness than it does with cold logic (by the way, if you haven't read Fooled by Randomness by Nassim Taleb, I highly recommend it).
And a great way to deal with emotionality and randomness is through charts, as far as the markets are concerned (and, well, through Stoic philosophy in general, but that's a matter going well beyond the scope of this analysis). When looking at charts, we can apply tools designed to detect emotional peaks and breakthroughs that markets endure.
After all, it's not important that a line or slope was broken by itself – it's important because of what it all represents and how people interpret it. Times change, but the fact that people feel fear and greed doesn't change, which is why even distant patterns and similarities to what we see on different occasions can be useful.
All right, all right, all right, it's all nicely said, but when will I be making lots of money on this trade?
Likely a week – or so – longer than what seemed to be the most plausible scenario before yesterday's session. I'm quite sure most people will agree that waiting an extra week for a truly massive price move doesn't sound that bad after all, especially given that we're already sitting on profits from the previous positions – everyone following my analyses to the letter profited from the last long trade in the miners, and many people profited handsomely by exiting the previous short position (GDX) on Feb. 26, 2021 and (GDXJ) on Mar. 4, 2021 – extremely close to the yearly bottom (at least so far).
While the market's moves don't depend on me, analyzing the market thoroughly, diligently and carefully, and then reporting my findings to you (and keeping you updated), does. Therefore, during yesterday's session, I sent the intraday Alert to my subscribers, in which I discussed the situation. Not much changed on the market since I posted/sent it, so today's analysis is going to be an extension of what I wrote then.
Let's jump right into charts, starting with the USD Index.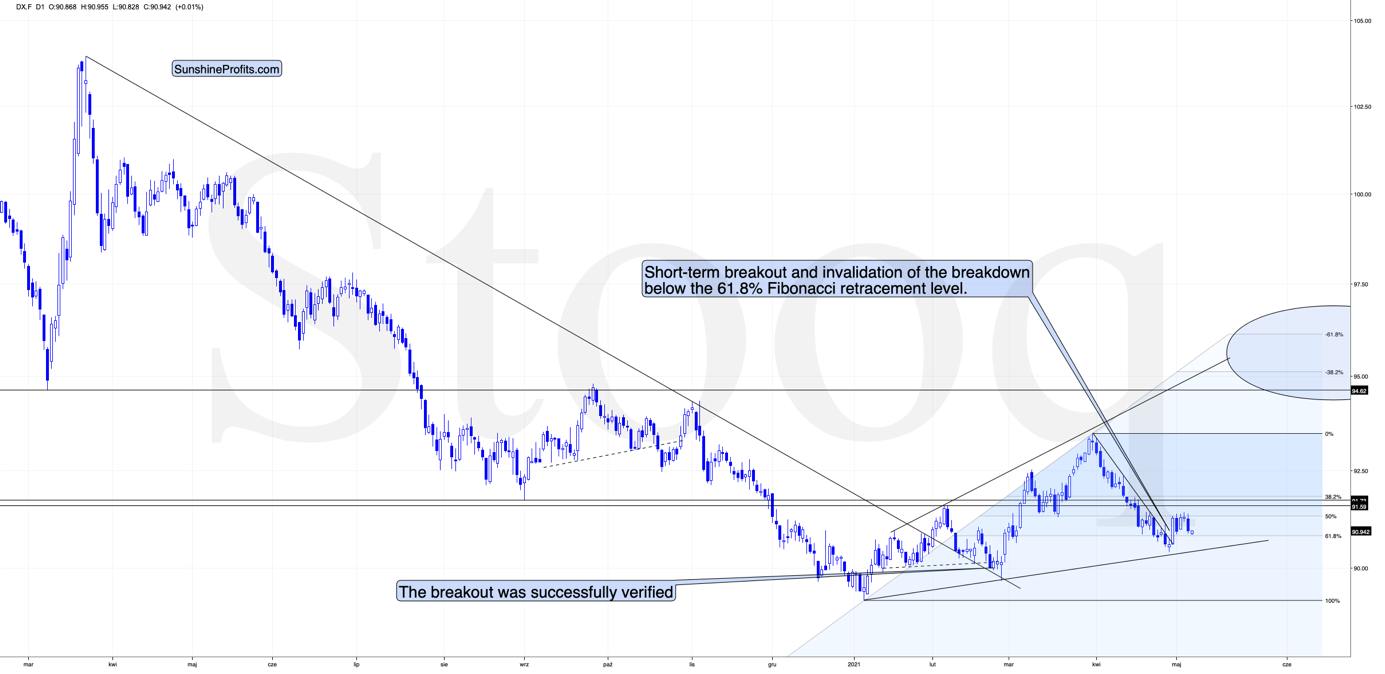 In yesterday's regular analysis, I wrote the following about the above chart:
Yes, the USD Index soared on Friday, Apr. 30, and based on that it invalidated the breakdown below the 61.8% Fibonacci retracement level. It also broke above its declining resistance line, but it's been trading sideways since that time. The rally didn't continue, which likely makes traders question its validity.

What is really happening here is that the USD Index has been verifying the breakout – and it managed to do so. Consequently, the situation is bullish for the next several weeks (even if we see a very short-term move to somewhere around the recent lows).

This, in turn, means that gold is likely to fall in the following weeks (not necessarily in terms of days, though).
As traders had previously been unsure if the strength in the USD Index was indeed the beginning of a new trend, they just got a "confirmation" that the USD Index is not done with declining. In my view, that's an incorrect interpretation of what's happening, and while the traders might be right about this for the next several hours or days, they are likely very wrong about the overall direction of the trend over the course of the following months. This means precious metals and mining stocks have likely overreacted yesterday, and this will be reversed once the USD Index proves that last Friday's rally was not accidental. A rally to new monthly highs might be enough proof.
Disclaimer: All essays, research and information found on the Website represent the analyses and opinions of Mr. Radomski and Sunshine Profits' associates only. As such, it may prove wrong ...
more