Bitcoin At $650,000? One Stunning Chart, And Why JPMorgan Thinks Nothing Can Stop It Now
In what is JPMorgan (JPM)'s last Flows and Liquidity report for the year, quantitative analyst Nikolaos Panigirtzoglou writes that with the year coming to a close, it is useful to look at how the investment landscape changed during 2020, or said otherwise, "how have different asset classes and types of investors fared in terms of overall growth during a year dominated by the impact of the global pandemic and policy responses to it?"
As Panigirtozglou writes in his annual look-back, the most striking increase in 2020 has been in the total outstanding debt, which in 1H20 had already increased by around $14 trillion, with the bank now projecting total debt growth for 2020 of $21 trillion, reflecting continued strong bond issuance in particular.
Of this total, the increase in bonds accounts for around $13 trillion, reflecting a significant increase in government deficits as they sought to smooth the impact on incomes as well as record corporate bond issuance, as companies sought to increase their cash buffers to weather the shock on cash flows. The remainder is a combination of bank loans, shorter-maturity paper such as bills, EM local debt, and other non-marketable debt.
That's one way of putting it - another is that in order to preserve the fiat system, central bankers had to print so much fiat that they have devalued assets by 40% in just half a year.
So going back to the original point, namely how have different asset classes performed, here one faces a choice: look at only conventional assets when analyzing asset returns in 2020, where the following picture emerges: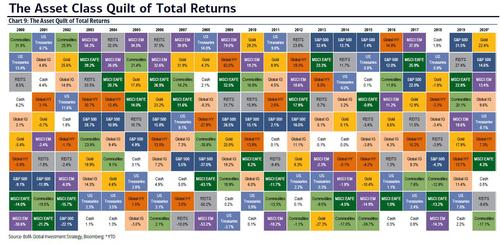 Or should one include bitcoin (BITCOMP), which has been the best performing asset by a huge margin, not only in 2020, but the past decade.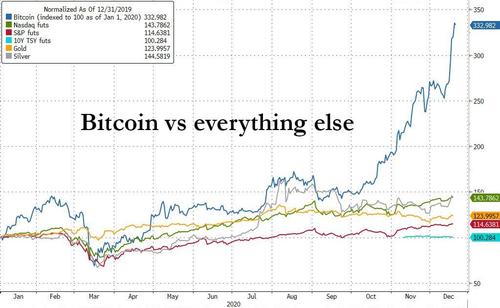 As JPM puts it, "alternative 'currencies' such as gold and bitcoin have been the main beneficiaries of the pandemic in relative terms, growing their assets (for investment purposes) by 27% and 227%, respectively."
Disclaimer: Copyright ©2009-2020 ZeroHedge.com/ABC Media, LTD; All Rights Reserved. Zero Hedge is intended for Mature Audiences. Familiarize yourself with our legal and use policies every time ...
more