Biopharma Stocks Rally And Gene Therapy Stocks Are Still Hot
Update-1 9:45a PDT …Rally fades quickly with some big downside moves in Financials (XLF) and Small Caps (IWM).
XBI reverses down 3.6% to $88.75.
Profit taking hits gene therapy stocks-red screen alert.
Biopharma Stocks Rally Despite Biogen AD Clinical News
No Ripple Effect Yet From Biogen News
Strong Tape helped by a Patient FED
Mid-Cap biotech stocks ran up today along with a broad market rally in tech stocks with the NAZ up 1.42% and the XLK up 2.51%. The loss of 1% in the large cap weighted IBB was small considering that Biogen (BIIB) stock was savaged with 29.2% loss to the $227 level after the Company scrapped its two Alzheimer's Disease (AD) drug trials. Alzheimer's Disease drug development is known to be an extremely difficult area with many previous failures large and small so it is surprising that so many investors were expecting positive results. Recently ACI Immune SA (ACIU) discontinued a Phase 3 trial with its beta-amyloid molecule crenezumab but an anti-tau study will continue in collaboration with Roche (RHHBY). The ACIU stock dropped from the $11 level to $4 in late January. Nonetheless Alzheimer's Disease is a huge unmet medical need so investments in drug discovery are likely to continue despite the high risk.
The equal weighted small cap XBI was up 1.75 %. The Mid Cap Sector saw a few strong gains with the underlying assumption that more deals will be forthcoming. Among the big movers were: ANAB GWPH LGND NBIX SGEN. One thesis bandied about is that Biogen might want to acquire a lower risk but new revenue producing business in light of the Neuroscience disappointment .
Gene Therapy Stocks
Another small deal was concluded in gene therapy with Pfizer acquiring a 15% interest in the privately held French Company "Vivet", with an option to acquire all of the Company for $635M. Vivet is developing treatments for liver disorders such as Wilson's Disease caused by a monogenetic mutation that disables the normal copper biliary excretion pathway.
Here are the Gene Therapy stocks we are tracking and as you can see it is a hot sector but still at an early stage. We will continue to highlight the gene therapy sector performance and news. All of these stocks were up yesterday except laggard Solid Biosciences (SLDB) down 1.22%.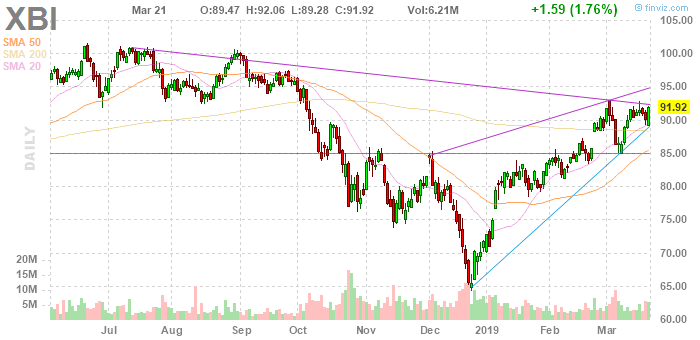 Disclosure: Long BLUE, RHHBY.