A Strong Economy And Easier Lending Standards Are Fueling The Bull Market
Summary
Business shows its optimism with its investments.
Credit conditions are easing.
The business cycle is on a strong upswing – good news for equities.
In my earlier articles, I showed how the business cycle reflects business decisions. As such, it is the outcome of all the quantifiable and unquantifiable events as experienced by business people.
Their major goal is to have the right products at the right time in the right quantity on the shelves ready for consumers. The challenge is to have the correct level of inventories. Excessive inventories compared to sales negatively impact earnings. Low inventories compared to sales translate in lost sales.
These changing decisions about adding to inventories when business improves and reducing inventories when business slows down are the major forces behind changes in the business cycle and the prices of most assets. In my latest article, "An Indicator That Assesses Which S&P 500 Sectors Are Likely To Outperform", I discuss in detail this point.

The above graph shows the business cycle as reported in each issue of The Peter Dag Portfolio Strategy and Management available on peterdag.com. Its current trend is up, reflecting a stronger economy.
Every upswing of the business cycle has been associated with the process of restocking depleted inventories. A decline in the business cycle, on the other hand, reflects the business decision to reduce inventories due to slower demand.
These changes of the business cycle drive commodities, interest rates, and the performance of cyclical or defensive sectors, including bond prices.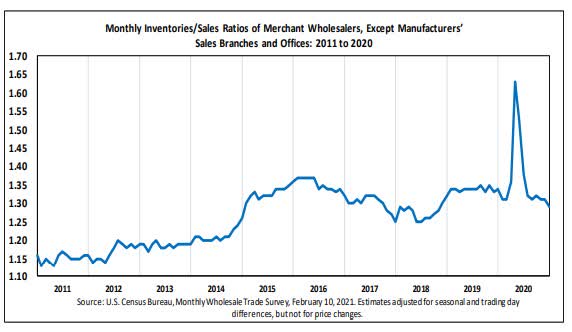 The latest inventory to sales ratio released by the Census shows a sharp decline in the ratio. This is another bullish trend for the economy. It means sales are rising much more rapidly than inventories. Business will be forced to produce more goods to replenish inventories.
The outcome is increased production, purchases of more raw materials (commodity prices are likely to keep rising), more hiring (employment in the crucial manufacturing sector will keep rising), and more borrowing to finance the manufacturing activity (placing upward pressure on interest rates).
Disclosure: I am long SPY.
I wrote this article myself, and it expresses my own opinions. I am not receiving compensation for it. I have no business relationship ...
more