Why The Energy Transition Is Hard
The media is not short of simple solutions for climate change. Solar panels and windmills have been cheaper than natural gas for so long in the popular narrative that you'd think utilities are willfully pursuing lower profits by not blanketing the country with them. The industry that provides over 80% of our energy is often demonized by extremists who drive to protest pipelines.
There are some whose concern is more thoughtful. Bill Gates recently laid out the many economic and technological challenges to reducing Global Greenhouse Gases (GHGs), and avoided the politics which is bigger than the other two (see Not Just Another Billionaire With A Plan). Recently Mike Cembalest, Chairman of Market and Investment Strategy at JPMorgan Asset Management, published Future Shock: Our 11th Annual Energy Paper. As in the past, Cembalest partnered with Vaclav Smith, author of numerous excellent books on energy stuffed with facts and figures.
The sober analyses by Gates and Cembalest are much more useful than shrill soundbites from the Sierra Club. Cembalest notes that, "Absent decarbonization shock treatment, humans will be wedded to petroleum and other fossil fuels for longer than they would like." Gates (albeit unintentionally) and Cembalest are bullish about the long term future of oil and gas, a point not lost at JPMorgan (JPM) which remains overweight energy stocks.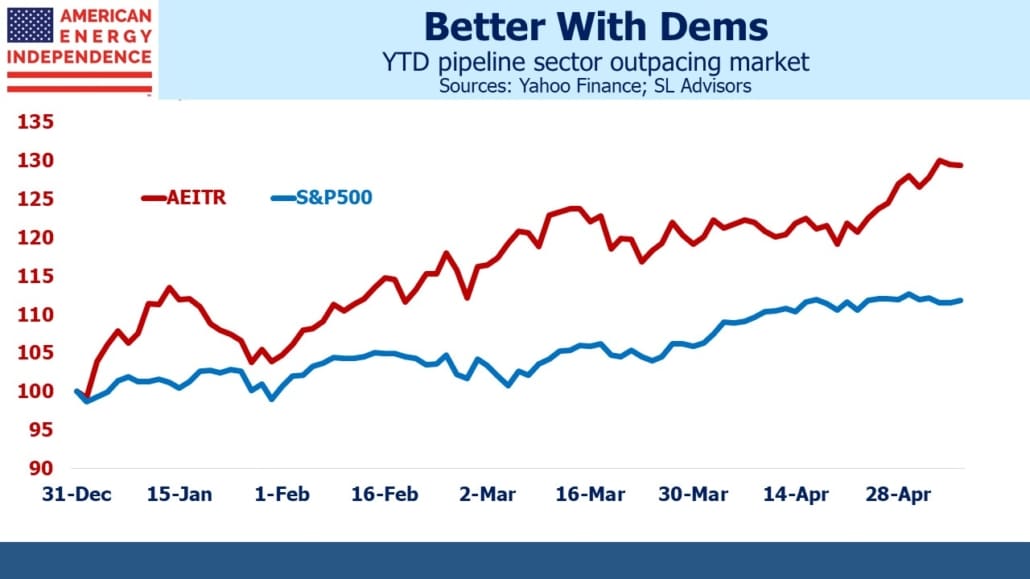 Right on cue, 1Q21 pipeline earnings reaffirmed the continued growth in free cash flow and stability of the sector. Williams Companies (WMB) beat expected EBITDA by 7%, and raised its full year guidance by 2%. Its stock yields 6.5% and its payout is covered almost 2X by distributable cash flow. Enterprise Products Partners (EPD) beat estimates by 14%. It yields 7.7%, 1.7X covered. Cheniere Energy (LNG) beat estimates by 43% and raised full year guidance by a conservative 5%. Energy Transfer (ET) enjoyed a one-time gain of $2.4 BN from the Texas power outages, beating EBITDA expectations by 88%. This helped them reduce debt by $3.5BN.